Former world heavyweight boxing champion Tyson Fury is free to fight again provided he gets his license back. He completed a backdated two-year doping ban that ended at midnight Tuesday. The U.K. Anti-Doping, Fury and his cousin Hughie Fury said in a joint statement that the case around positive tests for the forbidden steroid nandrolone in February 2015 has been closed after a long battle. Fury's last fight was in November 2015 when he beat Wladimir Klitschko for the world title.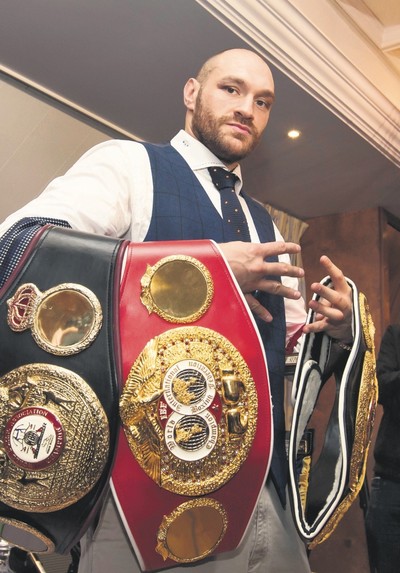 His license was suspended in October 2016 over medical issues, and the 29-year-old also had to hand back the WBO, WBA and IBF title belts. In the compromise, both boxers have their February 2015 results nullified but the others, including the Klitschko victory, stand as neither failed another drug test. Both were banned for two years, backdated to Dec. 13, 2015, meaning Fury could re-apply for the license after Wednesday.
"Hughie and I have maintained our innocence from day one and we're now happy that it has finally been settled with UKAD and that we can move forward knowing that we'll not be labelled drug cheats," Fury said in a statement issued by his management. "Next year I will be back doing what I do best, better than ever and ready to reclaim the World titles which are rightfully mine." He added on Twitter in the direction of WBA and IBF world champion Anthony Joshua, "Where you at boy? I'm coming for you ... no1 blocking my path now!"