U.S. gymnast Aly Raisman has sued the U.S. Olympic Committee and USA Gymnastics over former USA Gymnastics' team doctor Larry Nassar's sexual abuse, contending the organization knew or should have known about his behavior.
Raisman's lawsuit, seeking unspecified damages, was filed on Wednesday in California state court in Santa Clara County. It was reported by NBC News on Friday.
Raisman, a three-time Olympic gold medalist, said in November she was sexually abused by Nassar. She was among nearly 200 gymnasts who gripped the country with their testimony about decades of abuse during his televised sentencing hearings.
Nassar pleaded guilty last year to molesting female athletes under the guise of medical treatment for nearly 20 years, and in January and February was given two prison sentences in Michigan of 40 to 125 years, and 40 to 175 years. He is also serving a 60-year federal term for child pornography convictions.
Despite having the power, authority and mandate to discipline Nassar, there was never any intervention by the U.S. Olympic Committee (USOC), USA Gymnastics or former top USA Gymnastics executives, who were also named as defendants, according to Raisman's lawsuit.
"To this day, Aly Raisman continues to suffer depression, anxiety and fear stemming from her abuse by defendant Nassar, which affects her daily life," the lawsuit said.
The USOC and a representative for Raisman did not immediately return requests for comment. USA Gymnastics, the sport's U.S. governing body, had no immediate comment.
The Nassar scandal prompted the entire board of directors at USA Gymnastics to resign, along with the president and athletic director at Michigan State University, where Nassar also worked. It also spawned lawsuits and criminal and civil investigations.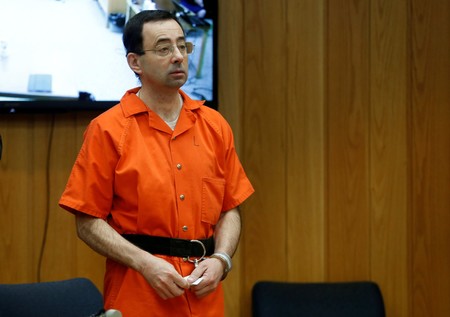 'DESPERATELY NEEDED' CHANGE
In a statement reported by NBC, Raisman said, "I refuse to wait any longer for these organizations to do the right thing. It is my hope that the legal process will hold them accountable and enable the change that is so desperately needed."
The USOC has faced months of sustained criticism over the sex abuse scandal.
It said on Wednesday its chief executive officer, Scott Blackmun, was resigning for medical reasons, citing Blackmun's "ongoing health issues" related to prostate cancer, for which he has been receiving treatment. It also outlined new reforms aimed at protecting its athletes from abuse.
The USOC statement did not address whether the sex abuse scandal played a role in Blackmun's departure.
In her statement cited by NBC, Raisman said the USOC and USA Gymnastics were stonewalling on the question of what they knew about Nassar's behavior.
"After all this time, they remain unwilling to conduct a full investigation, and without a solid understanding of how this happened, it is delusional to think sufficient changes can be implemented," she said.
Last month, USOC Board of Directors Chairman Larry Probst said the U.S. Olympic system had "failed" the hundreds of young female athletes who were sexually abused by Nassar.
During the sentencing hearings, gymnasts described their ordeal while being treated by Nassar, who was known as the go-to doctor for Olympic gymnasts. He disguised his digital penetration of victims as "intra-vaginal adjustment," a legitimate treatment sometimes used to relieve pain.