A flash of metal glinted in the Sydney sunshine as Curtis Bennett took one last swing of his axe and brought it down hard on the log at his feet. The wood split with a loud crack, triggering cheers and thunderous applause for the teenage sensation. Curtis, 18, is one of the rising stars of Australia's centuries-old sport of wood-chopping, which is enjoying a renaissance, with more women and children competing in the male-dominated activity. His proud father Simon Bennett, 52, is revelling in the new-found appeal of the highly physical pastime, which is attracting more women competitors including his 25-year-old daughter Madii.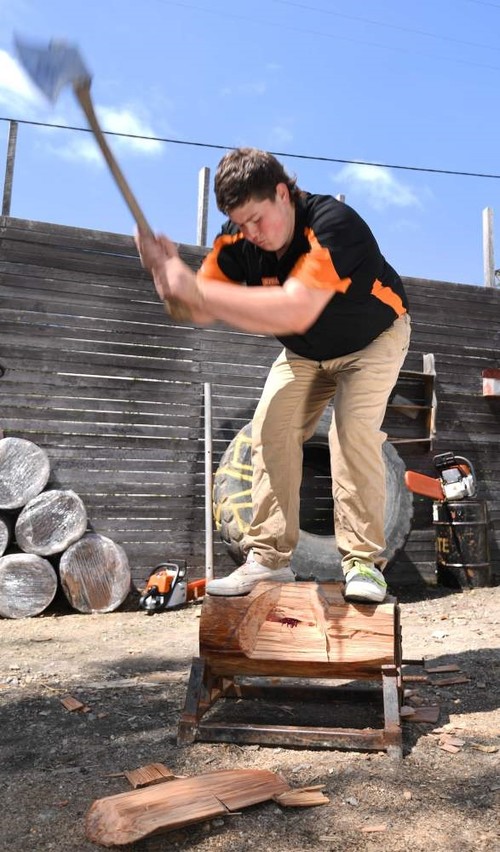 "It's probably never been as popular as it is at the moment," he tells AFP at his home in Majors Creek, a small village some 300 kilometres (around 200 miles) south of Sydney.
"We have probably one of the best group of young axemen that's been about for many years... The sport is in a really good spot." The roots of the tradition stem from European settlement of the vast island continent some two centuries ago. Faced with the challenge of having to live in the heavily timbered Australian bush on the east coast, the settlers realised they had to become apt at wood-chopping to clear land for farming and to build homes. As the tale goes, the first recorded wood-chopping contest took place on the southern island state of Tasmania in 1870.
The sport caught on like wildfire and as contests sprung up across the country, Sydney's Royal Easter Show -- an annual extravaganza showcasing Australia's rural lifestyle -- introduced wood-chopping in 1899. Pure brute strength is essential for a woodchopper and Len Bennett, 78, who won the world championship in 1975, is more than two metres tall (around six foot seven) and weighs 150 kilograms (330 pounds).