Chairman of the Turkish Jockey Club (TJK) Serdar Adalı was recently re-elected for a third term, at the association's ordinary general assembly in Veliefendi Hippodrome.
In an exclusive interview with Daily Sabah soon after the re-election, Adalı discussed his projects and goals.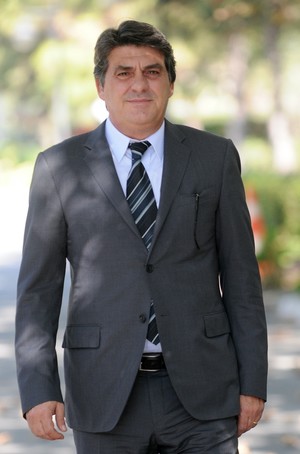 Daily Sabah: First of all, congratulations on your re-election as TJK chairman. What can the sport expect this term? Can you please tell us about your plans?
Serdar Adalı: Thank you very much. I would like to express my gratitude to the distinguished members of our club for trusting me and handing me the torch once more.
We are already working to raise Turkish horse racing and the TJK to a higher level. As I expressed throughout the election process, we will provide transparent, open and comparable information to our partners. Clean accountability will be one the main principles of this executive board. We will create value through events, which will also satisfy the needs of the horse racing community. Our board will treat all beneficiaries in an equal manner. Our first action was to implement a 50-percent discount on stable prices. We will continue these actions by managing feed and grass prices as much as regulations allow us.
D.S.: What will be your goals for the new term?
Adalı: Our first and foremost goal would be finding an answer to how we can bring Turkish horse racing to global standards and identifying our weaknesses.
Once we find the answers, we will move on to implement the necessary actions by drawing a road map. In a unifying manner, we want to utilize our club's valuable experience and collective mind to create new commissions with our senior members, horse owners and professional crew to bring Turkish horse racing to the place it belongs.
We want to increase the number of horse riding schools. We want to start this project in İzmir and Karacabey, which already have some facilities. We will also build a school for the veterans of our community, stablemen, where they will receive professional training and education. Therefore, we will have more jockeys and our certified stablemen will work more professionally.
D.S.: Turkish Jockey Club is very popular with its social responsibility projects nowadays. Can you talk a bit about these projects? How long will they continue?
Adalı: As you may know, Turkish Jockey Club is an organization that works for public welfare. Under my leadership in 2014, we launched the "Pony Club is coming to Town" project.
In our first outing, we went to the children who lost their parents in a tragic mine accident. It was very encouraging to see the joy in their eyes.
Our Pony Club truck has since covered 53,400 km, traveling to 74 cities and giving more than 42,500 children an opportunity to ride a horse. We continue our project every summer.
We will also begin some new projects, like setting up horse therapy centers and training stablewoman in rural areas.
Right now we have six facilities horse therapy center for disabled children but we want to increase that number. We have another project that will look to increase women's participation in the sector.
D.S.: Do you have any future projects?
Adalı: We want to establish a Horse Racing Development Commission in order to follow and manage global competitions.
We will work with the commission to improve our hippodromes, horse clinics and other facilities to reach international standards. I hope we will be able to so with some fast but carefully planned strategic moves.
We will also launch a horse racing hotline where our members and partners will be able to express their problems and ideas. The platform will be open for access through phone or the internet. Suggestions and complaints made on the hotline will be brought up at TJK's board meetings.
We want to modernize horse racing in Turkey, which has a long tradition. We want to build modern facilities to attract more young people to the sector.
D.S.: How is the work of the wealth fund going? Can you inform us about the latest developments?
Adalı: Privatization is a subject that should not be neglected and it stands as an uncertainty in the future of our club. But we do not want to narrow our vision by focusing on this topic. Our priority is to develop Turkish horse racing so that we can compete globally.
The Turkish Jockey Club has managed to do so since 1950 with great dedication. We do not believe that it is possible to develop Turkish horse racing without involving TJK.We will communicate the crucial role TJK plays in Turkish horse racing with the members of the wealth fund in Ankara.