Flipping and twisting their way around, athletes from around the world awed the audience with their feats in the World Freerunning Parkour Federation Parkour World Cup held over the weekend in the southeastern Turkish city of Mardin. With its memorable skyline, a citadel crowning narrow alleys dotted with stone houses and manors, Mardin has plenty of obstacles as well as easy routes for freerunning athletes.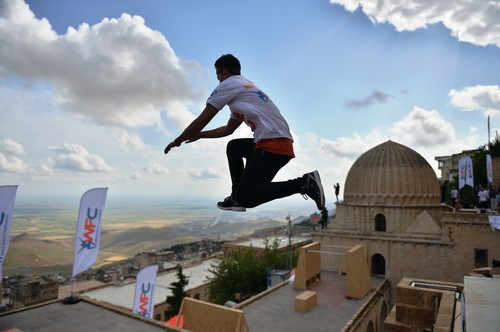 In an event broadcast live on 100 channels worldwide, 46 athletes from 14 countries competed in various categories, from speed races to Alive After 5, an elimination round where five competitors battle it out, as well as a skills round where they fought against vaults, drops, bars and walls by jumping, climbing over them and freestyle finals.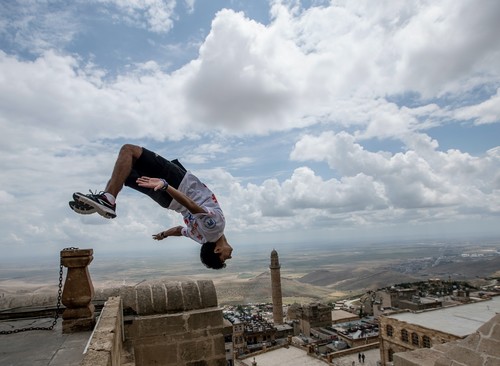 The competition started atop Zinciriye Madrassah, a 14th-century Islamic school that stands out among Mardin's landmarks with its cusped domes and a view of the vast plain on the outskirts of the city. On the roof of the madrassah, located right below the ancient citadel, athletes showcased their skills to race through an obstacle course and be the fastest.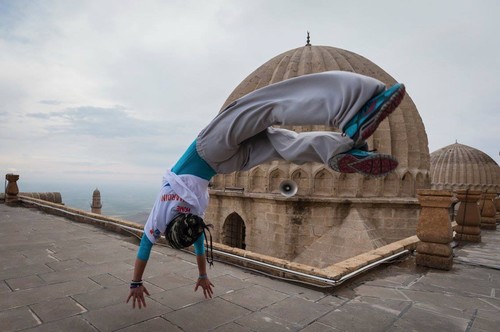 Selim Kemahlı, head of the company that brought the event to Turkey with the support of the Ministry of Tourism, said the World Cup has been "an extraordinary event" and athletes "fell in love" with the scenery. "You can't get the opportunity to race atop such historic buildings elsewhere in the world. It is all natural, we didn't put any additions here for the race. I believe athletes will want to come back here. This is a perfect contest for them," he said. Iranian athlete Nilofaar Mogaddam agrees. A parkour athlete for six years, Mogaddam says Mardin is really an appropriate place for the sports with its obstacles. Berkay Yunus Kaplan, a Turkish athlete, says Mardin is "a legendary place." "It is almost built for parkour. I love parkour so much, I can spend the rest of my life here in Mardin doing it," Kaplan said.