A protest by local farmers brought stage 16 of the Tour de France to a halt on Tuesday as bales of hay were thrown on to the road on the route from Carcassonne to Bagneres-de-Luchon and police tear gas blew into the faces of some of the riders.
The gas was used to disperse the protesters but it ended up blowing in the direction of the peloton, which led to the race being stopped at the 187 km-to-go point.
Froome, race leader Geraint Thomas, and world champion Peter Sagan appeared to be among those affected by the chemical, and were treated with eye drops.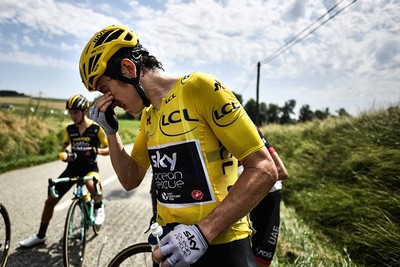 Video footage of the incident appeared to show liquid being blown back into the advancing peloton after being sprayed by an officer from France's national gendarmerie against a protestor.
The 218-km (135-mi) stage with a finish in Bagneres-de-Luchon and featuring two first category climbs in the Pyrenees restarted at 12:36 p.m. (1036 GMT) after an interruption lasting around quarter of an hour.
"After a 15 minute-long interruption caused by protesters, the race is back on," organizers said in a brief statement on leTour.fr.
This Tour has been marred by incidents.
Race organizers have struggled to deal with angry fans protesting Froome's participation. After fans threw flares at riders in the climb to the ski resort of Alpe d'Huez, Tour organizers banned the use of smoke flares for the rest of the race.
Froome raced all season under the cloud of a potential ban for using twice the permitted level of salbutamol during his victory at the Spanish Vuelta in September. He was cleared only just before the Tour. He said he has been repeatedly spat at since the race started, and spectators have punched him and tried to make him fall off his bike.
Froome sits second in the general classification, 1 minute, 39 seconds behind Sky teammate Thomas.
It is not the first time that protesters have interrupted a prominent race, the most memorable incident happening in the 1984 Paris-Nice, when French great Bernard Hinault punched one of the demonstrators.