The 2018 Federation Internationale de Motocyclisme (FIM) Motocross World Championship's 18th leg took place in Turkey's western Afyonkarahisar on Sunday amid its 62nd World Championship season.
MX2 and MXGP races took place on an 800 m2 arena which included 80 competitors from 36 different countries.
In the MX2 category, Pauls Jonass of Latvia secured first place followed by Thomas Kjer Olsen of Denmark and Thomas Covington of the U.S. Turkish competitors Mustafa Çetin finished in 18th place, Yasin Karaböce in 19th, Furkan Valimaki in 20th and Emircan Şenkalaycı in 22nd.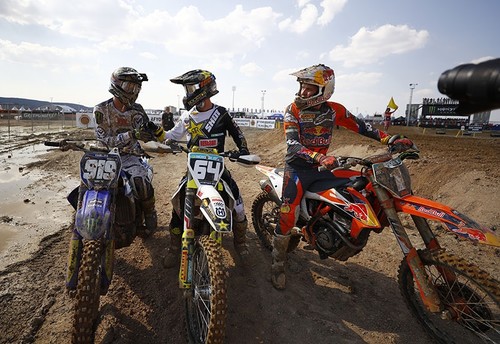 In the MXGP category, first place went to Jeffery Herlingsi of Holland followed by Tim Gajser of Slovenia and Clement Desalle from Belgium. Turkish competitors Batuhan Demiryol finished in 18th, Galip Alp Baysan in 19th, and Şakir Şenkalaycı in 21st place.
Awards were granted by the Head of Turkish Motorcycle Federation Bekir Yunus Uçar, Justice and Development Party (AK Party) Sakarya MP and former world champion motorcyclist Kenan Sofuoğlu, Head of International Motorcycle Federation Wolfgang Srb, Minister of Forestry and Water Affairs Veysel Eroğlu, Assistant Director Ömer Altunsoy of the Ministry of Youth, Afyonkarahisar Mayor Burhanettin Çoban and Afyonkarahisar Governor Mustafa Tutulmaz.
Following the race, attendees and competitors highlighted the importance of environmental protection by picking up trash at the event. Turkey Motorcycle Federation's board member Sadık Özdemir stated that they were proud to host an event and that, "It is our duty to keep these places clean."
The competition includes 20 events beginning in Argentina and ending in Italy on Sept. 30.