The first Syrian and the second Arab in space, Muhammed Ahmed Faris is now living in Istanbul's Fatih district with his family after fleeing Syria in 2012 and still keeps his hope to return to his native country after the fighting is over.
As a graduate of the Aleppo's military pilot school in 1973, Faris joined a Soviet crew on the orbiting space station Mir in 1987 and spent 7 days 23 hours and 5 minutes in space, for which he was awarded the title Hero of the Soviet Union and also received the Order of Lenin.
Faris, who was a major Air Force general in Syria, told Turkish daily Habertürk in an exclusive interview on Sunday that he left the country in 2012 after witnessing the killings of children, civilians by the Syrian army.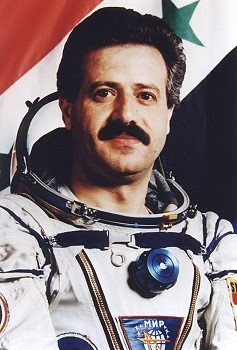 "I used to see Bashar Assad everyday since he became president in 2000 until the time I left Syria, he was not the right man for presidency. He became president with the help of Syrian intelligence and to protect dictatorship in the country."
Faris said that he stood against the regime's cruelty from the beginning of the crisis and had to leave the country after joining opposition. " I was kept under surveillance, I managed to defect at my fifth attempt. After leaving the country, the regime seized all of my property."
Before crossing into Turkey, Faris visited the headquarters of the Free Syrian Army in his home town Aleppo in a show of solidarity with rebel forces battling Assad's troops in Syria's biggest city.
Faris told Habertürk that he received many invitations from Moscow, but declined to go to a country that helps the Assad regime in killing innocent Syrian people. "I told them I would accept their invitation in one condition. They have to stop supporting Assad. It is impossible for me to shake their hands while they are commiting every cruelty possible."
He also said that for Syrians, Turkey is the most trusted country and a 'home'. However Faris said he still hopes to return to Syria after the fighting comes to an end.