Turkey's Foreign Ministry has clarified aspects of the recently-agreed deal between Turkey and the EU in a 15-item statement.
Titled "questions and answers on March 18 agreement between Turkey and the EU," the statement gave details of the deal, which focuses on how to stop refugee flows into Europe.
About whether refugee numbers in Turkey would increase since under the agreement asylum seekers seeking to enter Europe irregularly would be sent back to Turkey, the statement said that for every Syrian refugee or asylum seeker sent to Turkey from the Greek islands, a Syrian refugee from Turkish camps will be resettled in the EU as of April 4.
"This mechanism will be an element to prevent our country to turn into a refugee storage," the statement added.
According to terms of the deal, those trying to enter Europe illegally will not receive a chance to be resettled in the EU.
"The deal aims to prevent refugee deaths in the Aegean Sea, to break the human smuggling chains and to replace illegal migration into legal ones," the statement said.
Turkey's "transit" country position will end with the deal, it added.
Syrian refugees expected to be resettled in Turkey will be determined in cooperation with the UN Refugee Agency under its vulnerability criteria, the statement said.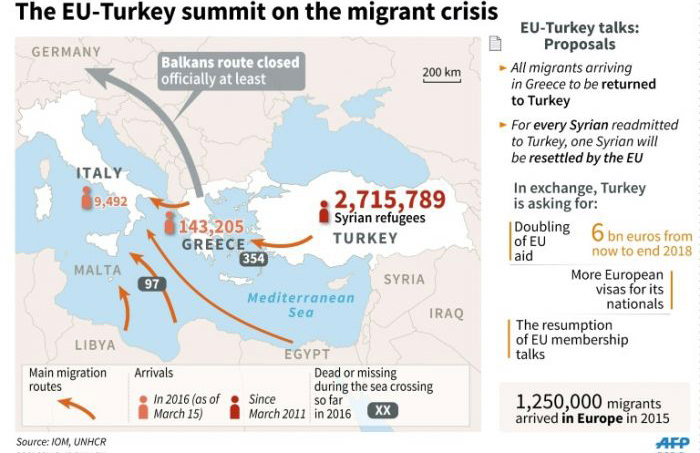 According to the criteria, priority will be given to disabled or people in need of treatment as well as women and girls under risk, the statement added.
About visa-free travel for Turkish citizens into Europe, it said Turkish citizens would need to change their passports with the ones that contain a chip and the owners' fingerprints.
Turkey must fulfill 72 requirements in the visa roadmap, including issues such as migration management, public order and security.
Other details of the deal i.e. speeding up Turkey's accession talks and an additional three billion euros ($3.3 billion) to meet the needs of Syrian refugees in Turkey as well as an update on customs union agreement between Ankara and the 28-state bloc were also mentioned in the statement.
Turkey is hosting the largest number of Syrian refugees in the world and has spent more than seven billion euros ($7.7 billion) on meeting their needs, according to European Commission figures released last year.