The U.S. Air Force has conducted 25 airstrikes against the Daesh terror organization in Syria's northern district of Manbij in the last two days, local sources told the official Anadolu Agency.
The town of Manbij located in the Azaz – Jarablous line is the initial aim of PYD forces in the area. PYD control over this area would mean an uninterrupted connection between the PYD's unilaterally proclaimed cantons founded in Kurdish-inhabited areas in Syria under their control. Manbij is located some 40 kilometers south of the Turkish border.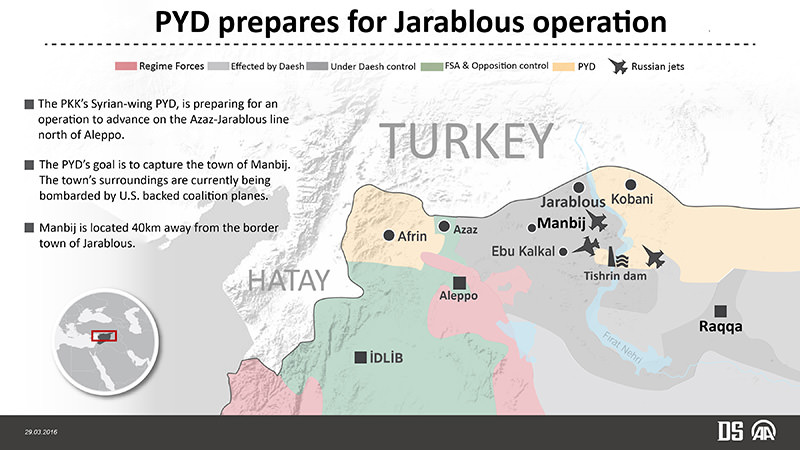 Stating the PYD's ties with the PKK terror organization, Turkey have repeatedly stated PYD presence in this area would be a direct threat against its national security, and it does not want its ties over land with the rest of Syria and the Middle East cut off by a hostile force. Various NGO's also warned that the PYD had carried out war crimes and forced relocations against Arab and Turkmen populations of the area to maintain its presence.
Instead of PYD or regime control in the region, Turkey had long proposed establishing a safe zone in the area.
Local sources told AA that regime forces may also be preparing for an attack in the region, and both the PYD and regime forces may stage attacks on multiple fronts against Daesh.
The cooperation between the PYD and regime is apparent in the northeastern province on Hasakah, where the regime's public institutions continue to operate and collect taxes in the region co-controlled by the regime and PYD.
Regime and PYD forces also have a joint operation room for planned advances on the Azaz-Jarablous line in northwestern Afrin district controlled by the PYD. The two groups have also expressed their intent to advance in Daesh-held city of Deir el-Zour from Hasakah.
Local sources said that the PYD is currently preparing for an assault in Manbij and offered cooperation to local Arab and Turkmen tribes, but was refused due to distrust against the group.
Aided by U.S airstrikes, PYD and Peshmerga forces defeated Daesh after a four-month long assault and siege in Kobani district on January 2015, and subsequently advanced into Daesh-held Tal Abyad district to connect the Kobani and Rojava cantons. Then the PYD proceeded into the Tishrin Dam on the Euphrates River again with the aid of U.S. airstrikes, creating a bridgehead for their advance on the west bank of the river.
British daily The Times had earlier claimed that the U.S. was keen to the idea of the PYD removing Daesh from Manbij.