Daesh terrorists on Friday seized a string of villages from Syrian rebels near the Turkish border in rapid advances that forced the evacuation of a hospital and trapped tens of thousands of people amid heavy fighting, Syrian opposition activists and an international medical organization said.
The advances in the northern Aleppo province brought the militants to within three 3 kilometers (2 miles) of the rebel-held town of Azaz and cut off supplies to Marea further south, another rebel stronghold north of Aleppo city.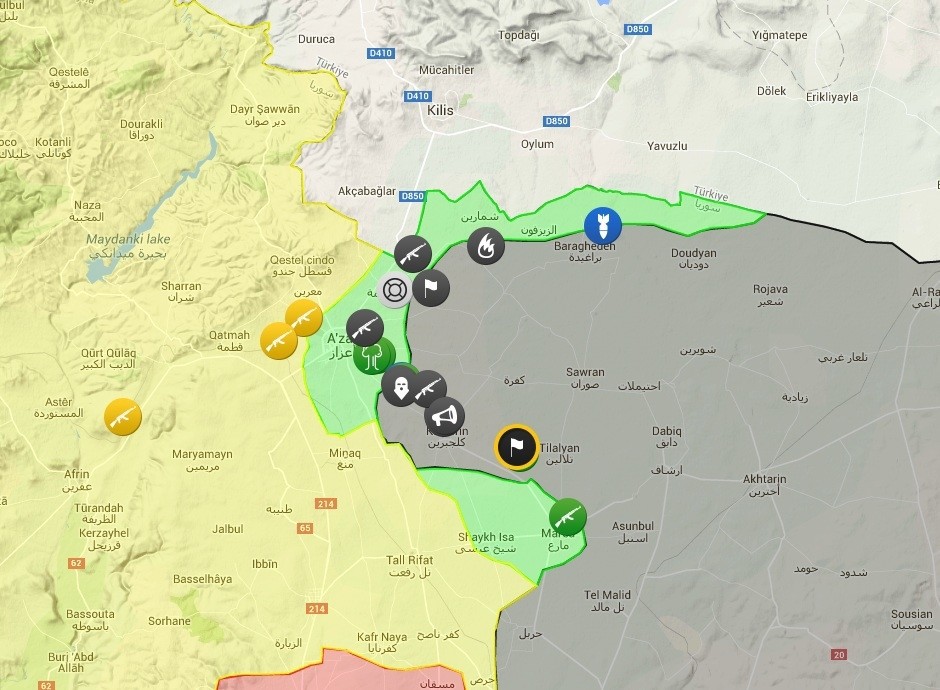 They also demonstrated the Daesh terror organization's ability to stage major offensives and capture new areas, despite a string of recent losses in Syria and Iraq.
The Daesh offensive began Thursday night. By Friday, the group had captured six villages east of Azaz including Kaljibrin, cutting off rebels in Marea from the Azaz pocket.
The rebels in the area — which include opposition fighters known as the Free Syrian Army along with some factions — have been squeezed between Daesh to the east and predominantly Kurdish forces to the west and south, while Turkey restricts the flow of goods and people through the border.
The Daesh news agency, Aamaq, also reported the advance, saying the Daesh terror group seized six villages from the rebels.
The humanitarian medical organization Doctors Without Borders said its team is currently evacuating patients and staff from the Al Salama hospital, which it runs in Azaz, after the frontline shifted to within three kilometers (2 miles) from the facility.
The group, known by its French acronym MSF, said a small skeleton team will remain behind to stabilize and refer patients to other health facilities in the area.
"MSF has had to evacuate most patients and staff from our hospital as front lines have come too close," said Pablo Marco, MSF operations manager for the Middle East. "We are terribly concerned about the fate of our hospital and our patients, and about the estimated 100,000 people trapped between the Turkish border and active front lines.
"There is nowhere for people to flee to as the fighting gets closer," he said.
Azaz, which hosts tens of thousands of internally displaced people, lies north of Aleppo city, which has been divided between a opposition-held east and government-held west.
A route known as the Azaz corridor links opposition-held eastern Aleppo with Turkey. That has been a lifeline for the rebels since 2012, but a government offensive backed by Russian air power and regional militias earlier this year dislodged rebels from parts of Azaz and severed their corridor between the Turkish border and Aleppo.
The predominantly Kurdish Syrian Democratic Forces (SDF), who are fighting for their autonomy in the multilayered conflict, also gained ground against the opposition.
In recent months, Syrian rebel factions in Azaz have separately come under fire from the terrorist Daesh group, pro-Assad regime forces and the SDF.
MSF and other aid organizations warned earlier this month that the humanitarian situation for over 100,000 people trapped in the Azaz opposition-held pocket was critical.
On Thursday, Staffan de Mistura, the U.N. envoy for Syria, said he plans for a resumption of peace talks "as soon as feasible" between the government and opposition but that he set no new date and expects that it will "certainly not" come within the next two to three weeks, his office said.
The lack of a firm date for negotiations testifies to continued violence in Syria and difficulties for U.N. efforts to ship humanitarian aid to beleaguered Syrians as fighting rages between Bashar Assad's troops and their allies and rebel fighters. The talks were suspended last month with little to no progress.
Also Friday, the U.N. refugee agency reported a "spike" in the number of Iraqis trying to flee into Syria to escape the Iraqi city of Mosul, which is controlled by the Daesh terror group.
UNHCR spokeswoman Melissa Fleming said: "Just picture this: we have refugees fleeing to Syria" — now in its sixth year of civil war.
The agency says that nearly 4,300 people arrived at al-Hol camp in Syria's northeastern Hasakah governorate in May.
UNHCR on Thursday began airlifting tents, blankets, mattresses and other items to the Hasakah city of Qamishli in hopes of helping up to 50,000 people.
The Iraqi government in March announced a highly publicized plan to retake Mosul, Iraq's second-largest city. But only a handful of nearby villages have been captured since then.