An executive order drafted for U.S. President Donald Trump to sign would direct the secretaries of state and defense to produce a plan for safe areas for civilian refugees inside of Syria and other nearby countries, according to a document seen by Reuters.
"The Secretary of State, in conjunction with the Secretary of Defense, is directed within 90 days of the date of this order to produce a plan to provide safe areas in Syria and in the surrounding region in which Syrian nationals displaced from their homeland can await firm settlement, such as repatriation or potential third-country resettlement," the draft order says.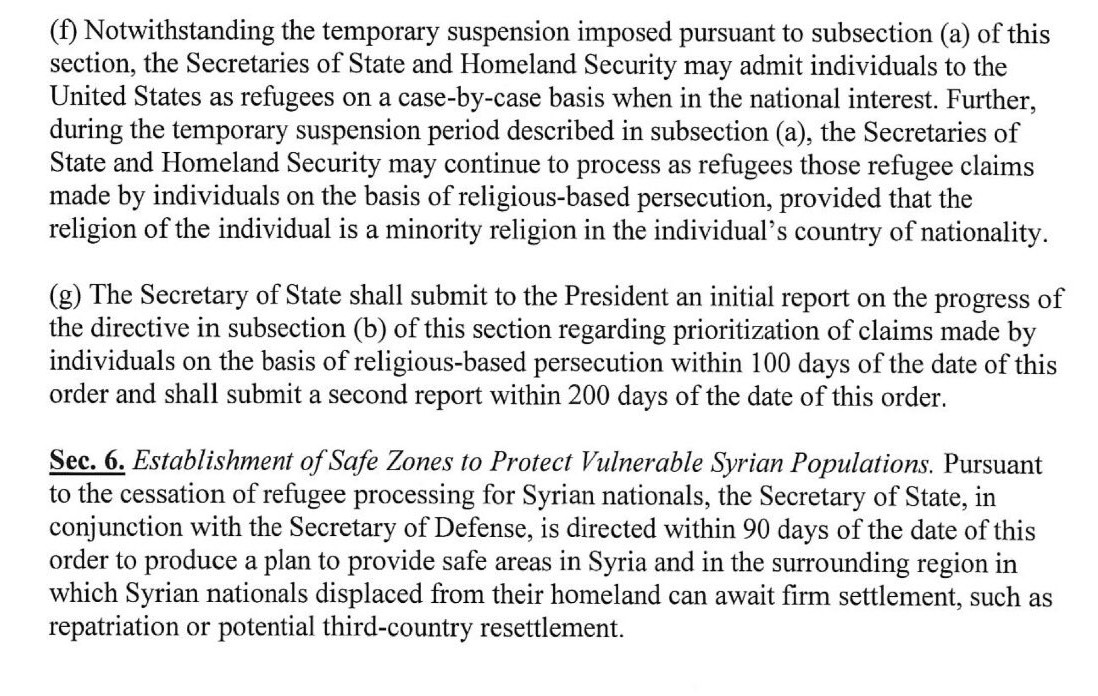 President Recep Tayyip Erdoğan had many times reiterated the necessity of safe zones within Syria. In a speech he made on January 19, he had said that Turkey will establish a de facto safe zone in the war-torn country.

Erdoğan also affirmed that the forces that utilized Daesh, the PKK, PYD and YPG tried to cut Turkey off from Syria by establishing a terror corridor, and attempted to use the aforementioned terrorist organizations to attack border towns in Turkey. Saying that there are similar efforts to cut off Turkey from Iraq - a plan that is being pushed by the said forces- Erdoğan said: "We waited for the right time to launch the operations. We are continuing to encircle the terrorist organizations in the region. Daesh is on the run, while we are continuing to fight against the PKK and its offshoots the YPG and PYD. We will establish a de facto safe zone that is cleansed from all terrorist organizations."

THE US' NEW IMMIGRATION POLICY
Meanwhile, a draft executive order obtained by The Associated Press showed that Trump intended to stop accepting Syrian refugees and temporarily suspend the United States' broader refugee program for 120 days.
The president also plans to suspend issuing visas for people from Iran, Iraq, Libya, Somalia, Sudan, Syria or Yemen for at least 30 days, according to the draft. All are predominantly Muslim countries.
Trump is expected to sign the order this week. It is not clear whether the draft will be revised before then.
The actions follow Trump's orders Wednesday tightening immigration policies, including taking steps toward building a wall on the Mexican border.