Two bomb blasts hit Damascus Wednesday including a suicide attack at a central courthouse that left at least 25 dead, as Syria's war entered its seventh year with the regime now claiming the upper hand.There was no immediate claim of responsibility for the bombings, the second wave of deadly attacks in the capital in less than a week after twin bombings killed 74 on Saturday.
Wednesday's first attack saw a suicide bomber rush inside the building and blow himself up when police tried to prevent him from entering the courthouse in the centre of Damascus, state media reported. In the second attack, a suicide bomber blew himself up inside a restaurant.
The bombing inside the Justice Palace, located near the famous and crowded Hamidiyeh market in Damascus, was the latest in a spate of explosions and suicide attacks targeting government-controlled areas in Syria and its capital.
A witness at the scene in the Hamidiyeh neighbourhood said security forces had cordoned off the area and roads leading to it were blocked as ambulances and firefighters rushed to the building.
The courthouse contains both an Islamic religious tribunal charged with personal matters, and a criminal court.
"We were terrified because the sound of the explosion was enormous," a lawyer in the building during the attack said.
"We took refuge in the library which is on a higher floor," the lawyer added, speaking on condition of anonymity.
"It was a bloody scene."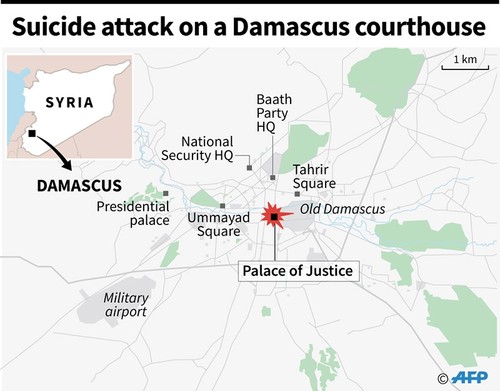 A local prosecutor told state television: "The terrorist targeted civilians... during a crowded period.
"The suicide bomber tried to enter and when police tried to prevent him, he rushed inside and blew himself up," the prosecutor added.
The bombing comes on the sixth anniversary of the Syrian conflict, which began with anti-government demonstrations in March 2011.
Last Saturday, a twin bombing in the capital killed 74 people and was claimed by Fateh al-Sham Front, the former al-Qaida affiliate in Syria.
Syria has been locked in a devastating civil war since early 2011, instigated by the Assad regime which cracked down on pro-democracy protests that had began as part of the Arab Spring uprisings, with unexpected ferocity and disproportionate force.
Since then, more than 600,000 people were killed and some six million people were displaced in the conflict.