The U.S.-led coalition air-dropped U.S. and PKK-affiliated People's Protection Units (YPG) dominated Syrian Democratic Forces (SDF) near Tabqa in Raqqa province, militias against Daesh, the SDF's Raqqa campaign said on Wednesday.
The operation aims both to capture the strategic Tabqa area across the Euphrates from the SDF's other holdings and to curb Assad regime advances in that direction, the U.S.-backed alliance of militias said in a statement on a social media feed.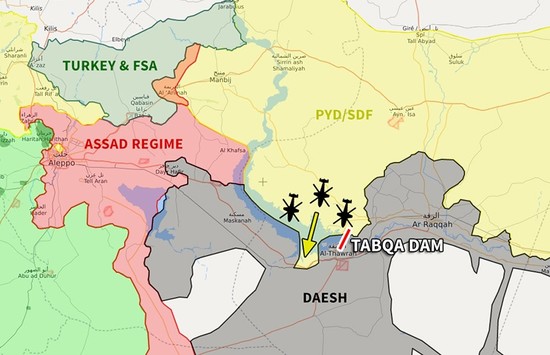 Image: syria.liveuamap.com / Daily Sabah
Meanwhile, the U.S. military is providing air and artillery support to the Arab component of the SDF the Pentagon said Wednesday.
"Coalition forces are assisting the Syrian Arab Coalition with airlift and fire support in an operation to seize the Tabqa dam," Pentagon spokesman Major Adrian Rankine-Galloway said.
A U.S. defense official confirmed artillery is being used in the operation.