Pentagon releases video from missile launch against Assad airbase in Syria in response to chemical weapons attackhttps://t.co/O5RQZR4yb8 pic.twitter.com/laxFN4W4cR

— DAILY SABAH (@DailySabah) April 7, 2017
The United States fired a barrage of cruise missiles into Syria Thursday night in retaliation for this week's gruesome chemical weapons attack against civilians, U.S. officials said. It was the first direct American assault on the Assad regime and Donald Trump's most dramatic military order since becoming president. Trump cast the U.S. assault as vital to deter future use of poison gas and called on other nations to join in seeking "to end the slaughter and bloodshed in Syria."
The surprise strike marked a striking reversal for Trump, who warned as a candidate against the U.S. getting pulled into the Syrian civil war, now in its seventh year. But the president appeared moved by the photos of children killed in the chemical attack, calling it a "disgrace to humanity" that crossed "a lot of lines."
Announcing the assault from his Florida resort, Trump said there was no doubt Syria's Assad was responsible for the chemical attack, which he said employed banned gases and killed dozens.
"Assad choked out the lives of helpless men, women and children," Trump declared.
About 60 U.S. Tomahawk missiles, fired from warships in the Mediterranean Sea, targeted an air base in retaliation for a chemical weapons attack that American officials believe Assad regime aircraft launched with a nerve agent, possibly sarin.
The president did not announce the attacks in advance, though he and other national security officials ratcheted up their warnings to the regime throughout the day Thursday.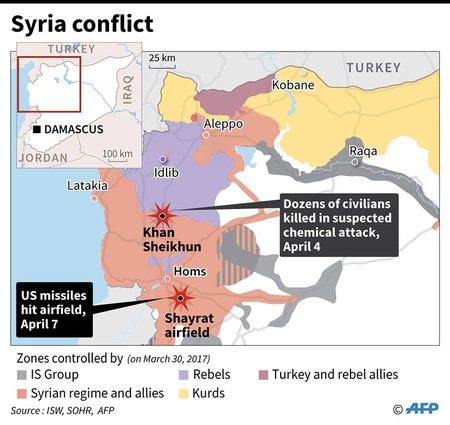 "I think what happened in Syria is one of the truly egregious crimes and shouldn't have happened and it shouldn't be allowed to happen," Trump told reporters traveling on Air Force One to Florida, where he was holding a two-day summit with Chinese President Xi Jinping.
The strike came as Trump was hosting Xi in meetings focused in part on another pressing U.S. security dilemma: North Korea's nuclear program. Trump's actions in Syria could signal to China that the new president isn't afraid of unilateral military steps. even if key nations like China are standing in the way.
The AFP reported that the military strike on the airbase has caused several deaths, citing the governor of Homs province where the Shayrat base is located.
He said parts of the base were on fire and some of the wounded were suffering from burns.
"It will take some time to determine the extent of the damages," he said.