Syrian regime have used chemical weapons more than two dozen times during the country's civil war, U.N.-mandated war crimes investigators said Wednesday, adding that they have solid evidence a Russian-built plane used by Bashar Assad's air force conducted a sarin-gas attack in the spring that killed at least 83 civilians and sparked a retaliatory U.S. strike.
In the most conclusive findings to date from investigations into chemical weapons attacks during the conflict, the U.N. Commission of Inquiry on Syria said a government warplane dropped sarin on Khan Sheikhoun in Idlib province in April, killing more than 80 civilians.
"Government forces continued the pattern of using chemical weapons against civilians in opposition-held areas. In the gravest incident, the Syrian air force used sarin in Khan Sheikhoun, Idlib, killing dozens, the majority of whom were women and children," the report said, declaring it a war crime.
The attack was previously identified as containing sarin, an odourless nerve agent. But that conclusion, reached by a fact-finding mission of the Organization for the Prohibition of Chemical Weapons (OPCW), did not say who carried it out.
In their 14th report since 2011, U.N. investigators said they had in all documented 33 chemical weapons attacks to date.
Twenty seven were by forces of the regime, including seven between March 1 to July 7. Perpetrators had not been identified yet in six early attacks, they said.
The Assad regime has repeatedly denied using chemical weapons. It said that its strikes in Khan Sheikhoun hit a weapons depot belonging to opposition forces, a claim dismissed by the U.N. investigators.
On April 7, the U.S. launched a punitive strike on Shayrat Air Base, where the report says the Sukhoi-22 plane took off. About 60 U.S. Tomahawk missiles, fired from warships in the Mediterranean Sea, targeted the air base in the first direct American assault on the Assad regime.
A separate joint inquiry by the U.N. and OPCW aims to report by October on who was to blame for Khan Sheikhoun.
The U.N. investigators interviewed 43 witnesses, victims, and first responders linked to the attack. Satellite imagery, photos of bomb remnants and early warning reports were used.
UN gravely concerned about US-led Coalition strikes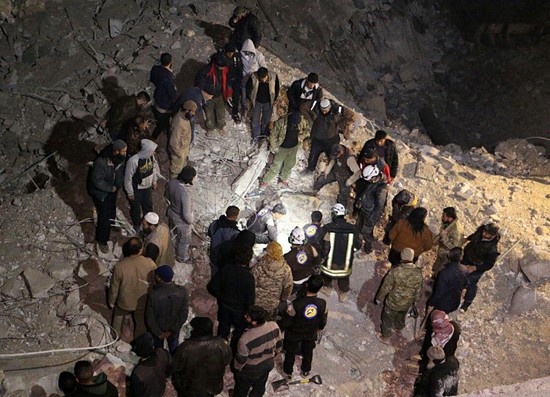 The independent investigators, led by Paulo Pinheiro, also said they were "gravely concerned about the impact of international coalition strikes on civilians".
"In al-Jina, Aleppo, forces of the United States of America failed to take all feasible precautions to protect civilians and civilian objects when attacking a mosque, in violation of international humanitarian law," the report said.
A U.S. military investigator said in June that the air strike was a valid and legal attack on a meeting of al Qaeda fighters. It was believed to have killed about two dozen men attending the group's meeting and caused just one civilian casualty.
The American F-15s hit the building adjacent to the prayer hall with 10 bombs, followed by a Reaper drone that fired two Hellfire missiles at people fleeing, the U.N. report said.
"Most of the residents of al-Jina, relatives of victims and first responders interviewed by the Commission stated on that on the evening in question, a religious gathering was being hosted in the mosque's service building. This was a regular occurrence."
"The United States targeting team lacked an understanding of the actual target, including that it was part of a mosque where worshippers gathered to pray every Thursday," it said.