Schools have been hardest-hit by the ongoing conflict in Syria since 2011, dealing a deadly blow to the education process in the war-torn country, according to a NGO.
In a new report, the Syrian Network for Human Rights (SNHR) said a total of 1,356 schools have been bombed since the outbreak of the Syrian conflict in March 2011.
The NGO said more than half of the schools have been left unserviceable by attacks carried out by regime forces, Russian warplanes, U.S.-led coalition, Daesh and YPG/PKK terrorist organizations and anti-regime opposition groups.
The rights group noted that the number of attacks has sharply increased since 2015 when Russian forces began its massive air campaign in support of Syrian regime forces.
According to the NGO, regime forces carried out 996 attacks on schools, while Russian warplanes were responsible for 169 attacks.
The U.S.-led coalition launched 87 attacks on schools, while anti-regime groups were responsible for 36 attacks, Daesh launched 23 attacks and YPG/PKK terrorists carried out three attacks.
The NGO said unidentified elements were responsible for 42 attacks on schools in Syria.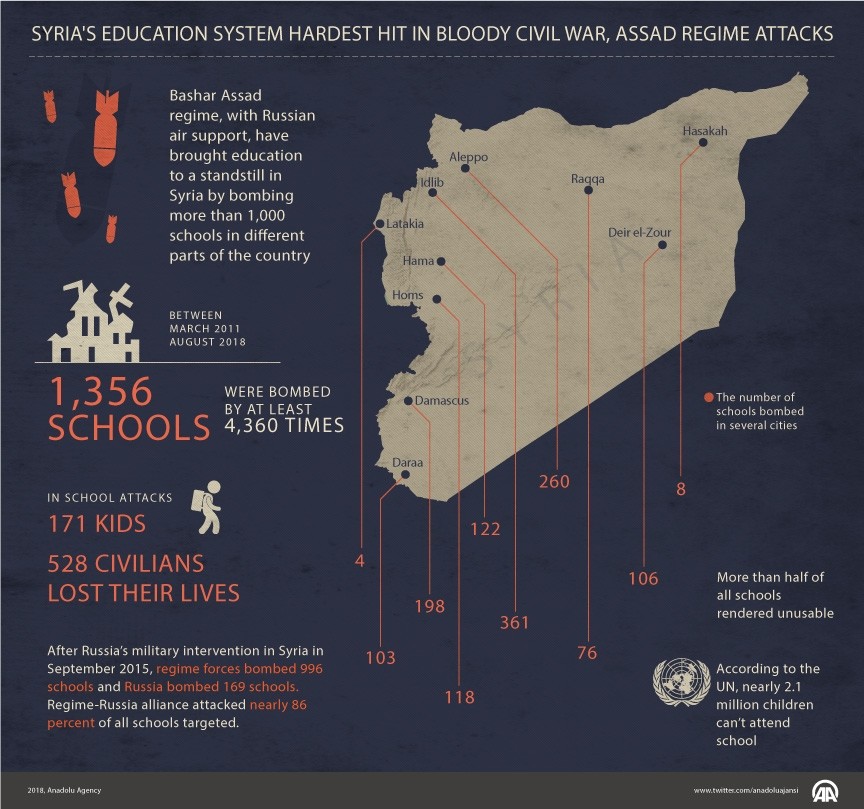 Schools in Idlib
SNHR said many families have stopped sending their children to school over attacks and sent them instead to work at early age.
The NGO said a total of 361 schools have been damaged in the northwestern province of Idlib, 260 in Aleppo, 198 in Damascus and its countryside, 118 in Homs, 76 in Raqqah, 103 in Daraa, 122 in Hama, 106 in Deir el-Zour, 8 in Hasakah and 4 in Latakia.
The group noted that a total of 528 civilians have been killed, including 171 children, in attacks on schools in Syria.
Last month, Virginia Gamba, the UN special representative for children in armed conflict, said more than 7,000 children have been killed in Syria since 2011.
The UN had earlier said that some 2.1 million Syrian children were unable to continue their education due to the ongoing conflict in Syria.