The tender for 4.5G mobile technology held by the Information and Communication Technologies Authority (BTK) on Wednesday in Ankara ended with a record 3.35 billion euro bid from the country's cellphone operators. This amount is more than 1.06 billion euros higher than the total minimum amount for bidding, and more than 600 million euros higher than expectations. When value added tax is included, the government will gain a total of 3.96 billion euros.
The fiercest competition took place to obtain 1,800 megahertz (MHz) and 2,600 MHz band frequency segments. The frequency segment sale, which was initially planned for 4G technology, was changed to 4.5G with President Recep Tayyip Erdoğan coming into play. The 4G contract that was scheduled for May 26 was postponed to Aug. 26, and it was decided that GSM operators would be entitled to 4.5G in the new contract.
Vodafone Turkey, Avea and Turkcell became final contenders in the 4.5G mobile network tender totaling 1.1 billion euros. Newly founded Netgsm did not bid for 4.5G mobile network packages, and announced that it will apply to a court for the annulment of the tender, citing irregularities in tender specifications.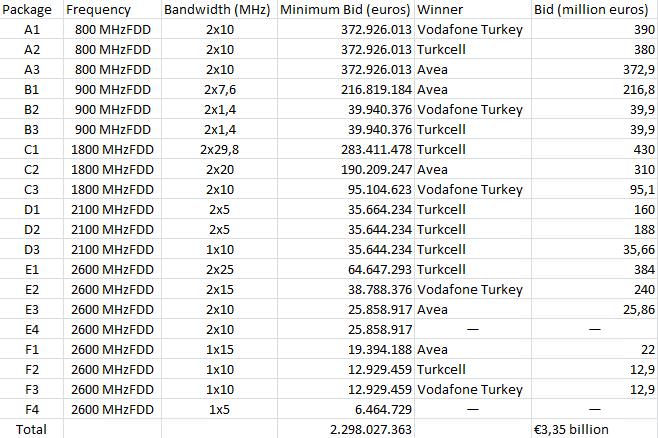 Vodafone submitted the highest bid for the 800 megahertz spectrum band A1 package with 390 million euros, followed by Avea with a 380 million euro bid for the A2 package and Turkcell with 373 million euros for the A3 package. Vodafone and Avea have pledged to pay an additional 24 million euros more than the required minimum amount for bidding.
Avea submitted the highest bid in the 900 MHzFDD (B) packages with 216.8 million euros, while Turkcell and Vodafone won the tender in the two remaining packages.
Turkcell submitted the highest bid in the 1800 MHzFDD (C) packages with 430 million euros, followed by Avea with 310 and Vodafone with 95 million euros. Turkcell and Vodafone have pledged to pay an additional 267 million euros more than the required minimum amount for bidding.
Turkcell won all three 2100 MHzFDD (D) packages with 276 million by pledging to pay 276 million more than the required minimum amount for bidding.
The tender for the eight different frequency packages in the 2600 (E,F) megahertz spectrum bands ended with a total bid of 697 million euros, with three operators pledging to pay 491 million euros more than the required minimum amount for bidding, despite no bids being made in two packages as Netgsm withdrew.
It has become compulsory to use 4.5G advanced fourth generation technology when establishing any future telecommunication infrastructure after a change was made in the International Mobile Telecommunications (IMT) tender held last month. Turkcell, Avea, Vodafone and Netgsm tendered the bid for TL 50,000 ($16,982). The tender was held via the sealed bid open tender method and will commence with the opening of bidding envelopes. The tender commission checked the documents in the envelopes, and 20 different frequency packages put out to tender through auctioning.
The authority delegation lifetime will last until April 30, 2029. After the tender, consumers will be provided with new technologies, including 5G, by using the aforementioned frequency bands.
While the current frequency amount allocated to mobile network operators is 183 MHz, it will be increased to 573 MHz in total by adding new frequency bands as part of the tender. The amount of total frequency after the tender will be three times more than the current amount, whereas the amount of frequency bands that will provide data services to mobile broadband will be five times more.
People will have the opportunity to reach information much faster thanks to the service that will be provided with IMT Advanced Technology, which is known as 4.5G and was developed after 3G mobile technology services. As of April 1, 2016, new services can be provided using the frequency bands that will be allocated after the tender. It is compulsory for the operators to cover 95 percent of Turkey's population within eight years after the authority delegation is given.
Additionally, 4.5G will cover tunnels longer than 1 kilometer, highways and high-speed train lines within three years. Thus, people traveling along those routes and lines will have the opportunity to use the mobile broadband service.
Cellphones need to be compatible with CAT6 and will use 4.5G infrastructure at the maximum level. Such cellphones will have an upload speed of 50 megabytes per second (Mbps) and a download speed of 300 Mbps. Most cellphones on sale will be compatible with 4.5G technology. According to GfK data, 10.4 million smartphones were sold in 2014, and this figure is expected to reach 11.4 million this year.