With the introduction of 4.5G infrastructure on April 1, 2016 and an increased smartphone ownership, mobile-based internet and data services in Turkey have grown exponentially. This, in turn, has boosted revenues for the country's mobile operators, the Information and Communication Technologies Authority's (BTK) second-quarter data has revealed.
As of June 2017, Turkey had some 76.6 million mobile subscribers, including machine-to-machine communication (M2M) subscribers, which corresponded to 96 percent a penetration rate.
Since April 2016, there was a quick transition from 3G to 4.5G subscriptions and at the end of June 2017, the number of 3G subscribers dropped to 13.2 million, while the number of 4.5G subscribers reached 59.8 million. So much so, internet and data accounted for 71.1 percent of Turkcell's, 61.2 percent of Vodafone's and 51.4 Türk Telekom's total revenues in the second quarter of this year.Online music and video streaming services, internet TV, and social media applications have mainly driven the growth in mobile data usage.
Share of calls decreaseRevenues from regular phone calls, on the other hand, have fallen sharply, constituting just 14.5 percent of Turkcell's, 29.7 percent of Vodafone's and 39.8 percent of Türk Telekom's revenues.
Meanwhile, SMS and MMS revenues also decreased, making up just 3.6 percent of Turkcell's, 6.6 percent of Vodafone's and 6.5 percent of Türk Telekom's revenues.
Turkey, however, had the longest call durations in Europe. As of June 2017, the monthly call duration per subscriber was 360 minutes for Turkcell, 472 minutes for Vodafone and 519 minutes for Türk Telekom.
Broadband subscribers up by 20 pctThe broadband user data as of the end of June indicated that Turkey's had some 66.4 million broadband internet users, of whom 11.1 million were fixed subscribers and 55.3 million were mobile subscribers.The number of internet subscribers increased by 20.1 percent compared to the same period of last year. The highest increase was recorded in fiber subscription with around 28.3 percent, followed by mobile data with 23.3 percent.
The monthly average data usage for mobile broadband users stood at around 3 GB compared 6.3 GB by 4.5G subscribers with compatible devices and SIM cards.
In terms of fiber infrastructure, the 277,758-kilometer network last year reached 304,530 kilometers in the second quarter of 2017, with an increase of over 9.6 percent.
Transition to postpaid lines
In the second quarter of 2017, some 47.3 percent of mobile subscribers used prepaid services while the number of postpaid subscribers increased by 50.4 percent to hit 52.7 percent over the last year.
It seems that the most important reason behind that increase was smartphone bundles and offers. Operators focused on devices in order to increase consumer loyalty and enabled the change.
As of the second quarter of 2017, postpaid subscribers constituted 54.1 percent of Türk Telekom subscribers, 53.2 percent of Turkcell subscribers and 51 percent of Vodafone subscribers.
Meanwhile, in terms of total mobile subscriptions, 89 percent were individual users compared to 11 percent of corporate subscribers.Mobile traffic on the riseThe report also revealed the traffic and revenue share claimed by each operator. Turkcell's traffic increased by 9.4 percent, while Vodafone and Türk Telekom's shares increased by 6.3 percent and 3.2 percent respectively.
In the meantime, Turkcell's market share stood at 44.9 percent compared to Vodafone's 30.9 and Türk Telekom's 24.2 percent, in terms of income generated from subscriptions in the second quarter of 2017.
Tablet, computer market grows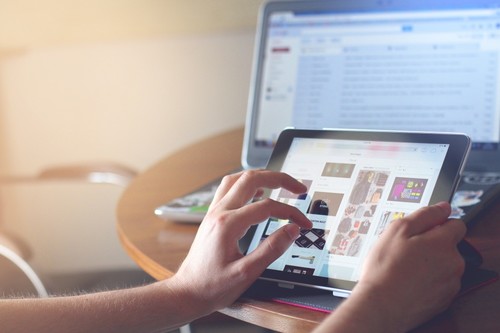 The market for computers and tablets also grew in the second quarter according to International Data Corporation's (IDC) latest data. Turkey's personal computing device market, PCD, (desktop, laptop computers, workstations, and tablets) closed the second quarter with a total of 879,450 units.
According to the PCD market data given by IDC, a provider of market intelligence, advisory services, and events for the information technology, telecommunications, and consumer technology market, there was an 8.9 percent year-on-year decrease in the second quarter, but there was also an 8.7 percent increase compared to the first quarter.
The shutdown of some large tenders and the quarter-end quotes of producing companies made it possible for the actual numbers to rise by about 3 percent than expected.
Consumers have preferred to delay PC purchases by adopting a similar "wait and see" policy in the first half of the year, which was replaced by acceleration in the second half, thanks to the improvement in political situations, the beginning of the school year and the efforts by different institutions to spend their IT budgets by the end of the year.
In the second quarter of 2017, Samsung led the tablet market with a 22.8 percent market share, followed by Vestel with 13.9 percent and Lenovo with 8.9 percent. In the PC market, Lenovo became the market leader with 25.7 percent market share with its power in the consumer segment. It was followed by HP which has its presence both in public and the consumer market. Asus, on the other hand, held a 14.1 percent market share, maintaining its strong presence on the consumer side.