Operating in Turkey for 70 years with full confidence in the country's economy and aviation sector, the U.S. civil and military aircraft manufacturer Boeing is poised to launch an extensive national aviation program as part of the Undersecretariat of Defense Industries' (SSM) Aviation Industry Development Program.
Boeing, the Investment Support and Promotion Agency of Turkey (ISPAT) and the SSM disclosed the details of the company's National Aviation Plan, which was announced during President Recep Tayyip Erdoğan's visit to the U.S. in September.
Turkey through its strategic partnership with Boeing looks to expand its aviation industry while the latter aims to double its economic impact in the country over the next decade.
As part of the National Aviation Plan, Boeing plans to accomplish the Aviation Industry Development Program, Engineering and Technology Development Center, Regional Flight Training Center, Regional Cooperation in Service and Maintenance to strengthen its operational presence in the sector. Considered a pillar of this program, the Aviation Industry Development Program will launch on Nov. 28 in Istanbul.
Boeing's plan looks to contribute to Ankara's 2023 vision. Therefore it was drawn up by the aviation giant and its associates in Turkey to support its aviation industry. It envisions a framework based on a win-win principal that will benefit Boeing as well as Turkey, Turkish Airlines (THY), as well as other aviation service providers and industrial suppliers.
The Undersecretary of Defense Industries İsmail Demir highlighted that a developed and global aviation industry is a priority area and is essential to Turkey's 2023 vision.
"The Boeing National Aviation Plan takes an innovative route in order to combine our resources, competence, and specialties with Boeing and improve our domestic aviation industry. We gladly welcome such plans that will facilitate cooperation between Turkey and Boeing in accordance with a common goal," Demir said. ISPAT President Arda Ermut also explained the agency's expectations of Boeing to ensure significant contributions to Turkey's aviation sector in line with the country's 2023 vision. "The Boeing National Aviation Plan and projected investments signify direct investments made in Turkey's future. The strategic partnership with Boeing, in that regard, aims to render Turkey one of the prominent aviation countries in the world," he said.
ISPAT develops strategies that will cater to the 2023 vision. "The impact of this plan and the added-value it will create would exceed that of a conventional factory investment. We attach particular importance to technology transfer and export-oriented manufacturing. Therefore, the technology, engineering and research and development investments will ensure the transfer of technology," Ermut said.
The training and engineering centers will also contribute to the country's employment, Ermut said, adding that the aviation industry development program will expand the share of domestic manufacturing in the global supply chain and boost exports.
Boeing has full trust in Turkey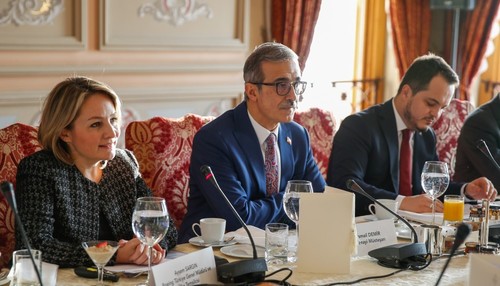 Elaborating on the Boeing National Aviation Plan, Boeing Turkey General Manager and Country Representative Ayşem Sargın drew attention to Turkey's strategically important geographic position for the aviation sector.
"Turkey's geographical position, the opening of Istanbul's new airport and the visionary growth strategy of the Turkish Airlines ensures the country's potential to grow in aviation," Sargın said, adding that Turkey significantly contributes to Boeing's productivity and the company's global success with its manufacturing industry and high standards, competent engineers and capable human resources.
Citing the plan, she said, "Boeing contributes to the sustainable growth of the aviation industry and boosts its competitiveness by transforming the longstanding partnership with Turkey into a strategic win-win partnership."
The multidimensional program aims to double Boeing's economic impact on the Turkish economy over the next 10 years.
"Boeing's National Aviation Plan is also the embodiment of the company's trust in Turkey's long-term development and growth as it is an important market and global industrial partner of the company," the Boeing country manager said.
Operating for 70 years in Turkey, Boeing makes $160 million of purchases from the country's manufacturing industry every year. Moreover, since the launch of the Peace Eagle Project with Turkey more than 15 years ago, Boeing's total investments in the country reached $1.6 billion.
Boeing works with a broad network of suppliers on several programs in Turkey. Turkish Aerospace Industries (TAI) is one of its 20 long-time suppliers network spread across Ankara, Istanbul, İzmir, Bursa, Kayser, and Eskişehir. Furthermore, Boeing and Kale Aero have participated in all Boeing commercial plan programs since 1997.
Meanwhile, PFW supplies parts for the 787 program and THY Technic provides technical and maintenance service for several Boeing commercial aircraft models. As part of the Peace Eagle Project, Boeing also cooperates with ASELSAN, SELEX, THY, and HAVELSAN, Turkey's defense software and systems company.
Boeing also provides new facility installations in the PFW (ESBAŞ), Fokker Elmo (ESBAŞ) and Kale (DESBAŞ) free trade zones. Boeing's key international suppliers, including PFW, Fokker Elmo, Alenia, and SpiritAerosystems, also invest and provide jobs in Turkey.