Imagine you have a more than 10-hour or even 20-hour layover in an airport. Would you prefer to wait in the crowded and hectic airport premises with limited entertainment facilities such as restaurants and shops and lay down on the hard chairs in the waiting halls or gates or would you rather discover the city you are passing through and wander around its monuments and streets?

The reply most people would give to this question would be to choose the latter, since they may find it a little bit boring to wait for several hours in a closed area. But the reply also begs another question. How can someone seize the layover time to indulge in an adventure in the transfer city? Probably by their own means, searching landmarks, must-see points and maybe a place to crash and spend the night in the city center close to the airport, if the layover extends through the night. Despite the labor, a long transfer period can turn into a fun memory.

Still, passengers may not have the opportunity to seize the time or may be too lazy to arrange the transportation to hit downtown or go to the places listed as the city's monuments.

In this case, one can resort to the facilities in the airport. Many transfer passengers also enjoy an airport city right at the heart of the airport, surrounded by malls, hotels, and restaurants or an airport terminal that can turn into a music hall where passengers can indulge in beautiful melodies. This is the portrait of an airport that strives to cater to the needs of its passengers and give them some quality time.

Now, imagine an airport that offers its passengers and transfer passengers a breath of fresh air in one of the most beautiful cities the world has seen: Istanbul.

That is what the Istanbul New Airport administration is preparing for once the airport starts serving visitors.

The airport's administration plans to offer passengers with a long enough layover time a speedy Istanbul tour in an attempt to provide passengers a memorable travel experience and to emphasize the city's character as a destination in addition to a transfer hub.

A destination to experience

It was 2015 when Turkey initiated the construction of one of the largest infrastructure projects in the entire history of the Republic. Istanbul New Airport, also known as the Third Airport, has set out to become one of the largest airports in the world and the biggest air transfer hub in Europe, once finished.

Aiming to become both a destination, an arrival point, and a transfer hub, Istanbul New Airport strives to offer passengers unique experiences, both inside and outside the airport, which will change the perception of aviation services.

Speaking to Daily Sabah, Hüseyin Keskin, CEO of Istanbul Grand Airport (IGA) Airport Operation, explained both the entertainment and security services at the airport.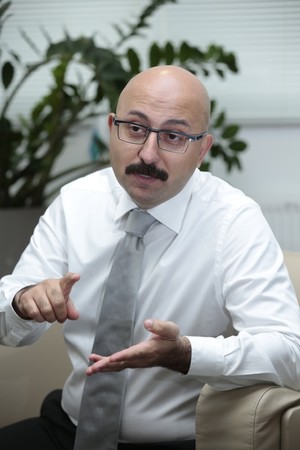 "We will build an airport where we can offer our passengers facilities or opportunities according to their gender, age, demographic background, needs or pleasures, income level, time and morale at the time of travelling," Keskin said.

Keskin said that transfer passengers waiting for their next flight can enjoy shopping in a vast area of duty-free and retail stores within the premises of the airport, as well as listening to a nice concert. The IGA CEO also highlighted that a project to provide an Istanbul tour for transfer passengers is on the table.

Easy pass, convenient travel
Keskin said 3.5 billion people, which is half of the current world population, are estimated to be candidates for the use of Istanbul New Airport during the first 25 years that IGA will operate the airport. He declared, "Only the fast and effective integration of technology can enable a perfect journey for so many people."

Keskin explained that instead of giant and alarming security check systems, the third airport in Istanbul will install smart security units that can scan people in groups and monitor suspicious or dangerous faces from designated centers. "This system," the IGA CEO said, "will secure swift and efficient security checks and boost passenger satisfaction."

Moreover, Keskin also expressed that machines and equipment that can recognize and process mobile signs, faces and voices or with other personal data will be used at the check-in and baggage claim points.

Another convenience the Istanbul New Airport offers is that of speedy passenger flow simplified through visible and easily recognizable processes, dynamically composed routes and decreased and easier walking distances, Keskin noted, adding that the administration is planning an airport that will eliminate the crowds that overwhelm passengers.

A transfer hub to surpass its counterparts
All the listed convenience and entertainment facilities explained above aim to offer passengers arriving in Istanbul or transferring somewhere else a pleasant and unforgettable travel experience that reinforces Istanbul's character as a center of world aviation and further reinforces the city's character as a transfer hub and destination.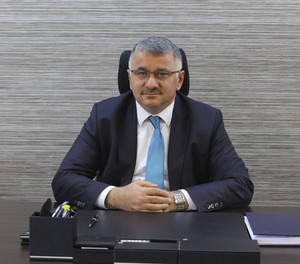 Highlighting Istanbul's position as "the West of the East and the East of the West," CEO of Turkish Airlines (THY) Bilal Ekşi stated that 66 percent of world air traffic passes over Istanbul and there are 41 countries and 78 cities (excluding Turkish cities) in a three-hour radius to Turkey, 53 countries and 118 cities in a four-hour flight radius and 66 countries and 143 cities in a five-hour flight radius, emphasizing the city's connectivity to the surrounding regions, hence its significant potential as a transfer hub with high connectivity.

According to the THY CEO, the airliner offers services to these destinations in narrow-body aircraft, which are important for carrying transfer passengers and can fly short distances. These narrow-body aircraft serve a large region, taking off from Istanbul. They can fly to 200 destinations out of 242 international destinations to more than 60 capitals and THY's narrow-body aircraft can fly to the entirety of Europe, the Middle East, Central Asia, North and Eastern Africa, which means that, as Ekşi confirms, THY can fly to most of the destinations many airliners serve with wide-body aircraft from Istanbul at more reasonable prices.

In addition to providing cost advantages, Ekşi stated that these aircraft offer passengers the opportunity to fly at different hours of the day and do not confine them to a single frequency.

Ekşi also remarked that when Istanbul New Airport becomes operational, the problem of frequency for many airliners that cannot fly to or from Istanbul due to shortage of slots will be able to fly to or from Istanbul, which will bring new airliners into Turkish aviation.

Ekşi also stressed that Istanbul New Airport will upgrade Istanbul's aviation services, which already offer flights to the greatest number of countries.


Source: Frontier Economics

When asked about how the airliner could contribute to the competition with other rising airports in the region, Ekşi said that THY foresees a significant increase in the frequency of flights to important world capitals and destinations where they carry a vast number of passengers. Another important contributor, according to Ekşi, will be the quality time the new airport will present to its passengers, which in return gains both the airport and the company a competitive edge over their rivals.

Emphasizing that IGA wants to strongly reveal Istanbul's character not only as a transfer hub, but also as a destination, IGA CEO Keskin noted that the number of airliners carrying passengers from long distance intercontinental destinations are limited, except when it comes to THY.

Only three airline companies from Eastern and Southeastern Asia directly fly to Istanbul and there are no airliners flying from Africa to Istanbul, Keskin said, adding that no airline company flies directly to Istanbul from India, China and Japan, which are among the world's prominent countries in terms of population and economic growth. Therefore, Keskin firmly believes increasing connectivity with the aforementioned regions will improve Turkey's position in civic aviation.
Keskin opines that one of the vital advantages of Istanbul New Airport over its rivals in Europe, such as Amsterdam's Schiphol, London's Heathrow, and Frankfurt Airport in Germany, is the fact that Istanbul has scheduled flights during the night, as opposed to many European airports, which are either closed or offer limited service at night.

Economic impact of aviation
Successful and dense hub airports with high rates of efficiency play a special role in an economy by underpinning a country's connectivity to long haul destinations around the world.

A 2011 report prepared for Heathrow Airport outlines that London Heathrow is Britain's gateway to the global economy, handling around 69.5 million passengers per year. The report reveals that more than 4 million long haul passengers a year arrive at Heathrow to visit Britain, which composes 80 percent of all the long haul passengers coming to the country. Moreover, in the same year, it was reported that Heathrow provided 220,000 jobs and contributed 11.1 billion pounds to the British economy, 6.1 billion pounds of which is contributed by long haul passengers, while 1.6 billion pounds was provided by stop-over passengers (See Table 1).

The activities in Schiphol Amsterdam constitute a vital engine driving the Netherlands' economy and generates employment. The aviation sector contributes more than 26 billion euros every year to the GDP (gross domestic product) of the Netherlands. The Schiphol site hosts about 500 companies providing employment for nearly 65,000 workers.

Furthermore, according a report prepared by the International Airport Transport Association (IATA) the air transport industry is estimated to have supported a $9.7 billion gross value added contribution to GDP in Turkey in 2014.

"Spending by foreign tourists supported a further $39 billion gross value added contribution to the country's GDP. This means that 6 percent of the country's GDP is supported by the air transport sector and foreign tourists arriving by air," the report demonstrated.

The figures provide a general framework of the importance of aviation to the economies of countries with a developed aviation sector. Connectivity, which measures access to the global network of air transport hubs in major airports and designates the combination of arrival points and frequency, secures significant economic gains.

The studies measuring the contribution of connectivity to the economic growth prove that connectivity has a statistically significant relation to a country's GDP. Another study by IATA (2006) shows that a 10 percent increase in connectivity yields a 1.1 percent increase in GDP, which increases business investments (0.6 percent) and total factor productivity (0.9 percent).

All these figures and statistical data compels one to ask the question how Istanbul New Airport will increase the city's and its own connectivity and bring economic gains.

With regards to connectivity, both the airport administration and Turkey's flagship carrier THY particularly aim to increase and diversify the frequency at the airport, the timing and the capacity of flights.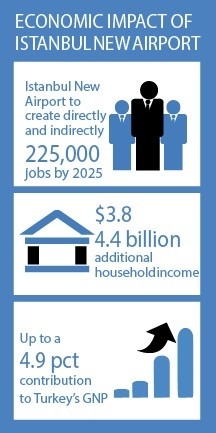 IGA CEO Keskin said Istanbul New Airport will provide flights to more than 350 destinations around the world, which makes it one of the biggest hubs in the world. The airport will also serve almost 100 airline companies. Once all the phases are completed, the daily take-off/landing average will be likely around 3,500 and it will have a capacity for 347 narrow-body and 266 wide-body planes in addition to six runways and 143 boarding bridges, the CEO stated.

These flight facilities will in turn contribute to the macroeconomic data of the Turkish economy to a considerable extent. Istanbul New Airport is expected to provide employment for 225,000 people by 2025, as an economic impact analysis report prepared by the Center for Economic and Foreign Policy Studies reveals.

Furthermore, an additional household income will be created, of around $3.8-4.4 billion, and its contribution to Turkey's national economy will reach up to 4.2-4.9 percent of the national income. This percentage may seem challenging and unachievable for some, yet there is the concrete example of Amsterdam Schiphol. The studies prove that the contribution of Schiphol Airport constitutes more than 90 percent of the Netherlands' aviation sector in the country's economy, meaning that about 3 percent and 3.4 percent of the GNP (Gross National Product) is composed of the aviation industry.

With all the promises and excitement, Turkey now waits for the grand opening of the first phase of Istanbul New Airport, the first phase of which is planned to be operational by 2018.