A major airline passengers group has lauded Turkish Airlines (THY) as a 5-star global airline based on passenger experience and comfort, the national flag carrier announced Tuesday.
Constantly developing and diversifying numerous investments to upgrade its products and services, THY has once again been acknowledged for the unprecedented flight experience it offers.
The airline received the award at the Airline Passenger Experience Association (APEX) Award Ceremony at Expo 2017 in Long Beach, California, the airline said in a statement. The APEX presents aviation awards based on passenger preferences and it is recognized as one of the world's most prestigious aviation organizations.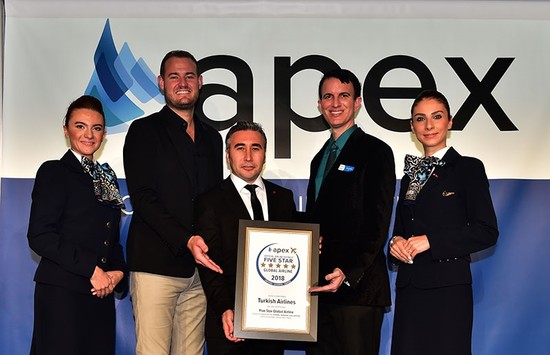 With this award, THY has once again registered its global leadership in passenger experience and comfort. The airline has been granted numerous awards from many respected organizations in the industry categories such as service, catering concept and private passenger lounges. Skytrax, one of the most important awards of the aviation industry, has presented the national flag carrier in recent months with four awards. For the consecutive years, THY was been named the Best Airline in Southeast Europe. Its other awards include Best Airline in Europe for six consecutive years starting in 2011, Best Business Class Onboard Catering in 2013, 2014, 2016 and 2017, and World's Best Business Class Lounge in 2015 and 2017, the statement read.
"What differentiates us is that while connecting our guests with their loved ones, we turn great ideas into reality, which results in a travel experience full of unique services and delightful differences," Turkish Airlines Chairman İlker Aycı said.
Aycı said being named a 5-star global airline by passenger votes is the most valuable recognition they get in return.
THY has 328 aircraft, both passenger and cargo, flying to 300 destinations in 120 countries, including 251 international and 49 domestic destinations. In August, THY hit an all-time high for seat occupancy at 84.3 percent, carrying 7.4 million passengers, a 14.3 percent rise over the same month last year.
Last year, the company carried 62.8 million passengers, up 2.5 percent from 61.2 million passengers in 2015.
APEX, a 40-year-old international trade association, represents the world's leading airlines, suppliers and related companies, working to elevate the passenger experience. The APEX Official Airline Ratings is the first airline rating program based solely on verified and certified passenger feedback. The overall ratings were certified by an external auditing service hired by APEX and used to establish the airline's Official Airline Ratings.