The prototype for an electric horse carriage produced by a company in southern Turkey went on the market for sale in southeastern Diyarbakır province, and is expected to contribute to tourism in the city, reports said Thursday.
The unique carriage was reportedly manufactured by a company in Denizli province, Anadolu Agency reported. The prototype of the electric horse carriage has been proposed to the Metropolitan Municipality and will be used in the Sur district after approval.
The electric-powered carriages are expected to hit the streets of Diyarbakır soon, company representative Veysi Tan said, who noted that he has used horse carriages in the historical streets of Diyarbakır in the past.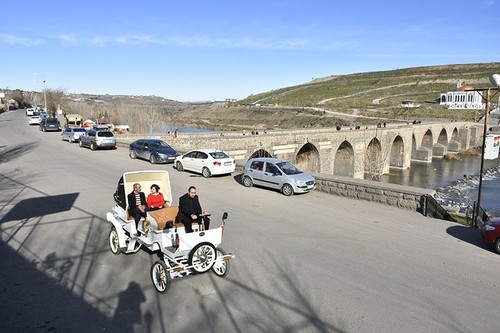 The carriages will contribute to tourism in the city, which is famous for its numerous sites, including the Sur district which is home to historical walls.
Animal lovers were also pleased about the electric horse carriages, as they will function without cruelty toward animals.
"I am very pleased that the carriage is electrical, because animals are not tortured and I am happy to see this happening in the Sur district," electric horse carriage rider Zeliha Yüksel said.