A group of Chinese tourists who came to Turkey to spend their honeymoon were welcomed in a special ceremony, which allowed them to get insight on Turkish wedding customs. The ceremony has been organized under the scope of the 2018 Turkish Tourism Year in China.
Around 30 Chinese tourists who chose southern resort town of Kuşadası on the Aegean coast wore their wedding attire and attended the ceremony, which started with traditional Turkish folk dances.
Officials noted that the group consisted of Chinese newly married doctors, pharmacists and health workers.
They initially visited Istanbul and Pamukkale and came to Kuşadası to finalize their honeymoon, officials added.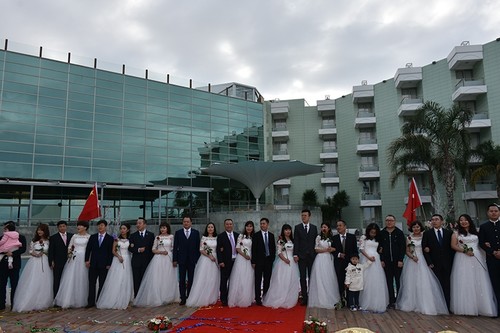 ASAV Consulting firm official Tayfun Yılmaz highlighted that Chinese couples love to take photos with their wedding gowns during their honeymoon, Anadolu Agency reported.
He added that a popular song by Chinese singer Xiao Zhang entitled "I want to bring you to romantic Turkey" has also increased interest in the country.
"We will welcome larger groups in the future," Yılmaz said, adding that they want to take advantage of the 2018 Turkish Tourism Year in China.
The director of a Chinese non-governmental organization in the health sector has also said that they wanted to participate in the organization to enhance tourism and cultural cooperation between the two countries.
Declaring 2018 to be Turkish Tourism Year in China, Turkey has set a target to attract 1 million Chinese tourists this year.
More than 100 million people traveled abroad last year in China, the world's largest global tourism market.
About 21 percent of the world's tourism expenditures are made by the Chinese, while the number of tourists going abroad from this country increased by more than 10 percent every year in the last 12 years.