Situated in Turkey's southeastern province of Şanlıurfa, the city of Urfa, which was given the attribute "glorious" following World War I, is a city that will take your breath away with its rich cultural and historical heritage, friendly locals and tasty cuisine. The city is called "The City of Prophets" due to the legacy of Abraham, mentioned in all three holy books of the three major monotheistic religions – Judaism, Christianity and Islam. The history of the city, considered a crossroads for different faiths, dates back to more than 9,000 years ago and it is believed that numerous prophets are believed to have lived there.
According to Abrahamic beliefs, Abraham was born in this city, the biblical figure of Job lived in this city and Jesus blessed the city. Due to its location, the city is not included in certain tourist brochures that promote Turkey since western Turkish cities are more renowned for tourism, especially in the summer. However, Urfa leaves a mark on its visitors with both its beauty and soul-soothing nature, and as soon as I landed in the city following a one-hour flight from Istanbul, it embraced me with its tranquility and peace. If you have visited western Turkey before, you will be surprised to discover that the cultures of Turkey's east and west are slightly different.
For instance, Urfa residents have a completely different accent when they speak Turkish and they often speak Kurdish as well since there is a large Kurdish population. It is also on the border of Syria, so the culture in this city is affected by Syrian culture and many speak Arabic as well. For example, the clothing and attire of Urfa, contrary to western cities, resembles Levant culture and you often seen men wearing keffiyehs – a traditional Middle Eastern headdress fashioned from a square scarf, usually made of cotton. Its proximity to the war-torn country may concern you, but there are no safety hazards within Urfa. Thousands of Syrian refugees are accommodated in this city, so it may be a good opportunity for you to listen to their stories when you arrive in the city. Moreover, although I do not speak Kurdish or Arabic, it made me happy to witness Urfa's cultural diversity. When you visit Urfa, you must attend the traditional "sıra nights," which is an informal gathering. It is a great way to make friends and get to know Urfa's traditions, not to mention locals are so hospitable that they do their best to make you feel comfortable while you listen to traditional Urfa music in the background and feast at a huge table serving traditional cuisine.
Urfa is the birthplace of many renowned dishes in Turkey and they are often prepared with some spice. It is a must to try Urfa kebab – a long, hand-minced meat kebab on a wide iron skewer and grilled on an open mangal filled with burning charcoal. Çiğ köfte (raw meatball) is another renowned dish in Urfa; according to the legend, Prophet Abraham created the dish from ingredients he had at hand. Çiğ köfte is a blend of several spices including Urfa's special spice of Urfa biber (isot), ground bulgur and some meat; however, due to regulations in Turkey, it is now forbidden to sell çiğ köfte with raw meat unless you are in a specially-licensed restaurant and it is always suitable for vegetarians. If you are curious to try the original, though, worry not; you can still find in real çiğ köfte in Urfa if you want to try it.
There are also hundreds of different dishes in Urfa's cuisine, many of which are vegetarian and feature eggplant. Among Urfa's classic sweets is Şıllık, made with milk, flour and pistachios is an absolutely amazing dessert. With their hospitality, smiling faces and helpfulness, it is impossible not to love Urfa residents. When they figure out that you are a tourist in the city, they will also want to host you in their homes. They are even eager to host you for an overnight visit since they have a mentality that "every guest is a gift from God."
What to see in Urfa, Gölbaşı: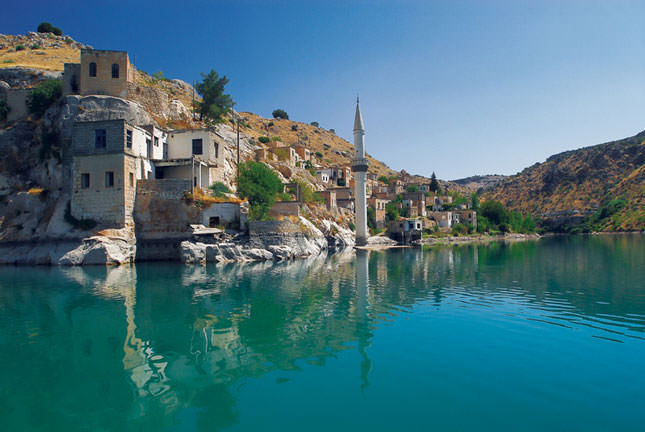 Having different atmospheres in the morning, in the evening and at night, Gölbaşı is one of the most popular places in Urfa. It is one of the places that you can feel the soul of the city with two rectangular carp-filled pools, Balıklı Göl (pool with fish) and Ayn-i Zeliha, two beautiful mosques, teahouses and kebab restaurants. It is traditionally forbidden to feed the carp in the pools since they are believed to be sacred, but few abide by this rule in Gölbaşı. Another legend says that if you dare to eat the fish in the pool, you will be blind as Balıklı Göl is the alleged birthplace of Abraham before his migration, and is one of the main attractions in Urfa as a result. Balıklı Göl also has a story dating back to the once evil ruler, Nemrut, who is believed to have killed many. Legend says that Abraham challenged Nemrut due to his oppression and Nemrut ordered him burned at the stake. A huge fire was lit, but then God turned the flames into water and the woods into fish in order to help Abraham.

Outskirts: Göbeklitepe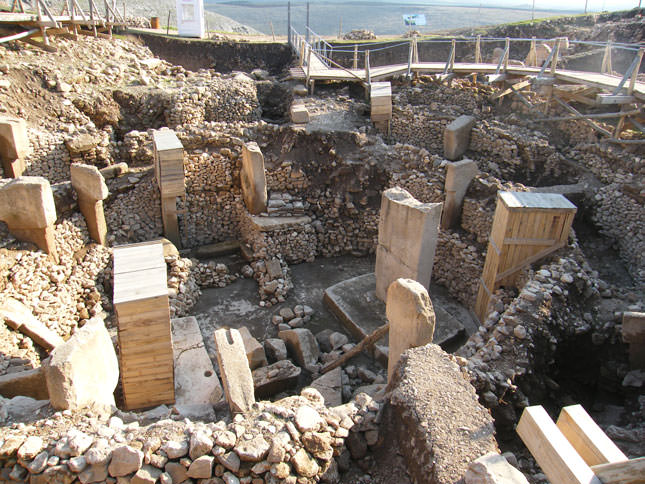 Regarded as one of the oldest temple complexes in the world, Göbeklitepe is reported to be the oldest known sculpture workshop based on the evidence of recent findings. It is on the outskirts of Urfa and you must to see it when you visit the city. Archeological excavations conducted in the area have unearthed many artifacts, and it is characterized as "the zero point of history" since it dates back to 12,000 years ago. According to artifacts, there is no other place anywhere in the world that is as old as Göbeklitepe. Moreover, some of the illustrations there are so amazing that they could of make modern artists envious.