Saklıkent Canyon in the southwestern Turkish province of Muğla's Seydikemer district offers an alternative holiday destination for tourists feeling suffocated by hot city weather on summer days. With its narrow and high rock formations, which do not experience daylight and are shaped by streams and melting ice, the 18-kilometer-long canyon hosts nature-loving visitors who seek an adventurous holiday. Tourists discover the Eşen Streamlet and the spring water of the Bey Mountains, and visitors spending their holidays in the provinces of Muğla and Antalya can take safari tours around the canyon. The canyon's picturesque waterfalls are the hot spot among visitors who queue to take photos, and ropes are available to cross the stream where the water flow is rapid.
Seydikemer Governor Muammer Köken said in a statement that the canyon is a key place for the district to promote to international tourists. He stressed that Saklıkent Canyon is among the biggest canyons in Europe - an important element that contributes to tourism, especially in Fethiye, a popular tourism destination near the district. "Hiking, rafting and mud baths offered by the canyon color the district's tourism. The canyon has been managed by the Seydikemer Municipality since last year. We are working to improve the canyon's condition," he said.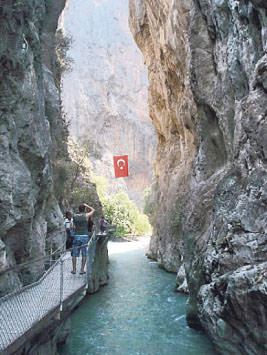 Köken added that the Provincial Forests Directorate is collaborating with the municipality on a project related to the canyon. "The tourism commission, working under the governorship, regularly monitors businesses that are run around the area," he said. Traffic officers also arrange and control the routes of safari tours. "The municipality is thinking of connecting tourist attractions to the towns of Kumluova and Karadere, and 8 kilometers of the 18-kilometer-long Patara Beach are located within the district's borders. Many know about Patara Beach in Antalya as thousands of tourists go there. However, the beach's other side lies in Muğla province. We will also create projects to promote our district better," he said. Singer Selami Şahin and his wife Didem Şahin also paid a visit to the canyon where his fans took photos with him; the couple also crossed the stream with the help of ropes. He said he fell in love with the canyon's nature and chilly weather. "The canyon is very beautiful; I will come here next year again. We took a vacation to celebrate our 30th anniversary," he said.