Walking miles and miles to discover a city or socializing with locals lets you understand the culture. But, if you are eager to remember the taste specific to a city you visit when you go back to your country, trying local dishes is a must.
If you have a limited travel schedule, you should take a culinary tour from Istanbul to the eastern provinces, but if you intend to stay longer, you can learn how to cook Turkish dishes with the help of culinary courses and attend food festivals, olive harvests and wine tasting tours across the country. Meeting the locals can also be a good option for learning the food culture of Turkey.
Kebabs and desserts from the southeastern province of Gaziantep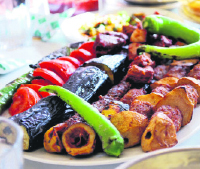 Gaziantep in southeastern Turkey leads the way when it comes to Turkish food culture due to its diverse cuisine. With kebabs, desserts, appetizers, soups and much more, Gaziantep has mouth-watering tastes that may drive you crazy. "Fıstık" (pistachio) is the first word you must know before you visit Gaziantep since it is a primary ingredient in many of the city's famous dishes, especially its desserts and even some kebabs. Since eastern Turkey is where a variety of kebabs emerged, you can taste many of them in Gaziantep from eggplant kebab to shish kebab. "Patlıcan kebap" (eggplant kebab), "Alinazik kebap" (grilled meat over eggplant puree), "ciğer kebap" (liver kebab) and "simit kebap" (thick pistachio puree folded into a mix of ground lamb and bulgur) are among the most mouth-pleasing dishes that will change how you look at kebab culture. Not only kebabs, but also desserts from Gaziantep are reason enough to stay a couple of extra days in the city. You can eat different types of baklava in the Middle East or other cities in Turkey, but the baklava that is special to Antep will definitely amaze you with its pistachio tastes. Eating baklava in Gaziantep is an art; you first need to turn the baklava upside down and touch the base of it to your palate and eat it in one go. One of the best baklavas in Antep is made by İmam Çağdaş, which has many branches in other cities, and Koçak Baklava. While you are in Gaziantep, it is also a must for foodies to visit the city's Kitchen Museum. It is an interesting, eye-catching museum where you can learn about Gaziantep and Turkish cuisine - foods and their ingredients. If you are curious how this mouth-pleasing Antep kitchen came to be, it is one of the best destinations to learn!
A breakfast table from the eastern province of Van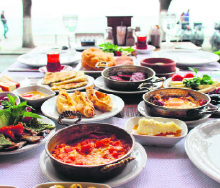 An indispensable part of Turkish culture and the best way to say good morning is a good "kahvaltı" - breakfast in Turkish. A Turkish breakfast can be one of the best reasons to leave a cozy bed for tables and an array of dishes from omelets to homemade jams during your stay in Turkey. Breakfast culture in the eastern province of Van is renowned across the country. Just as different cultures, such as Turkish and Kurdish, live together, breakfast is also greatly affected by Middle Eastern and western cultures in Van. A Van breakfast starts with traditional Turkish breakfast items, such as olives, omelets, menemen – scrambled eggs cooked with tomatoes, green pepper and spices – honey with heavenly kaymak – clotted cream, homemade jams, fresh cucumber and tomatoes, then an array of Van cheeses, herbs, the famous Van honey and pekmez – molasses made from the grapes of Van, Remember breakfast is not a simple meal in Turkey, it is an actual culture. That is why when you have breakfast in Van, never forget to add to your meal a nice breakfast conversation with friends and freshly brewed Turkish tea.
Pastries from the northwestern province of Eskişehir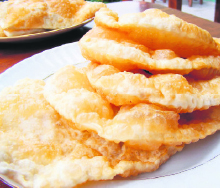 Located between the provinces of Bursa and Ankara, Eskişehir is where you can taste dishes from different cultures and stroll in the city's history-filled streets. Among the most traditional, renowned dishes in Eskişehir, there are çiğbörek and delicious Tatar pie. Çiğbörek in Eskişehir is so renowned that it is not uncommon for those on long road trips to stop by the city center just to have a bite. The Crimean Tatar Çiğbörek restaurant in Kent Park is one of the best places in the city to try this delicious cuisine. Though the dish is offered across the country, only in Eskişehir will you find the traditional preparation of what is one of Turkey's favorite meals. While enjoying you pastries, you should not forget to thank the local ladies preparing those delicious tastes for you. They are friendly and smiling and you will understand why their pastries taste so good.
Iskender from the northwestern province of Bursa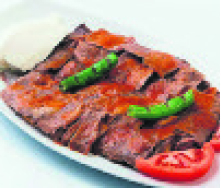 Situated opposite Istanbul across the Marmara Sea, Bursa is Turkey's fourth-largest city and the Ottoman Empire's first capital. It is like a "mini Istanbul" and offers you an historical, unforgettable culinary journey. Bursa is the home of one of the most popular dishes in Turkey, Iskender kebab. Iskender Efendi, who gave his name to this traditional delight, came up with the recipe in 19th century Bursa. First, a platter is lined with a layer of diced Turkish pide bread. Then, thinly sliced layers of succulent döner kebab prepared from meat is placed evenly over the bread. The already appetizing dish is then flavored with a drizzle of hot tomato sauce over the meat and then topped off with hot, melted, aromatic butter. The dish is usually served with plain yoghurt on the side. Once you take your first bite, your taste buds will start a happy dance to thank you. Another alternative to Iskender is "Pideli Köfte." The slight difference between the two dishes is that while döner kebab is used as the main ingredient for the Iskender, mini meatballs are used for Pideli Köfte. Turkish pide bread is the base, and the sauces are the same. Remember that no journey is complete in Bursa without trying Iskender and Pideli Köfte.
Liver from the northwestern province of Edirne
Turkey's northwestern-most province, Edirne, is the best place for liver lovers. Even though some do not like how it tastes; believe me, one you try in Edirne will change your opinion with its amazing taste. You can eat many different types of liver across the country, but none of them will taste as in Edirne. During the Ottoman period, liver was palace food and prepared for sultans. While it is a common food in Edirne, you should choose where you eat liver by considering the conditions and hygiene. Ciğerci Kemal Usta is one of the most famous places where you can eat liver in Edirne. The only thing you can find in this small restaurant is fried lamb liver and hot peppers. Never forget to order ayran - a traditional beverage of yoghurt and water with some salt - along with your liver.
Corn flour and fish from the northern province of Trabzon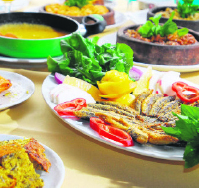 Trabzon, located on the Black Sea coast, is where green meets blue. It is a perfect destination to try different dishes and discover the hidden beauties of Turkey. The Black Sea coast is completely different from any other region in Turkey. Its smiling but hot-tempered people, hidden beauties and dishes will amaze you immediately. The region's cuisine is renowned across the country and marked by dishes with "hamsi" (anchovies), including rice with hamsi, bread with hamsi and you can even find baklava made with hamsi, in Trabzon. "Muhlama," which can be described as resembling cheese fondue, is a delicious dish made from corn meal, homemade butter and traditional cheese, and it is an unforgettable taste for breakfast. People of this region love to add black cabbage to their dishes. It is easy to find since it is a vegetable grown in abundance on the green plateaus. You can taste black cabbage soup and dolma, a special recipe with rolled black cabbage filled with spiced rice. Traditional Turkish tea is made from leaves that grow in the Black Sea region, and it is a must to try while in the city.