With its 11,000-year-old history, the Aşıklı Tumulus - Cappadocia's first village and one of the oldest settlements in central Anatolia - takes tourists on a historical journey. Located in Aksaray's Gülağaç district, the tumulus near Kızılkaya village has been excavated by a group of archaeologists for the last 26 years. Speaking to an Anadolu Agency (AA) reporter, Mihriban Özbaşaran, the head of the excavations, said they began this year's excavations in July. He added that about 10,500 years ago, tribal hunter-gatherers established a settlement on the tumulus, making it the first and oldest settlement in Cappadocia.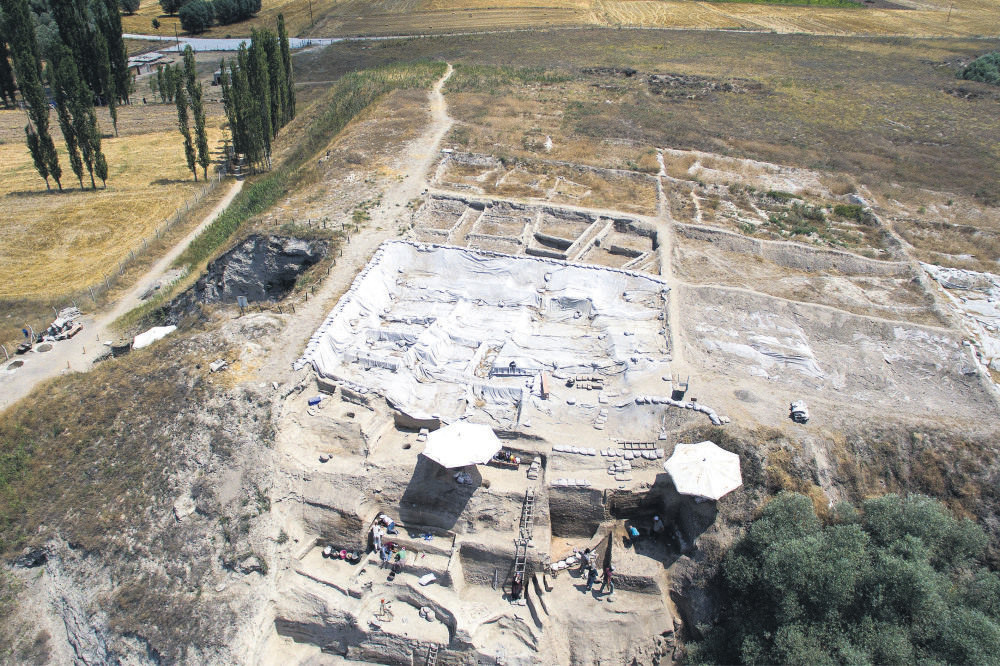 Özbaşaran said tribes settled near the Melendiz River and continued to live there for around 1,000 years. The research team is attempting to uncover how the people of the Aşıklı Tumulus survived and overcame troubles, as well as how they lived in groups and adopted social rules. They also research their economies and technological advancements.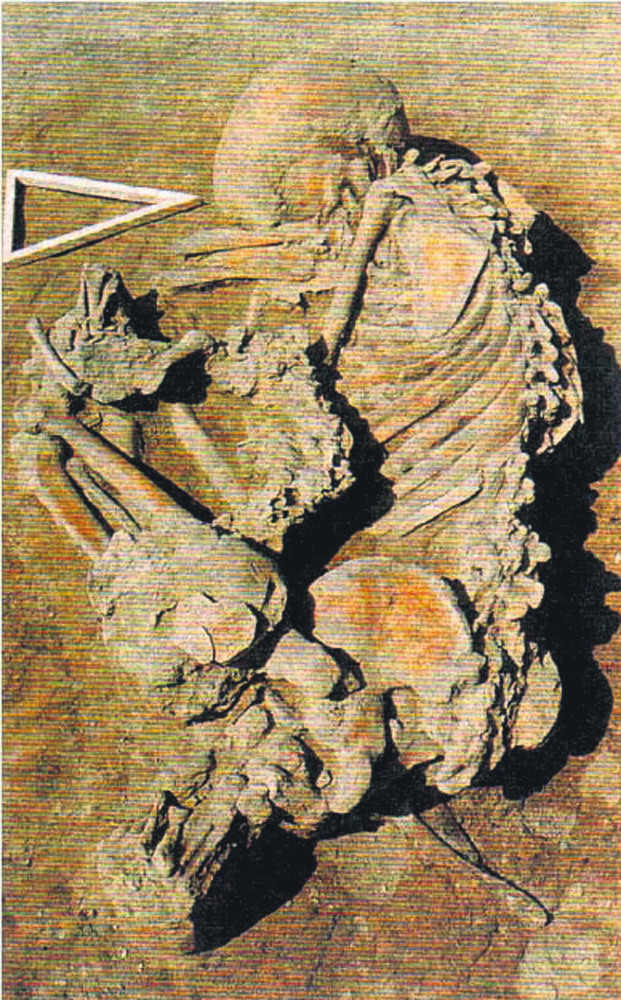 A hollow opening that was created with the help of an obsidian was observed on the skull of a 25-year-old-woman, which indicates potentially the first brain operation in the world performed.
Özbaşaran said that they have made concrete findings about the village's lifestyle. When these people first settled in the village, they used to live in round homes built by creating hollows in the ground. Later, they began to build quadrangle homes at ground level and made walls from mud bricks. "The findings allow us to follow the architectural development of the Aşıklı Tumulus. We also discovered findings concerning their agricultural activities. The locals improved their agricultural techniques as their population grew. They even domesticated animals, learning how to control and feed them," he said, adding that the oldest copper processing was also discovered in the Aşıklı Tumulus.
Özbaşaran said the skull displayed at the Aksaray Museum reveals another first for the Aşıklı Tumulus. A hollow opening that was created with the help of obsidian was observed on the skull, which indicates the first brain operation in the world was conducted on the skull, which belongs to a 25-year-old woman. Özbaşaran said that she lived only 10 days after the procedure. He further said that the tumulus is open to tourists. An international team is working in the field and they are applying experimental archaeological methods to their research. Moreover, the architectural plan of the tumulus can be seen at the entrance. "Our aim is to answer scientific questions and offer visitors a place they can freely discover. Even during the excavation season, visitors can see replicas of archaeological artifacts. You can enter these ancient houses and learn how the people who lived inb them nourished themselves, lit a fire or plastered their walls," he concluded.
Sight-seeing on horse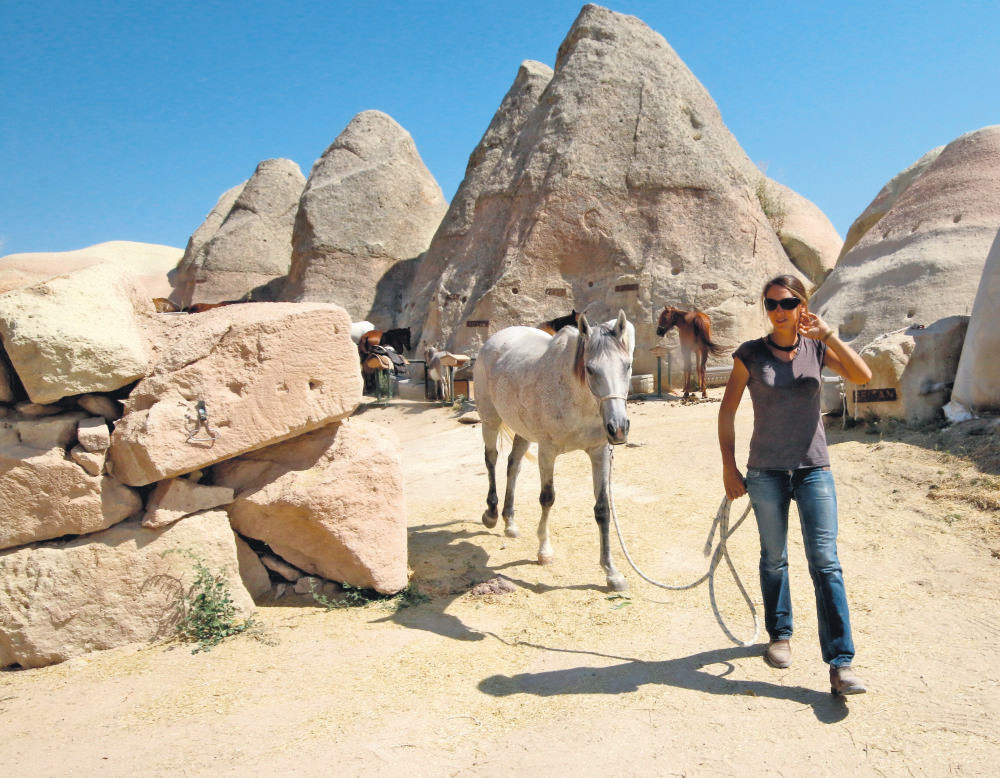 Tourists who would like to escape the stress of their hectic lives can follow the traces of history while wandering around the millions-of-years-old volcanic valleys and carved churches on horseback in Cappadocia. Horseback adventures are very popular around the region, which is boosted by its natural patterns and beauty. The valleys of Zelve, Paşabağı, Güllüdere, Çavuşin, Göreme and Kızılçukur attract scores of tourists seeking to enjoy a horseback safari.
Daily or hourly horseback tours are available in Cappadocia accompanied by experienced tourist guides. Tourists can experience natural beauties made of volcanic rock close up and take a journey into high hills and deep valleys. Cappadocia is very suitable for horse riding, and equine competitions are held in the area. Many tourists describe their horseback treks as an unforgettable experience that is relaxing and informative.
Moreover, tourists traveling to Cappadocia say they fall in love there. Ekrem İlhan, one of horse-riding center's organizing the tours on horseback, said tourists get excited while riding horses. İlhan added that he has been engaging in riding and horse breeding for 18 years, which has become a lifestyle. He said they are satisfied with the interest received as well, and added it is difficult to tour around the region by car, but horses are an alternative means of transport that is also healthy and reduces stress. Horseback treks also contribute to the tourism industry and do not harm the environment. İlhan said international tourists show much greater interest compared to local tourists.