For tourists looking for a slice of paradise outside of a five-star hotel room, the historic homes nestled in the foothills of some of Turkey's most beautiful mountains are a good place to start. With powder-blue and pastel purple shutters on the windows of historic stone houses located in the foothills of the Ida Mountains in western Turkey, the old Greek-Turkish village of Adatepe offers visitors a slice of paradise that will also take a slice out of your wallet. The vacation homes in Adatepe cost as much as TL 750 per night and their real estate value can easily compete with Bosporus-facing mansions in Istanbul.
Having been home to Greek villagers for years, the Adatepe village lies in the town of Küçükkuyu in the district of Ayvacık in Turkey's western Çanakkale province, facing the Gulf of Edremit to the north. The area was once home to Paris, the son of King Priam of Troy, and is even referenced in Homer's Iliad, which refers to a civilization that flourished around the Ida Mountains and Adatepe, evident in the village's olive groves, which are a living witness of this legend. Carrying traces of a long history extending from the Troyes to Persians, Greeks, Romans, Seljuks and Ottomans, the village was declared an archeological site back in 1989 and has preserved its authentic cultural and natural state ever since. Following the population exchange in 1923 between Greeks and Turks, Turks residing in Lesbos and Crete came to Adatepe, while Greeks returned to Lesbos.
In Adatepe, old barns serve as cafes and guests can have a cup of Turkish coffee under shady trees that are centuries old. Sisters Nur As and Melike As, who operate an old Greek stone house as a hotel and also own a cafe, said that the small village beckons tourists who are looking for a holiday spent in nature.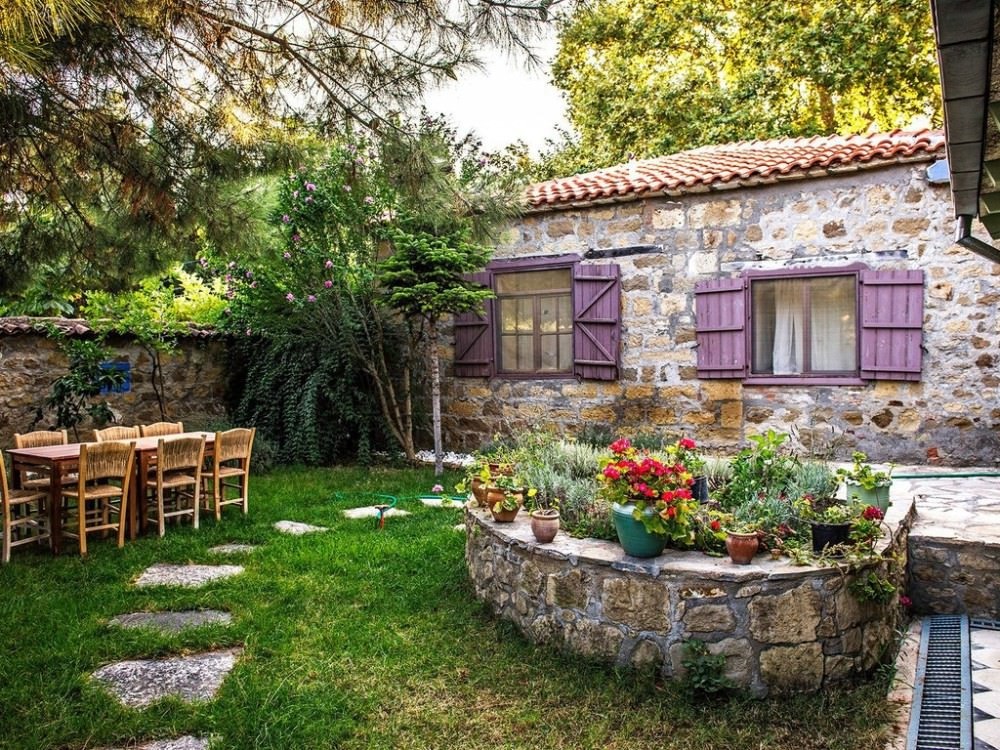 Attracting hundreds of tourists in both fall and summer months, the village offers a tranquil oasis in nature, away from the stress of busy, urban life. To purchase these stone houses, however, home buyers must be willing to pay a lot. The price of a stone house without renovation starts at TL 800,000 to TL 900,000, while a renovated stone home costs millions. Recalling that the village was introduced to tourism years ago, As said, "In Adatepe, people live in harmony with nature and history. Especially in summer, guests flock here and one-night accommodations range from TL 250 to TL 750."
Although the village has family-friendly hotels, As said that some places do not accept children under 10 years of age: "This rule is about preserving quietness and peace in the village. Our hotel is open to children of all ages," she said. A large number of tourists visiting Adatepe come for daily tours. After traveling in Ayvalık, the Ida Mountains and a high hill that faces the Ayvalık Islands, and the island of Lesbos, called "Şeytan Sofrası" (The Devil's Dining Table), tourists make their final stop in Adatepe. Another significant tourist destination that attracts visitors to the village is a sacred place known as the Altar of Zeus on Gargaran Hill inside the district of Ayvacık. Locals also refer to this altar as Zeus Inn and it is believed to be a sacred place where ancient Greeks offered sacrifices to God to prevent illness, drought, natural disasters and loss of life in war.
Visitors walking through the center of Adatepe will see two huge plane trees along with the evergreen cypress trees that provide shade to the village cemetery and line the path to Gargaran Hill. Upon reaching the Altar of Zeus on the hill, there is a breathtaking view and thousands of herbs and wildflowers that sway in the breeze, exuding their pungent scents that curl in the air mixed with the sea breeze coming from the Aegean. The olive groves, located on the coast of the Gulf of Edremit, are an endless ocean of trees, which, according to legend, produce the most aromatic olive oil of the Aegean shores. Olive farming is the primary source of income for the few dozen residents living in Adatepe, as well as stock breeding. Workshops are also held at Taşmektep, the civil initiative based in Adatepe, which offers training programs and workshops on a broad scale, ranging from mathematics to photography, to people from different professional backgrounds.
Umut Aytaç, who has operated a village coffee house for more than 15 years, said that tourists enjoy tea or coffee under a 250-year-old plane tree. "This village is where tourists can easily find organic products," Aytaç said. A local resident, Musa Özcan, said that both summer and winter months bring natural beauty to the village. "Some tourists who visit Adatepe want to settle here while others want to run their own hotels or cafes," Özcan said.