Turks lived as nomads for centuries before settling down in Anatolia in the late 11th century. Since they did not have a developed urban tradition, they followed the footsteps of the civilizations that ruled Anatolia long before them. Gardening was never a major occupation of Turks before they adopted a settled lifestyle. However, as they enlarged their dominion in the territory and further established their empires, Turks, specifically the Ottomans, created the most beautiful gardens according to the topography of the region instead of following established gardening rules. The Ottomans started a gardening tradition among Turks that is still followed by modern gardeners. Instead of planting flowers and trees in a jammed and orderly fashion, Turkish gardens look like they are not created by man but come into being with a force of nature.
This centuries-old gardening tradition still reflects itself in modern Anatolia
Zeytinburnu Medicinal Plants Garden in Istanbul opened its doors 10 years ago to make up for the deficit of medical plantations in Turkey as well as offering a place for Istanbulites to take a breath of fresh air.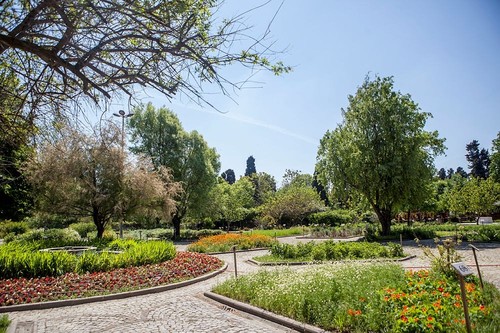 The garden, which is the first medicinal plant garden in Turkey, enables people to learn more about plants that were used in traditional medicine and see fresh plants that are bought from herbalists in ground and powdered form. Initiated by the Zeytinburnu Municipality and the Merkezefendi Traditional Medicine Association to raise awareness of the ecosystem, the garden hosts seeds that are brought from all over Turkey, and saplings are planted over a 1.4-hectare area grown with care. The garden management also offers gardening courses to enthusiastic amateur gardeners.
Heading to southeastern Turkey, Hevsel Gardens, located on an escarpment of the upper Tigris River basin that is part of the Fertile Crescent and recognized by UNESCO's World Heritage List in 2015, has been an important center since the Hellenistic period, through the Romans, Sassanids, Byzantines, Islamic and Ottomans to the present. The garden creates a green link between the city and the Tigris, which supplied the city with food and water. However, recent terrorist attacks in Diyarbakır hit the gardens as well. Luckily, the gardens will be afforested after losing a significant amount of trees and greenery. As part of the government project, 70,000 different trees and flowers of 60 species will be planted. More than 260,000-square-meters will be afforested when the project is finished and Hevsel Gardens will reclaim its former glory.
Arboretums are commonly known as giant botanical gardens where trees and myriad plants grow together in a proper and detailed way, and their origins and ages are examined for scientific and observational purposes.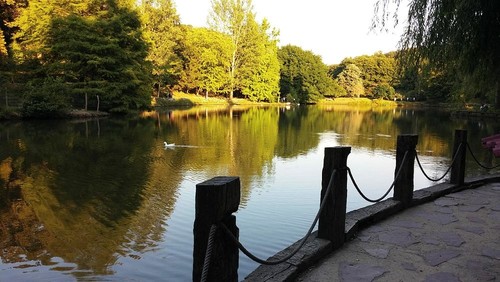 Arboretums, meaning "place grown with trees" in Latin, host plant or tree species that are grown in a specified area and open to visitors. The Atatürk Arboretum in Istanbul can be defined as a living tree museum. The arboretum serves as a scientific study and observation field for Istanbul University's
Faculty of Forestry. Covering an area of 730 acres and including the Kirazlı Dam, which was built during the time of the Ottoman Empire and established as Turkey's first nursery garden in 1916 in its complex, the Atatürk Arboretum is home to hundreds of plants and offers seeds to other botanical gardens around the world. Visitors can see thousands of endemic plants of Turkey as well as plans that are native to the U.S. that can thrive for up to 2,000 years and a giant garden near an artificial lake established for trees that grow in swamp areas and damp climates. The arboretum includes three lakes, and the ducks that swim in these lakes are quite photogenic and offer the perfect photo shoot for professional photographers. Here you will get the chance to see thousands of plant species at the same time.
The Japanese garden in the middle of central Anatolia has been a center of attraction for many years. Built to celebrate the inauguration of the Kalehöyük excavations by Prince Mikasa of Japan in Kırşehir, the garden draws tourists from all over Turkey and the world. Unique for its scenic view and green landscape, the garden in Kırşehir is the biggest Japanese garden outside the Japanese main land. The garden features a symbolic miniature of Sumeru, the central world mountain in Buddhist cosmology, and a small waterfall as well as numerous small plants and trees. The Japanese garden offers a breath of fresh air to locals and is a favorite place for young couples wanting to take photos for their wedding albums.