I grew up in the U.S., where going to another country for the weekend takes an entire weekend; however, from Istanbul, it's quite easy: you can regularly find hour-long flights for less than $100 to an entirely new place. "SEIZE THE DAY!" fellow travelers. I know, it can be daunting, so I've put together this handy pocket travel guide to turn next weekend into a wild adventure. We're going to Tbilisi, Georgia.

Tbilisi started appearing on "European top 10" lists this year after years on the "Europe's best kept secrets" list. You'd better go this summer before it appears on the list of "Europe's most overrated travel destinations." Tbilisi is a weird and magical city where you're just as likely to find a crumbling medieval fortress as a pair of hypermodern chrome-and-glass tubes housing a concert venue. It's been at a crossroads of empires - Persian, Ottoman, Roman and Soviet - but the people of Georgia have held onto a few unique things. They love art and architecture, portraits of their most famous writers adorn all their money, and their alphabet is a national treasure (though it looks like curly fries). Coming from Istanbul, I love the cultural observations the most - things feel simultaneously exactly the same yet utterly different. It's hard to explain. You'll see what I mean.

Three weeks ago, I spent four days in Tbilisi, and I've come to cut through all the horrid slack of travel planning to give you the essentials. Here's how to make Tbilisi work in a weekend.
TICKETS
Most budget airline companies like Pegasus or Onur or Atlas fly to Tbilisi from Sabiha Gökçen in the middle of the night, which really screws up your weekend if you've only got two days. Either take a day off work or book through Turkish Airlines so you can fly at a reasonable hour. If you're really keen to screw up your sleep schedule (but perhaps save some money), you can always go down to the international bus station in Aksaray and get an overnight bus ticket for TL 150 ($40). The buses to Georgia leave every day around 2pm and again at 7pm. It's a 17 hour ride, though, so bring sleeping pills.
ARRIVAL
First give a Gamarjoba! to the passport police, and get the only smile you'll ever see on a passport cop's face. Standard taxi fare to the city center is 50 laris, so if you split the cost with your friends it's not too traumatic. The lira to the lari is about 2 to 1, so double the costs of everything you see to get accuracy.
STAY
Book a room at Fabrika, the hip new hostel/event space/art gallery/whatever in the Marjinashvili neighborhood. It's run by an American who overstayed their peace corps terms of service and settled into Tbilisi life. Fabrika as you may have guessed is a converted factory (it used to make garments of all kinds.) It's wildly decorated on the outside by the city's best street artists, and coolly renovated on the inside with café furniture and sculpture galore. In Fabrika's courtyard, you'll find bars and art studios selling their best clothing designs, trinkets and visual geegaws. At night they host concerts and art shows. What's not to like? Dorm accommodation will run you TL 50, and a private room starts at TL 250.
EAT
Racha is a restaurant in a medieval dungeon where the huge teyzes (bebias in Georgian) bring you plate after plate of home-cooked food. Everything we ate here was outstanding. Everyone else in the place also seemed to be feasting. During our own feast, the guys at the next table brought me over and demanding I feast with them, and then toasted to me, so I toasted to them, and we all feasted. Feast feast feast feast feast.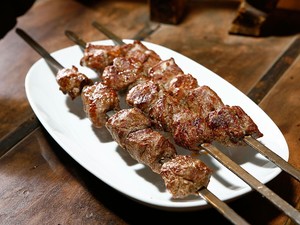 Half the point of fleeing Turkey for Georgia is to sample the haram porky delights so difficult to find in Istanbul. Mtsvadi (try saying that three times fast with a mouthful of mtsvadi) is their signature sis kebab: fat grapevines are dried and burned and turned into coal, and then fatty chunks of pork, which have been marinating in garlic, vinegar, and salt, get skewered onto brutal spikes and fanned with a palm frond a la Jesus entering Bethlehem. When the pork cooks through, oozes porky juices, and acquires the grapey smoke from the vines, it's served on the skewer with raw onion and pomegranate seeds. If that isn't enough to make you drool all over your shirt right now, then you're a heartless chimp and go back to the jungle, chimp. Alongside your Mtsvadi at Racha, you can order a panolply of pickles, cheese breads, beans, soups, and salads. And since they're all about four lari per dish, I don't know why you wouldn't.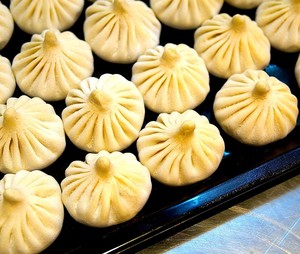 The other food you've probably heard about are the khinkali. Erroneously known as "Georgian manti," the khinkali is the prince of soviet dumplings. A lump of shredded meat, vegetables, and mystery spice gets swaddled in a handful of soft dough and boiled. When you bite into the khink, you'll see that the meatball has created a tiny soup inside the dumpling, and the juices will get all over your face. You have to be very careful while eating. Or else it will be like porn. The best khinkali, everyone says, can be found at Restaurant Pasanauri. They have four kinds of khinkali, and all of them had something a little extra. Tasty.
EXPLORE
When you arrive in Tbilisi and spend any time at all in the historic parts of town, you'll notice two things on top of the weird grassy mountain at the backside of the city. The first is a giant fortress. That's Narikala -- you can either walk up the road for cars (lame!) or experiment with alleys through the falling-down neighborhood until you reach the terraced series of stairways and parks which eventually lead to the top, which is where teenagers and their dates go to stroll. In the last few years, they've built a tram from the other side of the river which runs just to the left of Mother Georgia, a giant woman of tin holding a bowl of wine for her friends and a sword for her enemies. If you take the tram to the top, you can navigate from the top to the bottom.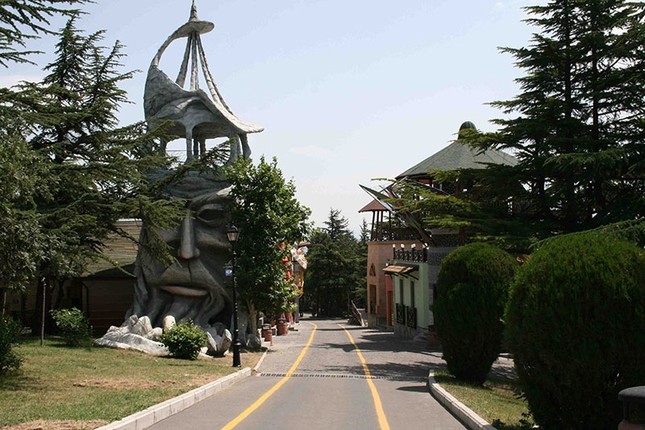 On the other side of the mountain, there's the "Tbilisi Eye," a shamelessly appropriated ferris wheel next to a radio tower. Mtatsminda Park (Holy Mountain Park), only reachable by funicular or extra-exertive hike, provides a fun few hours to travelers of any attitude. A few unique bits make the carnival stick out. One is a photo booth where you can take real live pictures with a St. Bernard for only five lari. (Sadly, the St. Bernard was unavailable on the day we visited. Hopefully he was saving someone from an avalanche. Good boy.) They also have bizarre adult-sized play structures which resemble treehouses, or Cronenberg monsters. And best of all, all the rides cost next to nothing. At 2.75 for a ride on the Tbilisi Eye, I doubt you'll find a cheaper or more salubrious carnival anywhere else. The mountain air makes your lungs clean and strong. The hiking up and downs stairs exercises your legs. The rattling mechanical shivers of the ferris wheel makes your heart race far, far too quickly.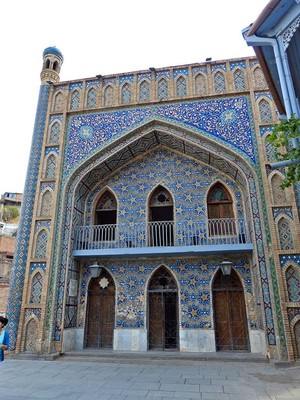 Down the hill in Tbilisi's old town, you can find Tbilisi's hilariously onomatopoeic namesake: The Abanotubani Baths. Abanotubani has no linguistic relation to Tbilisi, but the natural sulphurous springs underneath the city spout "tbili" water - warm. Bulbous brick domes cap the sulphur baths in Tbilisi's twist on the hamam, and you too can visit, if you fancy a scrub.
Continue on through the old part of the city for an unusual peek at centuries of history. Tbilisi has some wretchedly old and beautiful buildings, full of crumbling glory. Alongside Sarajevo, it is one of the only cities in the world where you can find historic places of worship for all three Abahamic religions on the same street. You can pop into Sioni church for a "kriste aghszdga" to St. Nino, into the Great Synagogue for a mazel tov, and up to the Juma mosque for a salaam.
BUY STUFF
Amble down past 9 April Park and get to the Dry Bridge market for the weirdest shopping of your life. Seven bridges hang over the Mtkvari river. Although all of them are indeed dry, weirdly only one of them is called the Dry Bridge (mshrali khidi). After the Rose Revolution in 2004 all of the peddlers and junk sellers gathered up their soviet paraphernalia and started selling all of the things which out-of-town collectors found interesting. In Soviet times, acquiring vinyls of foreign music was wildly illegal, so collectors spent lots of time and money to get their hands on them. And now in a strange reversal, you can buy all of them for cheap, in the open, on the streets. You'll find vintage original Beatles records next to rubber gasmasks, knives, electronic bits, musical instruments, antique books, or chess sets. My personal favorite part of the bazaar is the art market: all of Tbilisi's local artists are welcome to display their art in the park and try to sell it to passers-by. It makes the park far more colorful.
The other thing you have to buy are weird socks. Go to Alter Socks in the Pixel Mall near Vake and you can buy a pair featuring an old man leering at you, or the Mona Lisa, or khinkali.
DAY TRIP
On your second (or perhaps third) day of feasting, toasting, and ambling, you may want a different angle of the town. I recommend getting up to another high-up spot. You've got two choices: Mtskheta or The Chronicles of Georgia.
Mtskheta is the historic capitol. A mere 1700 years ago the first cathedral was built in this river valley, and parts of it are visible in the cathedral still standing there today. Depending on whom you ask, the legend goes that a roman soldier or a nun brought the Shroud of Turin to this spot, and then lightning struck him, and then he turned into a pillar, and then the locals felt convinced that Christianity was the way to go. (Actually it was a political decision: the Georgians converted to Christianity because they wanted the protection of the late Roman empire against the encroaching Persians.) Anyway. If you take the metro to Didube, you'll find yourself at the bus station, and can take a city bus for 1 lari to Mtskheta. It's only a half hour's drive out of town. You can pop into the enormous imposing stone cathedral and let your jaw drop. Or from Mtskheta you can ride another city bus up to Jvari monastery on the mountain overlooking the town. I recommend particularly going during Saturday, the Orthodox holy day, and you can catch some unreal Georgian religious singing. They use their own scale and harmonies, and their Orthodox tradition has produced some of the most spellbinding and unusual music I've yet heard.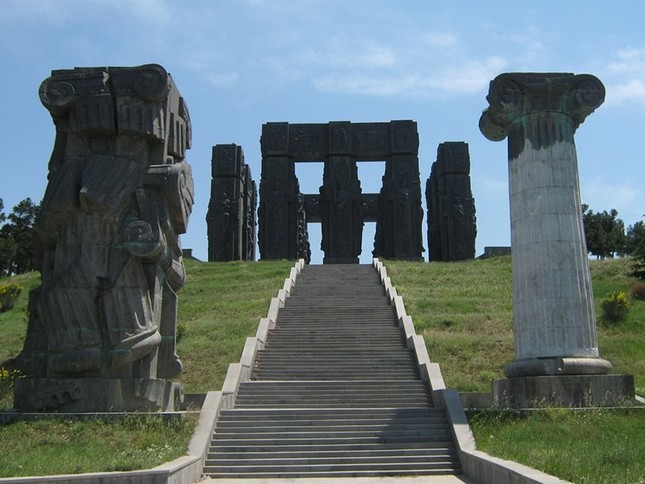 Choice number two: The Chronicle of Georgia was built during the early 2000s as part of the country's redoing nationalization process. A lot of countries after emerging from the aegis of soviet protectionism suddenly found themselves in a global capitalist tide, and had to seize upon tokens of identity as life preservers lest they be swept away by markets entirely. Georgia spent billions on attracting investors, on tourism, and on monuments such as this. (In Skopje, Macedonia, you can find a similar obsession with monuments, but I think the Chronicle of Georgia did it better) It's a grid of obsidian-black pillars on top a hill over a lake on the outskirts of town. Carved on the surface of the rocks is supposedly the story of Georgia's history, but as it's in Georgian and pictograms, I have no idea what it says. It's enough to marvel in the presence of a modern-day Stonehenge. When we tried to go there, we just told our cab driver "Tbilisi lake" and the taxi driver thought he was taking us to "Chinatown," and drove to the opposite side. Tell your taxi driver "the memorial on Tbilisi lake" and you might have a better shot - be prepared to pay about 30 laris from the center of town.
And the best part about visiting the Chronicle is the view from above. You can see the suburbs of the city below a peaceful reservoir. The flood plains over Tbilisi look heroic. There's no other way of describing them: you look down from above the city and imagine a hero on a fat pony with a sword, off to fight the good epic fantasy fight.