In the quiet province of Iğdır on the Turkish-Armenian border, the Kızıldağ village is gaining the attention of nature lovers for its natural beauties, breathtaking views and the chance to see endangered bird species. This historic village, situated in Tuzluca district, offers stunning views of the Tekelti Mountains, the Mountain Ararat and relaxing opportunities along the Aras River, complete with breathtaking views of Armenia.
Home to various ancient civilizations at an elevation of 1,200 meters above sea level, the village of Kızıldağ is frequented by nature lovers, sports fans and photographers in the region. The village offers visitors an impressive view of Armenia, the Aras River, Arpaçay and other natural beauties including the Red Lands and the Çıyrıklı Bird Sanctuary as well as an endangered bird species, the griffon vulture.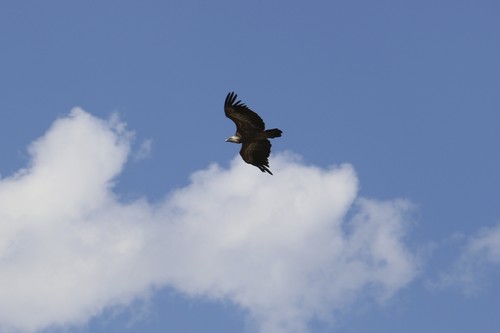 Speaking to Anadolu Agency (AA), Iğdır's Minister of Culture and Tourism Osman Engindeniz said that researchers travel to the region especially for bird watching, where they observe the griffon vulture which is rarely seen elsewhere in Turkey. Engindeniz noted, "The vultures are the symbol of our region as their natural habitat lies in and around Kızıldağ, located in the Armenia-Iğdır-Kars region. There are four types of griffon vultures in the region and they are considered one of the main attractions of Kızıldağ. On the other hand, a one-hour mountain climbing excursion offers great views and historical sights to all who visit the region."
Forestry and Water Affairs Manager Mete Türkoğlu stated that the said types of griffon vultures living in the area do not migrate and can be seen all year-round.
As these birds do not migrate, they can be observed throughout the year. According to Türkoğlu, griffon vultures settle and reproduce in rocky places, away from humans. The vultures can also live in groups in a concentrated area if there is a stable source of food there. The rocky environment and high elevations in the Aras Valley and along the Armenian border offer optimal conditions for the birds to live and reproduce in the area.
A rock climber visiting the region, Betül Öner, climbed to the peak of Kızıldağ and said that despite the strenuous four-hour climb, she was pleased by the magnificent view. "From the peak, you can see the Aras Valley and the Aras Mountains. Armenia was right behind us. We also saw the vultures. The Aras River unites both Turkish and Armenian cultures and you get to experience beautiful views of both countries," Öner said.