Beach paradises are ultimately boring. This is the point: After a hectic X months doing the necessities, putting on ties, making calls, networking, washing dishes, bringing home the bacon (or here, I suppose the idiom would have to be "bringing home the sucuk"), dealing with varietal family problems, and so on, one desires, nay, deserves, a chunk of time to sit on a golden sandbar beneath an umbrella, listen to or perhaps jump into the water playfully splashing up the shore every few seconds, and read trash fiction, or snooze. One desires the particular combination of hot weather and ocean that can in its singular way deprogram the brain of its whirling activity. Waves! Sun! Sand! A cold beverage at hand! The beach is an escape from responsibility and work and anything else, or so the fantasy goes. The whole sum of one's functions becomes binary, cyclical: Swimming to become less hot, and sunning to become less wet.
So what stunned me, in doing the research for this article, was the sheer diversity of ways beach resorts manage to screw this up. Not that some resorts botch it, which we all knew was inevitable, but that they all botch it differently.
I've collected a few common holiday destinations here on Turkey's southern coast and given my impressions on where you should go to fulfill the simple recipe of sand-sun-sea. May you make your choices of destination with a light brain.
Ölüdeniz and Hisarönü
These are by far some of the strangest places I've been in the entire country. Not the mysterious caves and rocky ripples of Cappadocia, not the wondrous blue puddles of Pamukkale, but the British seaside colonies of Ölüdeniz and its satellite province Hisarönü. Locals began catering to their British guests some long 20 years ago, but soon the guests outnumbered the hosts, and began opening shops of their own. A hybrid culture emerged. On the minibuses from Fethiye, you're just as likely to hear English as Turkish spoken in every conversation. Every shop and restaurant has an eye-catching or clever name, either capitalizing on Turkish exoticness or making a pun. Street prices are quoted in pounds. You can get a full English breakfast for under 10 pounds, which probably seems like a deal for tourists, but isn't really all that great in liras. The whole town feels like a place permanently on holiday, permanently in a festive mood, permanently looking for the next party, which can get a little weird. Since whatever ancestral village remnants that existed have been completely supplanted by things for tourists, it feels artificial. Fittingly, "Ölüdeniz" means "dead sea."
Ölüdeniz of course has a spectacular beach, a crescent of perfect sand between two conical hills. The water's perfectly clear. Paragliders can be seen at all hours of the day drifting down from Mount Baba and the usual spread of umbrellas and beach chairs can be found in regiments on the sand. Guaranteed though you'll be inundated with sunburnt Britons swapping gossip about the village, crowded in six to a beach towel.
Rating: Two out of five umbrellas
Kemer
Kemer's coast is 100 percent five-star resorts. What is a five-star resort? It's no measure of quality, as I found out. It's an objective measure of how many features your hotel has: An indoor pool, a full-service restaurant with room service, a spa, an outdoor bar, etc. It is really easy to be a five-star hotel. Back about a year when Booking.com still worked in Turkey, and just after the Russia-Turkey diplomatic spat, there were great deals for every Kemer resort hotel. All the Russian tourists either had their package holidays canceled, or they weren't allowed to buy any new ones. The resorts were desperate to fill the lost space. So you could get an all-inclusive stay, food, drinks, a room, etc., at a five-star beach resort for something absurd, like $20 a night. My brother and I swooped down on the deal and flew down to Antalya for the weekend. I can't even remember the name of the place. Along the Kemer coast, there is a row of indistinguishable resort hotels.
The food consisted of a drying buffet left under heat lamps all day long, the outdoor bar served warm drinks, the hotel insisted on playing pop music at earsplitting volume from 10 in the morning to 10 at night. We had an encounter with an employee named Tarzan who went everywhere shirtless and flexing, drinking milk out of the carton. I wasn't sure what his job was. The management had also hired two white European girls to pose in bikinis on the beach and snap Instagram photos as part of a marketing campaign. At 10:00, when the music came on, they performed a resolute duty of running to the outdoor bar, jumping and dancing and clapping along, pretending this exuberant youthful joy was entirely spontaneous. A tour group of grandmothers from India was having breakfast at the next table from us, and we all witnessed this pitiable spectacle. "Why did we come to this place?" one grandmother speculated out loud. At least they'd brought their own food, of curries and pappadams and pickles, which my brother and I got access to through charming their chef. I don't remember the beach other than as a refuge from the club-thumping beats.Rating: One out of five milk cartons
Antalya
​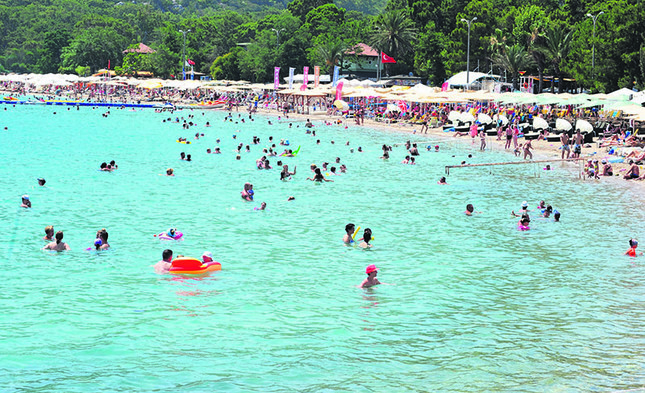 Antalya, Turkey's Florida in a sense, is actually pretty nice. Yes, I know, there's a big ol' city behind the beach, but the beach is so enormous that you can usually find your own space unmolested among the other beachgoers. Antalya attracts everyone: Turks, Russians, Brits and EU dwellers of all stripes. Sure, local businesses set up garish stages and pump out terrible music with the rest of them. Sure, the water isn't as close to your hotel as most beachfront resorts. But I kind of like the humble approach of getting on the city bus with a towel and clunking on down the stairs. Besides, they've got pretty classy pensions and hotels in the Kaleiçi, plus some good parks. And, although I may lose my travel writer card for giving away this local secret, you can take the bus to the suburb of Lara, climb down a cliff path, and find yourself at a little "beach" of sharp boulders and wild berry plants. Only a dozen people at the most can fit down there, and the water opens immediately into the wide expanse of the sea. Avoid the pirate ship cruises in the Kaleiçi's port and you'll probably be fine.
Rating: Four out of five pirate ships
Kaş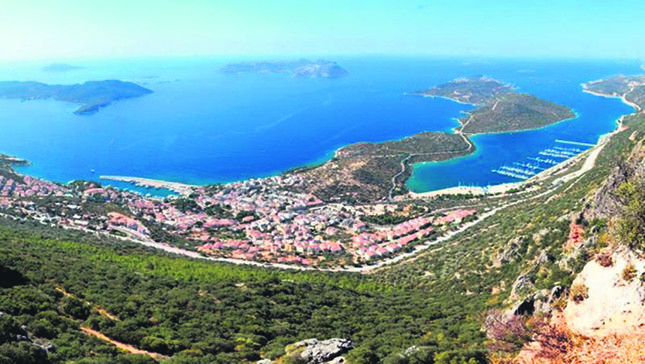 I have nothing bad to say about Kaş. Kaş is just lovely. The town is small enough that every pension and hotel has a sea view from their top-floor terrace, some of the best fish restaurants on the Mediterranean are just in the harbor, they have a plethora of upmarket "meyhanes" (Turkish pubs) and art bazaars. Even in the on-season, though it's crowded, Kaş retains local charm. Too bad you can blow through your budget in about a day. Though you can find accommodation for as little as TL 50 ($14) a night, food comes in either the fast or luxury varieties, and nobody wants cheap pide every night. (I highly recommend Smiley's by the water. I ate the best white grouper there of my life.)
Most beachgoers park along the narrow strip of coastal highway to visit Kaputaj beach. It's a sandbar in a narrow gullet between sharp cliffs and probably would have remained an unknown local treasure had Lonely Planet not put it on the cover of their guidebook about 10 years ago. Its popularity exploded and now it's hard to find parking, let alone a spot on the beach. Better I think to go out on the peninsula and have a swim. The beaches aren't particularly sandy, or even really beaches, but they're more isolated and in a far more relaxing town.
Rating: Eight out of 10 Lonely Planets
Olympos and Çıralı
​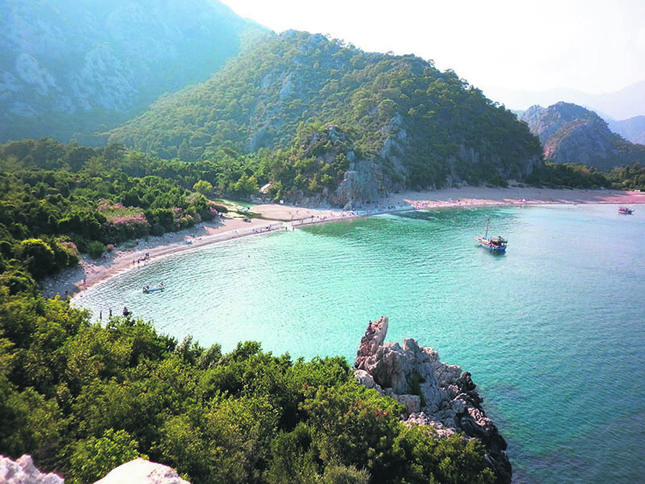 This is actually one long beach with two towns attached. The first, Olympos, still has the remains of a Lycian city in between the modern settlement and the beach. The second, Çıralı, is a long stretch of pensions, hotels, restaurants, and campgrounds. Off the highway just an hour outside of Antalya, two roads branch down to the shore, one to each town.
Olympos is a young person's place. I feel like the shriveled mummy that I am, writing these words, but I was aged out. Don't get me wrong, it's a lot of fun on a single ramble of dirt road, visitors will find a parade of camps and tree houses. Everyone should stay at Kadir's Tree Houses or Bayram's Pansiyon at least once. Every manner of hippy congregates in Olympos for a summer of cheap drinks, music, and general revelry. The tree houses are really that: Tall platforms in the branches of trees, log cabins suspended in the air. All of the "pansiyons" (motels) have a host of activities, like rock climbing or paragliding or cruising, at the disposal of their guests, and all of them have canteens. It's a five-star resort with a different aesthetic and a different market: The young, hip, nature-loving backpacker. Each pansiyon along the road has its own batch of backpackers, and all of them are out for a roaring good time, which gives the entire camp a festival atmosphere. Basically, like summer camp.
I've visited twice in the off-season, when it was far more chilled out. During the on-season it's a bit much. The fools that me and my friends were, we tried to camp after an exhausting day of hiking and bussing around, and were kept awake until late into the morning.
Çıralı is an actual town that caters to broader audience families and old crustaceans like myself are welcome here. The town is so spread out that you can choose between more than a hundred places to stay and eat. I'm writing this from Olympia Camping right on the shores of the beach.
And the beach! What a beach. It doesn't matter which town you go to, since both have access but my word, what a beach. It's mostly rocks and runs down for 6 kilometers against a primordial landscape of mountains and glades. Loggerhead turtles nest here, it's so good. (Not that turtles are the greatest parents or anything. They bury their eggs in the sand and then shove off back to the sea with dignity).
In terms of access to beachiness and diversity of options for accommodation, the beach at Olympos and Çıralı will always be my favorite for summer spots. I can finally be bored here, get hot, go underwater, drink cold things, repeat. Summer is great, isn't it?
Rating: Ten zillion turtles