At the dawn of history when the world was full of monochromatic men and women, a golden man with very stylish attire exploded from the windswept steppes on a flying snow leopard. He proclaimed: "I have come to found the eighth-largest country which is also the largest landlocked country in the world! It will have plentiful hydrocarbon and mineral resources!" And it was so. His snow leopard roared majestically and pawed at the ground, and his lazy paws were so strong that it caused Atlantis to sink.
Today you can see the golden man and his flying snow leopard at Independence Square in Almaty, Kazakhstan, perched on top of a tall white column. They stay there all day and all night, standing vigil over their awe-inspiring Central Asian nation. Kazakhstan: a name whose ancient Turkish root means "free rider land." Let us give thanks to the golden man and his flying snow leopard, endangered beyond regular snow leopards, by making a pilgrimage to Kazakhstan.
In some ways, Almaty feels like a cosmopolitan European capital, and in some ways, it feels like Dubai: a weird space-city conjured out of nothing through the transformative magic of oil money. To wit: the locals, all dressed in impeccable glamour, spend their afternoons sashaying down leafy boulevards to the next hip cafe. Locals love being connected to the wider world more than anywhere else I've visited in Central Asia, so Almaty has a variety of quality restaurants from various cuisines from around the world including Indian and Thai. I even found a Mexican place; it did not taste anything like Mexican food, but it was still pretty good.
Almaty has even caught on to the bizarre trend of hipster barber shops, where the logo is inevitably a beard, or a skull with a straight razor. Sometimes the locals firmly look towards the future: my local friends all smoke space cigarettes, shorties inserted into a smooth black blinking space-holster. All the traffic lights are quite logically on timers, so that pedestrians and drivers alike know how long they have to cross the street. They have a city bike share system run through an app.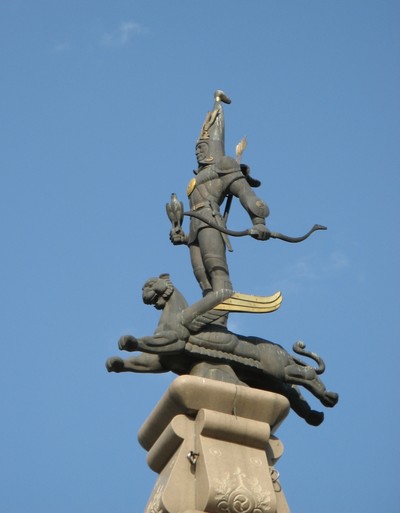 Golden Man Statue stands on the Republic Square in Almaty.
But peel back the façade and you find holes in the city, as if another reality is shimmering behind, threatening to burst out. It's a perfect grid with not a winding backstreet to be found. The main bazaar is next to a candy factory, and instead of fruit or meat or spice, the entire block smells rather surreally of melted chocolate. Everyone has an ostentatiously large car, but everyone is also a potential taxi driver: just stick out your hand and negotiate with whoever fancies giving you a ride.
Sometimes the holes in the city's reality are quite literally holes. At the edges of every street and sidewalk are meter-deep gutters where drainage runs, and I shudder to think what happens to new drivers attempting to parallel park. Every other street was either completely dug up, under construction, or temporarily unavailable. One exhumed avenue had sections of black pipe as wide as me stacked to the side of a yellow bracket fence, and I had to cross a pit on a rickety wooden ladder laid out across a dirty abyss. Crews of cobblestone-layers would pile their bricks, creating public squares I could have sworn did not exist the day before, only to move on somewhere else the next day to scuff sand and stone about. It creates the impression that the city is a Potemkin set, and everyone's working hard to keep the thing performing.
This is why, after several days of meandering about, I decided to round out my visit with a day trip to the Nomad film set at Tamgaly Tas. In the early 90s they built a fake Silk Road city, complete with walls and turrets and houses, for a movie about Genghis Khan. At least I'd know it wasn't meant to be real.

Folk instruments featured in the Museum of Kazakh Musical Instruments.

We hired a driver from the Sayasat bus station to drive us beyond Kapchagay and up the river Ile, first to some Buddhist petroglyphs. Some refugee Mongolians called the Dzungar had converted to Buddhism in the 17th century and chiseled some fabulous portraits of the Buddha, sitting on fat lotus leaves, on a rock nothing in a nowhere. It might not have been a nowhere then, but now, we had to drive through 20 dusty kilometers of burnt grass fields to the riverbed. Another Kazakh family was picnicking there and had for whatever inexplicable reason tied a pink teddy bear to a tree. We climbed a pile of boulders to a cliff face where we had spotted a string of prayer flags.
The portraits were way more detailed than I'd thought possible for the medium. Three-meter-tall buddhas, decorated by rings and curlicues and flowers, covered a huge rock face. It must have taken months of careful work to chisel them into the rock without shattering them. Nearby were a few more animals, and a curious alphabet script (which we learned afterwards was Dzungar Mongolian) took up another rock face. We'd brought colored pencil and paper to get rubbings of the petroglyphs just for funsies, but as we had no way of getting up that high, we were left wondering how these Dzungars had gotten up there in the first place.
Just across the river is the Nomad film set. We could see it from the petroglyphs (as we could see our driver in swim trunks wading in the river below), but we had to regroup, drive 20 dusty kilometers all the way back to the bridge across the Ili and 20 dusty kilometers back up to see it.
As we approached we saw a whole battalion of mail-clad soldiers on horseback. They stood at the ready, attended by squires in sun hats and mosquito veils. And a whole field of motorhomes. We realized they were shooting a movie, or maybe the next episode of Diriliş: Ertugrul (Resurrection: Ertugrul), right in front of us. We snapped some souvenir photos and pressed on.
The city had a huge "closed" sign across its wooden gates, but the caretaker out back haggled with us for admission and showed us the back door. It was no wild-west row of storefronts, propped up by 2x4 beams in the back. All the buildings had three-dimensional heft, even if the wooden doors were plastered or hammered shut. Siege weapons were scattered about. We found a battering ram, long since fallen of its groove, and several cauldrons on axles, meant to be filled with boiling oil and poured on armies of invading extras. We clambered all over the city walls and re-enacted battles in the streets with some of the leftover shields and bamboo sticks. For something built solely for the camera, it felt sturdy under our feet, and looked real enough.
Back in the city, I wanted to round out my stay with a bit of culture, so I went to the Zenkov wooden cathedral, a colorful collection of domes and spires where even the nails are made out of wood. Like everything else in this city, it was under reconstruction.
Instead I went next door to the Museum of Folk Instruments. Inside on display are a surprising variety of bunged-together string, percussion, and woodwind instruments, and despite a rough appearance, all look lavishly ornate. Some are decorated with bone or horsehair, some with glittering metal tokens. Most, though they look traditional and ancient in their shamanistic glory, were made in the last 30 years. All the while, the speakers pipe folk recordings in every room, so it's easy to imagine how these instruments are used. Outside, in the park surrounding, I found a monument with a fat soldier leaping out of the raw rock, set in front of an eternal flame. Someone was piping in high-volume opera music.
Feeling hungry, I stopped at Venezia restaurant to try the national dish, beshbarmak. Beshbarmak, which means "five fingers," is a dish of stewed onions and horse meat served atop a bed of flat doughy noodles. Also, horse fat. My hosts told me that in traditional times an elder would wrap the flat piece of fat in a noodle, call the youngest child over, and stick the whole thing in their mouth. What? No, someone else clarified, it was used as a pacifier, a binky, a natural thing for babies to suck on and keep quiet. It is called "five fingers" because you're supposed to eat it with your hands. But we are cosmopolitan city dwellers here in Almaty, and we used forks. The dish itself (and the horse meat) was salty, rich, served with a dark brown bowl of broth. I could only get down a few mouthfuls of noodly horse and switched to Shashlik.
There's only one place to get a proper view of the city, and despite what the golden man thinks, it's not from a pillar. It's from the Kok Tobe fast coaster. For 2,000 Kazakh tenge you can get a round trip ticket to the top of Kok Tobe hill on the gondola. (I didn't take it, because in negotiating with random drivers on the street in my nonexistent Russian, it was understood that I wanted to go to the top of the hill, not the gondola entrance.) Kok Tobe amusement park's fast coaster works purely on gravity. Its steel rails wind down in a death track around the hill. As your cart rockets around the curves, you're given some magnificent views, just before you're whipped to the side at Mach 10. It's no flying snow leopard, but as transportation goes, it'll do.