The vast and beautiful mountains and steep cliffs of the Black Sea are among the first choices of many climbing enthusiasts.
The Black Sea, a wonder of nature with forests, lakes and rivers, also offers various sports activities. The region, which is Turkey's very own Switzerland and a frequent destination for activities, such as mountain hiking, photo safaris, trekking and rafting, is also suitable for rock climbing.
The sports routes opened in the Kaçkar Mountains in Rize, Doğankaya in Trabzon and Koçkayası in Giresun are among the places climbing enthusiasts prefer.
With foggy mountains and mild climate, the mountain range of the Black Sea offers a place for sports and as a spot to appreciate Mother Nature.
Giresun of Culture and Tourism Provincial Director Kemal Gürgenci told Anadolu Agency (AA) that the Black Sea region has potential for all types of tourism.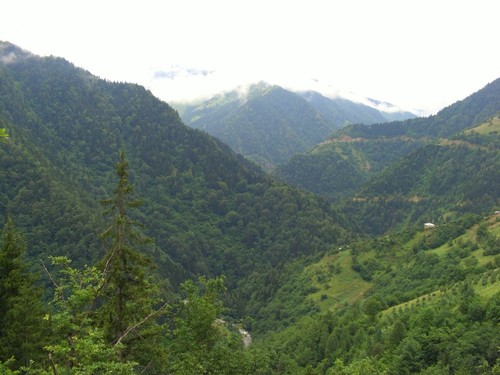 Gürgenci said they think that there is vast potential for mountaineering tourism. "Giving an example from our own province, the opening of new routes in Koçkaya contributes significantly to this sport. There are sports climbing routes opened by national mountaineers Tunç Fındık and Doğan Polut and extreme sports specialist Kürşat Öztürk in Giresun's Dereli district's Kümbet Plateau Koçkayası," Gürgenci said, stressing that the region attracting national mountaineers reveals how high the potential is.
National mountaineer Fındık said that the entire Black Sea, especially the eastern Black Sea, has special potential.
Pointing out that rock formations around the Kaçkar Mountains, Trabzon and Giresun are very valuable places in terms of climbing sports, Fındık said there are more places to consider.
Fındık said that the Kaçkar Mountains are a certified mountain climbing region. "There are so many places to be discovered. These mountains allow different climbs and natural sports during summer and winter at an altitude of 4,000 meters." Fındık added.
Noting that there are mountains and plateaus up to 3,000 meters behind Giresun and Ordu west of the Kaçkar Mountains, he said these regions offer quite nice opportunities for nature sports and nature lovers and suggested that many routes could be opened for climbing. "Me and my friends have not yet reached the full potential of the area. Around Trabzon, there is Doğankaya, which has climbing routes without bolts, enabling traditional mountaineering," he said.
Fındık said they climbed in Giresun's Koçkayası region for the first time, recalling that they opened climbing routes at varying difficulty levels with bolts and fixed safety points every 20 meters in Koçkayası.
He also said that the Black Sea region is a paradise of nature, in addition to climbing. "A magnificent place with forests, rivers and lakes. These are unique places in Turkey. There are places suitable for all nature sports, from hiking to mountaineering and rock climbing," Fındık said.
Another national mountaineer, Doğan Palut, said the geography and climate of the eastern Black Sea is different. "It has different features and rock structures compared to the central Anatolian, Aegean and Marmara regions. Mountaineers enjoy seeing different places and climbing different rocks."
Stressing that the region has an unprocessed potential, Palut said: "Its people and culture are different, which is a treasure for us. It is important to have such sports regions. We represent the sports part of the job. We need to build infrastructure so that people can come and climb. Better places and rocks with potential can be discovered."