Turkey's most popular ski tourism centers, Kartalkaya in northwestern Bolu province and the Palandöken Ski Center in eastern Erzurum province, continue to attract thousands of local and foreign tourists around the New Year.
Families from young to old, visitors from near and far, are enjoying the long winter season by skiing, tobogganing and snowboarding in resorts, while those who don't bring their equipment with them can rent it from hotels.
Kartalkaya ski resort, with a total area of 70 kilometers (43 miles) and 25 different tracks, lies at the Köroğlu Mountains in the Black Sea province of Bolu. The resort is at the summit of the Köroğlu Mountains, with an elevation of 2,200 meters (7,218 feet).
Holidaymakers catch a chance to witness mesmerizing natural beauty of the Kındıra village and snow-covered forest.
Palandöken is Turkey's most easily accessible ski resort, located approximately 15 kilometers (9 miles) from Erzurum Airport. Palandöken is an hour from capital Ankara via airplane and nearly an-hour-and-a-half from Istanbul and Izmir.
"It takes a maximum of 15 minutes to get to the ski resort from Erzurum airport. This is not only a privilege for Palandöken but also for Erzurum," Sway Hotel Deputy Manager Ömer Akça told Anadolu Agency.
He said Palandöken also has one of the longest natural ski tracks in the world.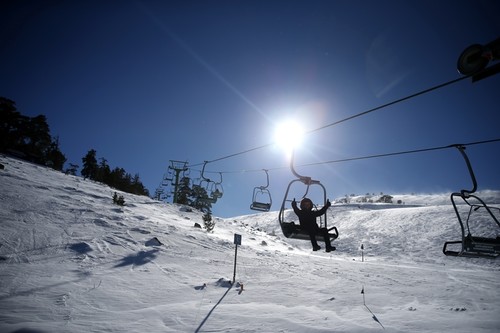 "One of the most significant characteristics of Palandöken is that it is Turkey's only ski resort that guarantees snow. Both with investments and an artificial snow system made by the government and private sector in 2011, Palandöken provides ski and snow guarantee for 120 days starting from Dec. 1 to March 30," he added.
Palandöken provides opportunity for night skiing via its world-class lighting system and many new facilities like ski jumping ramps and shooting ramps for the biathlon.
Security and safety is a priority at the popular ski tourism centers. Palandöken resort is reportedly monitored 24/7 via live security cameras, while gendarmerie search and rescue teams (JAK) from Kartalkaya Gendarmerie Station are always active to cope with any untoward incidents that might result from fog and heavy snowfall.