Istanbul is something like the first or second most visited place in the entire world. Wrap your brain around that idea – millions of people are popping in and out of the city during tourist season, and all of them have to figure out what to do with their time. Many choose to go on autopilot. After months at work, sometimes you do not want a holiday that is too challenging, and I understand that. But it leads to a bit of automation, an automatic tour with our brains on autopilot. What does Google or Tripadvisor say the top five sights are?
For this week's column, I have offered five alternatives to the common tourist spots of Istanbul to help any visitors power down their autopilots and engage their senses. Visitors naturally hit sites like Sultanahmet and the Grand Bazaar. They are some of our best-loved sights, after all, and advertised in every guidebook from Lonely Planet to "Mega Greg's Guide to Getting Around" – not a real book by the way. So what would be the point in covering them? This column will give our visitors a nudge toward often-overlooked sights and hopefully create a more authentic Istanbul experience. None of them are all that easy to get to, and all of them will require significant bus navigation or haggling skills. What shows our beautiful city off better than haphazard history with the chaos of the streets? Here are five alternatives to the more famous Istanbul sights.
Zeyrek Mosque and neighborhood
Sure, you know about Hagia Sofia, but what was the second-largest Byzantine church in old Istanbul? Nobody knows? The answer is the Monastery of Christ Pantokrator from the 12th century commissioned by Irene Komnenus, wife of the emperor. Byzantine royalty preferred to be buried there and gave it such an endowment that they expanded into more intellectual pursuits. It once even held a library and a hospital, which performed perhaps the Byzantine world's first complex eye surgery.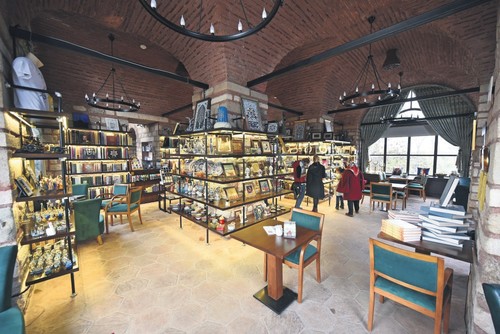 Much like its larger cousin, it was converted into a mosque when the Ottomans conquered Istanbul. Zeyrek Mosque served as a kulliye, a school, bath and Islamic vortex until the flashier Fatih complex was finished 100 years later. Zeyrek Mosque fell into disrepair. It is still undergoing reconstruction, but you can go check out its imposing facade from the street. It has that same mishmash of roofs and domes, arches and windows, so unique to the Byzantine religious buildings.
However, that is not even my favorite reason to visit the Zeyrek neighborhood. The mosque itself just grounds the place. Everything else in the neighborhood swirls around it in a noisy presentation of wooden houses, half-collapsed by age and weather damage, still inhabited by canny locals, a street market full of fresh food, not-so-fresh food, and simple artisans doing honest trades. Zeyrek is one of four neighborhoods designated by UNESCO as a historic area of Istanbul along with the Theodosian Walls, Sultanahmet and Süleymaniye. Of those four areas, it has probably the liveliest street scene. Last time I visited, I found a Syrian coffee shop where I got a blend of special spiced coffee and a spring-loaded falafel mold. Sure, maybe you could care less about cardamom in espresso, but you are sure to find something more up your alley in Zeyrek's narrow streets.
Little Hagia Sophia
Sure you know about Hagia Sofia and Pantokrator Church, but do you know what the tiniest church is in old Istanbul? Neither do I, but the Küçük Aya Sofya at least has "small" in its name, and that is small enough for me. Tourists and locals who have lived in the city for years like myself miss it quite easily since it is down the hill from all of Sultanahmet's glory. Amble on down into Kumkapı past all the Korean hotels to find this gem.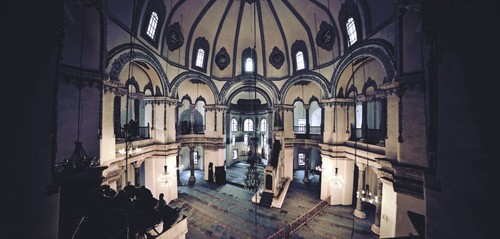 The Tiny Holy Wisdom Mosque, as it is now styled, still hosts daily worship services for Muslims in the neighborhood. Its location, smaller size and smaller notoriety means that when you visit, you will only be competing with the worshippers for space. They are very welcoming, though if it is prayer time, you are better off sitting in the garden and being respectful until they have exited the mosque. The interior features two notable things. The first are the red marble columns, many of which bear the signatures of Justinian and Theodora. The Sultan's signature, his tuğra in Turkish, has become such a popular symbol that you can see it proudly displayed in Istanbul taxi windshields. I have yet to see a Byzantine monogram on a bumper. Secondly, there is a Medieval Greek prayer embossed on some of the columns, and it is worth getting up close to see if you can spot it. It embodies the spirit of Istanbul: Modern worshippers living in an ancient space all piled on top of each other.
Aksaray
Beyoğlu gets a lot of press, and rightfully so. It is full of museums, towers and dervish houses. You know where nobody ventures? The simmering immigrant neighborhood of Aksaray. Often, Turkish mothers will tell their Istanbulite kids to not go to Aksaray. This Fatih neighborhood picked up a bad reputation in the 1990s for being full of crime, but these days it is a thriving center for weird shopping, food and sights. I love it. It might be my favorite place in the whole city to explore because every time I go, I stumble onto something new.
Molla Taşı Caddesi, a cobblestone-paved narrow meander through a thriving street market, has restaurants of every cuisine, from Uzbek to Ugandan. There is a two-story brick minaret called Molla Taşı Mosque, which has rows of old light bulbs underneath its cap. Up on the main shopping avenue, Türkeli, you can find department stores catering to Russian fashion tastes, for instance, a display featuring a T-shirt with fur and a sequined giraffe. Modern storefronts alongside water-stained townhouses run into ancient walls where stalks of grass poke through the cracks. The Armenian Patriarchate of Istanbul is hidden in the neighborhood, too. I recommend setting aside an afternoon or two just to wander and catch a truly diverse neighborhood in mid-motion.
Fener
Rumeli Feneri, though a bit north of simple for most tourists, still enjoys a year-round tourism schedule. The breakfast there I have been told is quite good. But we are investigating alternatives today. There is a whole neighborhood called Fener, and it has its own castle of sorts.
The Golden Horn neighborhoods of Fener and Balat have undergone a half-revival recently. Some of the shops have been purchased by yuppies and converted into fancy boutique hotels, coffee shops and designer restaurants, and some of them remain in friendly impoverishment. It is always worth walking through to see the clash of cultures stacked on top of each other in beautiful old immigrant neighborhoods.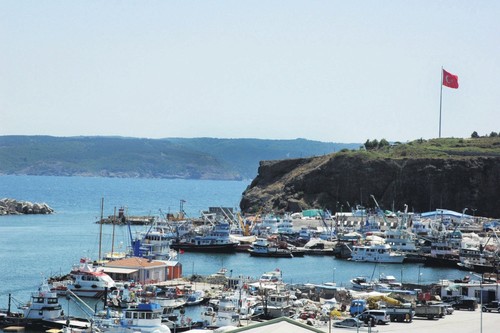 But the real feature of Fener is of course the Phanar Greek Orthodox College. It is a massive building of several stories in eye-catching red brick. It is sometimes called the fifth-largest castle in Europe due to its size and shape. You can see it from across the other side the horn, in Kasımpaşa even. Topped with a spiky dome and ringed by spiky windows, it would look more fitting in Edinburgh. Insanely, people still go to school here. Pupils go up in the dome for astronomy lessons. Take the bus from Eminönü, haul yourself up the steep streets and get a selfie at the Phanar school gates.
Han-hopping
The Grand Bazaar (Kapalı Çarşı) is actually a lot more pleasant these days. After the tourism dip in 2016-2017, the shopkeepers became a bit less confrontational and the corridors a bit emptier. So while that is more of an option for your natural run of consumer goods, I find a tour through Istanbul's unknown hans a lot more educational. They demonstrate a deeper level to the city. One that has been functioning undisturbed for centuries.
A han is what you might call a caravanserai, a place where traders could stay, rest for a few days and sell their wares. But also it was a place where workmen and artisans could gather and practice their crafts. Some of the hans these days are well-trafficked, some are rarely occupied. Nothing gives me that old Istanbul feel like an afternoon exploring second-story walkways, quiet courtyards, crumbling crannies and forgotten warehouses.
All of these hans are up the hill from Eminönü, and most of the shopkeeps and artisans who work there are happy to have visitors. The Büyük Valide Han used to be the most popular of these alternative bazaars since you used to be able to pay to get up on the roof for a view. While that is no longer an option, several highly skilled silversmiths still work inside, and it is worth examining their wares. Astarı Han and Zincirli Han are both offshoots of the Grand Bazaar but offer a quick respite from the crowds. Leafy branches hang over their cobblestone courtyards, giving shade if you want to hang out for a tea. Kalcilar Han might be my favorite with its plethora of copper goods. I have been in hans in this part of town that I have never been able to find again. Take a map or your family might never see you again.