Lake Çıldır in northeastern Ardahan province has frozen over, drawing thousands of locals and visitors to enjoy horse-drawn sledding, Eskimo fishing and cookouts on its icy surface.
"The sleds, horses, everyone's warm-blooded personalities make a person feel at home here," local Duygu Arpak told Ihlas News Agency. "We all remember our childhoods here."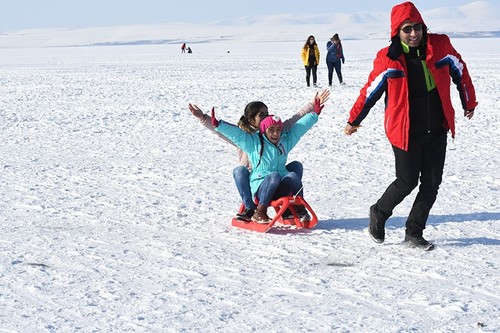 Situated 1,959 meters (6,427 feet) above sea level, Lake Çıldır usually starts to freeze in the beginning of winter as the temperature drops to minus 10 degrees Celsius (14 degrees Fahrenheit) during the night.
The fun and the fishing at the lake start once the 123-square-kilometer (76-square mile) lake has frozen over completely. Çıldır fishermen say the ice on the lake has to be 15 centimeters (6 inches) thick for them to begin fishing.
Locals, as well as tourists also enjoy grilling parties on the lake. Once the lake is frozen, people grill the fish they catch and have a nice picnic out in the cold.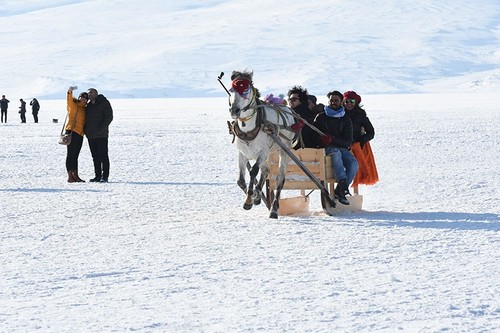 "I am delighted with the initial development on Lake Çıldır, which has obviously skyrocketed," Arpak said. "I want everyone to see each of the lake's beauties. You feel happy here, seeing the masterpiece in which wild nature presents itself."
The Fifth International Çıldır Crystal Lake Festival will be held Feb. 10, to include horse-drawn sleigh rides on the lake, mounted archery, javelin throw and wrestling.