The ancient Incirliin Cave located in southwestern Turkey's Muğla province continues to be a popular attraction for tourists.
The 345-meter-long cave, which is located in Milas district's Gökçeler Canyon and estimated to be around 8,000 years old, has been declared both a first degree archeological and natural site by Muğla's Cultural and Natural Heritage Preservation Board.
Upon entering the cave, visitors are greeted by huge stalactites and stalagmites and enjoy cooler temperatures, which can reach as low as 17 degrees Celsius even on the hottest days. The cooler temperatures also make the cave a perfect habitat that bat colony said to have made its home there.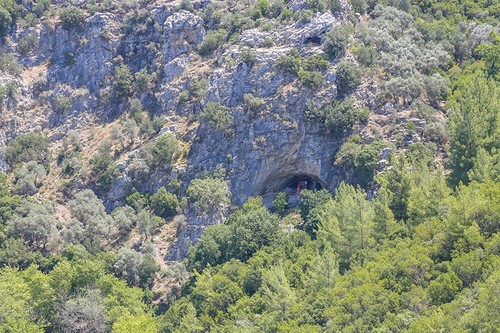 Speaking to Anadolu Agency (AA), District Governor of Milas Eren Arslan said the cave was first opened to visitors after lightening equipment and walkways were installed in 2016 to ensure visitors' safety.
Remarking that the region's beaches also make it a popular tourist destination, Arslan said both the cave and the canyon have a very different sort of tourism potential. The canyon is home to vibrant wildlife and various types of trees and other flora. Confident in the area's potential, Arslan said the spot is sure to grow with tourism businesses.
"Every year we get 20,000 local and foreign tourists. So far 7,000 tourists have visited in 2018. This number is increasing every year," he said.