If you thought Çanakkale's only tourist attractions are the battlefields where the Battle of Gallipoli took place and the ancient City of Troy, think again. Throughout history, Çanakkale has been an important port, a passage from Asia to Europe thanks to its location. The city and its surrounding areas have been subject to many mythological stories: It was from the ancient town of Abydos that Leander swam across the Hellespont every night to see his love, Hero; and it was in the Dardanelles that Helle, the daughter of Athamas, drowned in the legend of the Golden Fleece, giving the waterway its ancient name. Close by are the remnants of ancient Troy, immortalized by Homer in his epic poem the Iliad.
This year also marks the 20th anniversary of Troy's addition to the UNESCO World Heritage List and it being declared the "Year of Troy" as part of the European Year of Cultural Heritage 2018. Within this context, some events and introductory programs are being held in Çanakkale province.
A cultural and touristic move on an internationally strategic scale where cultural, natural and historical values in the region will be introduced, was started with the declaration of the Year of Troy. In this context, Çanakkale is ready to host visitors with its mythology, excavations, historical pattern, unique views, authentic tastes and various events. People have started to make holiday plans with the opening of the summer season and upcoming Eid al-Adha holiday. For holidaygoers who want to enjoy their holiday and decide on a route, Çanakkale offers many alternative ways to get there. People in the city, whether locals or foreign tourists, can visit easily thanks to its accessibility and closeness to big cities in Turkey, especially to Istanbul, Ankara and İzmir.
Çanakkale has a rich past in terms of civilization and history for those interested in the historical and cultural aspects of life and who want to plan their holiday along a more cultural route. Accepted as the cradle of ancient civilizations, Troy Ancient City features a 5000-year-old past with the traces of nine different civilizations. Every place in the city hosts culture and history such as the Ancient Port and Archaeological Site of Assos, Alexandria-Troas Ancient City and Apollon Smintheus Temple.
Tourists who add the Gallipoli Historical Peninsula which features Turkish and foreign martyrs memorials, monuments, epitaphs, fortresses and bastions, to their routes, can witness the traces of the past today.
Cultural and natural beauties combined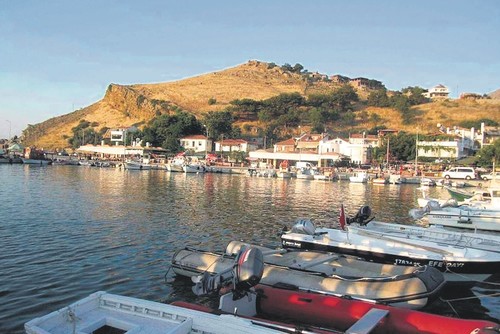 Gökçeada, which was formerly known as Imbros, and Tenedos waits for visitors who want a sea, sun and sand holiday in bays where green greets blue, with a clean sea and safe beaches. The two islands are ideal destinations for many different activities like diving, surfing and kiteboarding along with the incredible bays which invigorate the body with their blue, chilly water. Çanakkale and its districts have 12 blue-flag beaches, as well. These beaches in Ayvacık, Biga, Ezine, Gökçeada and Gallipoli, are close to each other so holidaymakers can experience and enjoy each of them. Also, Mount Ida presents a unique option for those who want to spend their holiday in a quiet, green place full of natural beauties. The mountain, which has the highest amount of oxygen after the Alps in the world, is one of the leading places preferred for rest in silence and peace with its streams, waterfalls, pine trees and trout farms.
In short, Çanakkale has what you need for a great holiday – with its quiet placesw, its nature and activities for those who love entertainment, nice hotels, restaurants that offer rich options, and attractive cultural and archaeological sites, Çanakkale truly does have it all.