Tranquility in the Hwagyesa temple is no longer as it used to be since the time of its construction in 1522. The large crowds in Seoul's Gangnam neighborhood, K-pop music from the night clubs in Itaewon are increasing their dominance each day as if putting out a challenge to the temple at the farther part of the city. Nevertheless, as an escape for those looking for tranquility, Hwagyesa, is like a fairy tale world with one side overlooking the city and the other overlooking endless forests. The shadows of the temples are a safe haven for everyone in South Korea where separation between North and South Korea, ambitious steps of technology and automotive giants are taking place, and popular western culture is being injected into the Far East. It's an experience all by itself for tourists.
More than 40 temples available for accommodation country-wide are being offered to people in search of spirituality within the scope of the Temple Stay program. Although it sounds very logical and mystical to stay in a temple for such low costs, the world inside is not as easy as imagined. Waking up at 4:00 am in the morning, eating considerably lower, helping the cleaning chores of the temple and acting with immense discipline cannot be easy for everyone. As reward for all of this you get to truly experience some unique moments such as participation in the monks' morning ceremonies, watching the sunrise at a historical temple, meditating for patience, gratitude and perfection, joining traditional tea ceremonies of the monks are utterly priceless experiences.
Everything feels like a movie set. Even though you may not feel like Brad Pitt, time is flowing and the surroundings look the "7 Days in Tibet" movie directed by Jean-Jacques Annaud. Hand painted wooden ceiling and beams, marble statues in the gardens, endemic plants and monks walking around perfectly completes that movie frame in your imagination.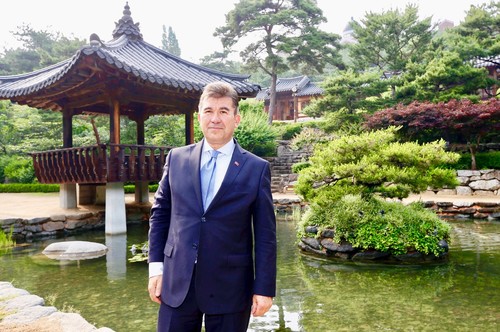 Seoul's transition to modern life from the world of temples, on the other hand, is pretty drastic. A wild metro network, skyscrapers competing with each other in height, local cosmetic stores at every corner, and South Korean made cars are the fruits of science and technology.
Then there is Itaewon with its entertainment places. One of the most ambitious clubs is the Fountain. The place has the ambiance of a fortress. The big open air yard is a common area where everyone dances. When you climb the walls surrounding the yard, you are able to pass to the other bar areas on the upper floor. There are "You are not a Spartan" warning boards in order for you to not fall down into the common area. The first bar area upstairs is in a retro style. There are tilt machines, antique billiard tables, Chesterfield sofas and a chic bar.
Listening to K-Pop, which are groups consisting of young Korean men between the ages of 17-23 in the clubs, is a habit rather than a trend. Stationary stores are full of stickers, notebooks, calendars and CD's of these groups. K-pop music type carries tunes from American pop music. Karaoke culture, on the other hand, is the city's distinguishing character all by itself. The biggest socializing tool for young people, the Karaoke bars add color to the city's suburbs. There are alternatives in different ambiance and price categories. Su Karaoke in the Hongdae district is the most luxurious and ambitious bar. Rooms decorated in different colors, private stage for people and gold color microphones are signs that show you that you are in an exclusive Karaoke club.
This cosmopolitan life has reflected a lot on the city's cuisine. Local flavors and brands are preserving their dominance. Restaurants that sell famous pickled cabbage, kimchi and boiled pastries called dumplings which are 10 times bigger than Turkish ravioli ''mantı'' dominate the city's food and beverage life. If we are to seek more traditional cuisine, the food markets in giant passages display South Korean cuisine's richness abundantly from dried octopus to live crabs, to fresh Ginseng roots to tea varieties sold in sacks. Gwangjang food market is a place that deserves a visit. Local hamburger chain Lotteria has proven its strength in the local market by far exceeding American fast food chains.
Westernization in the TV world has shown itself through Turkish series. I learned about the details of this subject during the lunch I had with Ambassador of Turkey to Korea, Mr. Ersin Erçin with his immense diplomacy experience, international vision and chic style of his. I learned that there are around 850 Turks living in Korea. Ambassador Erçin indicated that certain generation knows Turkey very well due to historical reasons and the young generation has gotten to know Turkish culture from TV series. Besides this, there are Turkology departments in many universities, and more than 900 students are getting education in this field. According to Erçin, among positive country perception in the eyes of South Koreans, Turkey is definitely among the top three. He finds it very important for Turkey to appoint a culture and tourism attaché to Seoul, in a country where the relations are at such a positive level, Erçin says ''Contribution Turkish Airlines gives to tourism between South Korea and Turkey is utterly fabulous. A wonderful example of hospitality is displayed with 11 flights a week. Each tourist who visits our country comes back with a positive perception. Appointment of a culture and tourism attaché to an important city like Seoul can carry these social relations to a further level. Strengthening local social activities to prevent Gülenist Terror Group (FETÖ) activities is a must. In this respect, the opening of Yunus Emre Center this coming fall in Hankuk University is very important. These kinds of formations add strength to Turkey's power in the global arena."
Drawing attention to the commercial strength between South Korea and Turkey, Erçin said, ''Without a doubt, South Korea is one of our most strategic partners in the Asia Pasific region. It is Turkey's real friend. This is why Turkey should be more focused on South Korea in political, commercial and cultural fields. After all, South Korea is a country where we accomplish mega projects together in Turkey. There is trade traffic of $7.5 billion between the two countries. Plus there is an upcoming $15 million trade deal. Turkey lost over one thousand soldiers during the war in South Korea between 1950- 1953. Different than other countries, it didn't just fight in the war. It looked after orphans and did many humanitarian activities. It opened "Ankara Schools" for local children in South Korea. It didn't just bring its weapons here, it also brought its emotions. I am sure the economic side of this historical relationship will grow even more."