The historical Ottoman bazaar Muğla Arasta, once one of the largest commercial centers in the region, is a popular spot in the city and home to more than 100 stores.
The historical bazaar in the city's Menteşe district continues to be an indispensable point for cultural tourism in Muğla, an area that has been known as "paradise on the earth" since the time of the Anatolian beyliks (city-states).
In the historical bazaar is a popular haunt for local and foreign tourists as well as university students. The marketplace hosts master craftsmen specializing in traditional skills, including saddle makers, shoemakers, hairdressers, ironmongers, coppersmiths and sandal makers, many crafts that have all but been lost to history.
The traditional commercial center is located at the intersection of the north-south and east-west axes of Muğla's old caravan route and is known as an area with a commercial intensity that reflects its civil architectural characteristics.


Speaking to Anadolu Agency (AA), professor Adnan Çevik, a lecturer from Muğla Sıtkı Koçman University, noted that Muğla is a very interesting settlement and a typical Turkish-Islamic city.
He noted that the current texture of Muğla also reflects the past and added: "The main characteristic of Turkish-Islamic cities is that there are mosques and dervish lodges with bazaars in between and houses behind. There is a spiritual atmosphere in all Turkish-Islamic cities."
Çevik further pointed out that this spiritual atmosphere is also reflected in the bazaars surrounding the neighborhoods and that there are various commercial activities from a wide variety of professions such as ironmongers, oil sellers, etc.
Çevik said the region dates back 500 to 600 years according to historical records. He also said that after Muğla was conquered by the Ottomans from the Anatolian beyliks, the development it underwent was integrated with its historical texture. "There is a copper market in the east and an oil market below. There is a cereal market, as well. Muğla is a typical Turkish-Islamic city with its bazaars, historical mosques, lodges and examples of civilian architecture. Ottoman bazaars are the most original locations that preserve this authentic identity, said Çevik.
Çevik pointed out that Muğla's Turkish-Islamic urban identity started with the Menteşe beylik after the region was conquered by Turks in 1260 and the new Menteşe governor promoted Turkish traditions and Islam throughout the region. "The capital of the Menteşe beylik was Milas, but the son of the bey, the ruler of the beylik, lived in Muğla; thus, it became the second capital," added Çevik.
Menteşe Mayor Bahattin Gümüş also stated that the Muğla bazaar was the center of commerce.
He highlighted the fame of the inns, Turkish baths and narrow streets of the bazaar and said that it has been preserved and continues to be preserved. "The Menteşe district of Muğla is perhaps one of the best-preserved cities in Turkey," Gümüş added.
A popular route for tourism
Pointing out that Menteşe is a city of history and culture, Gümüş stated that tourists visiting the region have started including Muğla in their routes. "Holidaymakers are visiting Muğla for its old Turkish baths, clock tower, mosques, restored areas and chimneys. I believe we have reached a certain point as a historical city. We want to put Muğla in the spotlight even more with its Ottoman bazaar," Gümüş said.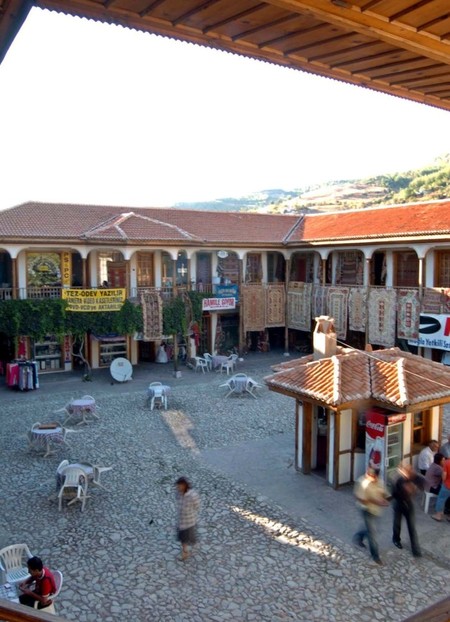 The traditional commercial center is located at the intersection of the north-south and east-west axes of Muğla's old caravan route.
The Chairman of Muğla Ottoman Bazaar Survival and Development Association, Ömer Karaca, also stated that the historic bazaar is an important attraction for the region.
Karaca has been working with leather for the past 50 years in the bazaar, continuing his father's profession. He said the culture of the bazaar existed before him as well. "One of the craftsmen who worked here was my father. Now, he has passed away, as well. I am continuing his profession," noted Karaca.
Preservation a must
Indicating that many professions are being carried out at the bazaar, Karaca said: "Restoration has been done in the bazaar over time. In the past, there were ironmongers, saddle makers and blacksmiths. The governorship and the local government supported the restoration. Our bazaar is in a pretty good state now. Restoration has been carried out according to its original architectural structure. Local and foreign tourists are also showing interest. Touristic tours have been held. Since everyone is a small trader here, they try to stand on their own. Such areas in cities should not be lost. They should not be defeated by new technologies."
Retired muezzin (adhan reciter) Mustafa Kara, 81, is one of the oldest artisans in the bazaar. He noted that he worked as a bag maker in the ancient marketplace for 60 years.
He noted that it used to be very lively and today, business picks up after schools open. "There were carpenters, coffee houses, vehicle repairers and ironmongers here. These buildings have all collapsed, and a new system was established. After these places were destroyed, the shops became quite small. It would be more comfortable to work here if these buildings were bigger," added Kara.
Mehmet Şahin Kara, a 60-year-old bag maker, said he is continuing his father's profession and has been active in the bazaar for 45 years. "I have two children. My daughter got married, and my son became a teacher. Our business is doing well. My father taught us this profession, and we are continuing it. We are trying to bring life to the old Ottoman bazaar, said Kara.
Repairing radios for 50 years
The only radio repairer of the bazaar, 65-year-old Mustafa Bektaş, father of four, said he has continued and loved his profession for more than half a century.
Pointing out that radio repair does not resemble any other profession, Bektaş said: "People bring in radios for repair. Radios used to be people's only entertainment. Everyone learned everything from radios. Our profession used to be very popular. People used to bring in their broken radios and pay with a basket of eggs. The villagers wanted their radios to be fixed as quickly as possible. I have such beautiful memories."
Bektaş said he has always felt at home at the bazaar and used to even come on Sundays. "I used to hang out for few minutes and then go home. It has always felt like a second home to me. I have been here for more than 40 years," added Bektaş.
The headman of Camiikebir neighborhood, Kamuran Fidan, noted that there are about 120 workplaces at the bazaar, and new contributions will be made to the region with the festivals and other events to be carried out at the traditional marketplace.