ÇANAKKALE
—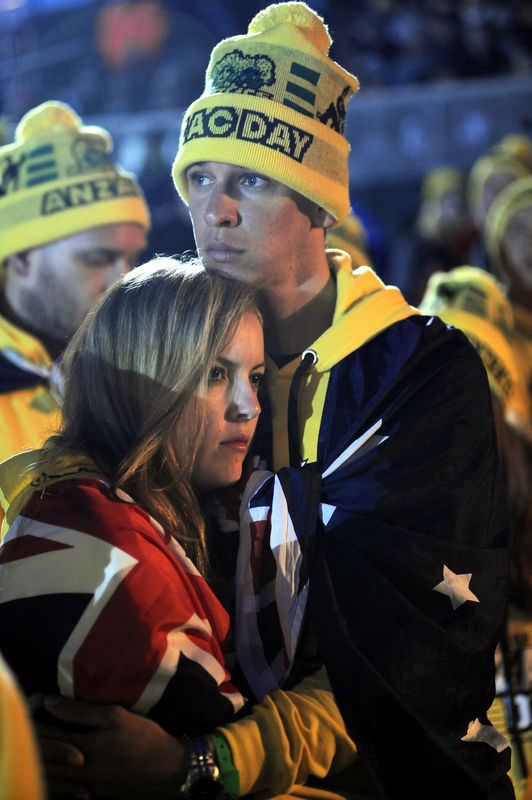 Silhouetted by the rising sun, thousands of Australians and New Zealanders stood in an emotionally charged silence amid the graves of their countrymen in western Turkey on Friday morning to remember the Gallipoli campaign of 1915.
Disembarking from the ferry to Gallipoli reminds visitors how 99 years ago, the Australian and New Zealand Army Corps - the ANZACS - raided Turkey's Gallipoli Peninsula, where yesterday's Anzac Day remembrance ceremonies took place. Gallipoli, six hours south of Istanbul, attracts hundreds of thousands of visitors every year, who come in April to commemorate 1915's Battle of Gallipoli, known by Turks as the Battle of Çanakkale. The campaign took place between April 25, 1915, and Jan. 9, 1916. Around 13,000 New Zealanders and 50,000 Australians fought during the battle and at least 2,700 New Zealanders and 8,700 Australians were killed in the fighting.
Ottoman forces lost almost 60,000 soldiers.
There was a poignant silence ahead of the dawn ceremony as thousands of people were silhouetted against the rising sun amid the graves of so many young men cut down in battle.
Reconciliation was a recurring theme during the ceremony. Speaking at the dawn ceremony, Sir Jerry Mateparae, governor-general of New Zealand, said, "Now, remembrance ceremonies like this one bring us together. Each year, New Zealanders, Australians and Turks come from the four corners of the earth to this place where our grandfathers, great grandfathers and great-great grandfathers fought and where many of them died."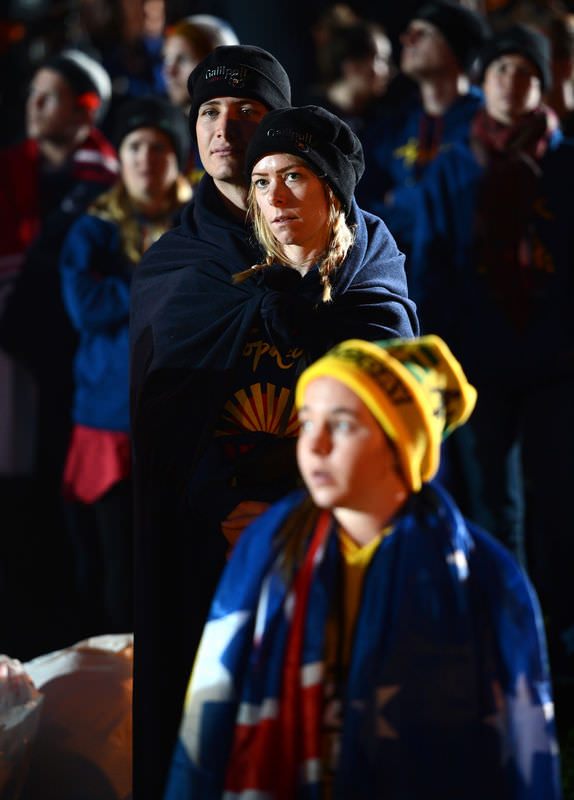 Paul Claran, a 63-year-old from Marrickville, Australia, says he came to Gallipoli with his 11-member family, his wife, children and grandsons. With teary eyes he says although he had not lost any family during the war, the scene was emotional.
His son David, a 34-year-old teacher from Sydney, says it is a great privilege to be in Gallipoli. "To have this opportunity and to share it with my family makes it more special," said David. "The camaraderie you see here tonight among all three countries is one of the things I have learned tonight is very similar to the camaraderie which existed in 99 years ago. We have stories of Turkish soldiers throwing cigarettes and supplies to the Australian soldiers... They understand that there is camaraderie tonight but it definitely existed back 99 years ago."
Many of the people attending from Australia had Turkish roots. Osman Göreli, a 38-year-old football coach from Sydney, says he came to Gallipoli with a young amateur football team. "Most of the children on the team have dual citizenship.
They are both Turkish and Australian," commented Goreli. Kerim Buğdaylı, a 12-yearold Australian student of Turkish descent, said he was happy to be in Turkey and to see the ceremony live, "not on TV." The deaths suffered by Australia and New Zealand during their Turkish campaign became defining national moments for both countries, something that propelled a sense of identity for two countries which have since moved on from their status as British colonies.