GO TO PHOTO GALLERY
ISTANBUL
— DHKP-C and other terrorist organizations jeopardized safety of civilians after Uğur Kurt, who was a bystander and not a demonstrator died from injuries on Thursday after being
shot by a bullet.
Meanwhile Police have increased security measurements in area on Friday, removing citizens and the media reporters from the place where clashes spreaded after a second person, Ayhan Yılmaz (42) who died from injuries in the clashes on Friday.
Masked terrorists hurled grenades, Molotov cocktails and stones at police on May 23, 2014, in the Okmeydani district of Istanbul.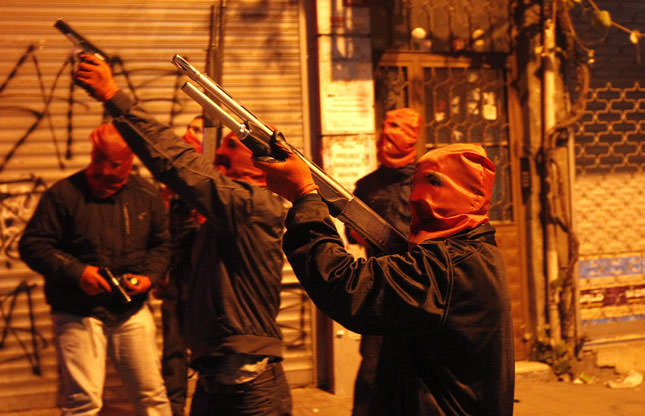 Nine others including seven police officers were wounded after an unidentified explosive thrown by protesters blasted on Thursday night. A group of terrorists marched through Istanbul on Friday after Uğur Kurt's death, as fresh running battles shook city streets.
Riot police clad in heavy body armour used tear gas and water cannon to disperse crowds as terrorists blocked roads and burned tires in the second day of riots. Terrorists continued to throw Molotov cocktails and stones to the riot police.
Prime Minister Recep Tayyip Erdoğan, reacting to two deaths this week in clashes between police and protesters, said Friday that he was "amazed" by the patience of the police.
Speaking about the riots, Deputy Prime Minister Bülent Arınç said masked protesters from terrorist organizations convened in the courtyard of a high school in Okmeydanı and the number of protesters was about 50. He said protesters hurled Molotov cocktails at a police vehicle and injured two police officers inside the vehicle. He said police officers at the scene clashed with rioters and that Uğur Kurt, "a citizen not involved in the protests [who] was at the scene to attend a funeral in a nearby cemevi," was shot in the head.
Arınç stated that prosecutors have launched an investigation into the incident and the bullet lodged in the head of Kurt and the guns belonging to police officers at the scene will be examined. "If this innocent citizen, who has nothing to do with the events, is hit by a bullet fired from a police gun, I hope that whoever is responsible for this will be brought to justice," Arınç said.
As riots continued intermittently, a group of demonstrators convened around the hospital where Kurt was transported to and denounced his shooting.
Issuing a written statement on Thursday on the events, the Istanbul police said rioters hurled a fragmentation grenade at police dispatched to disperse protesters, and two civilians, one police chief and six policemen were injured in the attack.
The statement said one of the citizens was seriously wounded, referring to the second victim. Prompted by Kurt's death and police intervention, protesters took to the streets in the Kadıköy and Sultangazi districts of Istanbul. In Sultangazi, rioters set a civilian vehicle on fire, while police fired tear gas and water cannons to disperse them.
Speaking to reporters on Friday, Istanbul Governor Hüseyin Avni Mutlu said another policeman was shot in the leg during the riots later on Thursday. He said three handmade fragmentation grenades were used in attacks targeting the police. "We need to find those responsible for the killing now. We have already started the investigation, and whoever shot (Uğur Kurt), whether they are police officers or others, will be found. The coroner's office performed an autopsy on Kurt. Bullets and guns are being examined," he said. Guns issued to eight police officers who were near the scene where Kurt died were confiscated and are being examined.
Mutlu noted the police also detained "some armed people" on Thursday night in connection with the events. "I call on everyone to remain calm. We see some people attempting to escalate tensions. Istanbul is facing a provocation," he said. Mutlu also called on those who will attend the funeral service for Uğur Kurt to act peacefully against provocations.
He noted that the police had information about "organizations inciting riots," referring to terrorist organizations. "They incite those events from time to time. But I cannot disclose the identities of those organizations at this time. We will make a statement after the investigation is concluded," he said.
Another protest broke out in Okmeydanı on Friday. A group of demonstrators hurled paint and stones on a bus carrying riot police appointed to the district. In return Police officers fired tear gas into the crowd of rioters. The crowd threw stones at police officers who got off the bus while a undercover policemen at the scene brandished his pistol although he did not fire.
A police chief who was in the courtyard of the cemevi where Kurt was shot to investigate the crime scene, barely escaped a lynching attempt as an angry crowd attempted to beat him up. The police chief took shelter in a nearby broadcast van.
Earlier on Friday, a group gathered at the cemevi, claiming the prosecutor did not investigate the scene. A prosecutor arrived at the scene later on Friday while the group sealed off the spot where Kurt was shot.
A funeral ceremony was held at the cemevi where Kurt was attending a funeral and his body was sent to his hometown Sivas in eastern Turkey for burial.
Okmeydanı, a central district of Istanbul, has seen violent riots in the past months. Following the death of Berkin Elvan, a Gezi Park protester who died after nine months in a coma from a head wound sustained during the infamous protests, crowds of demonstrators, most affiliated with terrorist organizations, particularly the Revolutionary People's Party-Front (DHKP-C), took to the streets. During the riots, Burak Can Karamanoğlu, a 22-year-old bystander, was killed. DHKP-C claimed responsibility for Karamanoğlu's death in March. In addition, on Labor Day on May 1, rioters armed with Molotov cocktails, firecrackers and stones engaged in clashes with the police.