A fire broke out in Fethi Paşa Grove in Istanbul's Üsküdar district on Saturday afternoon, leading to historic Hüseyin Avni Paşa Mansion to reduce to ashes.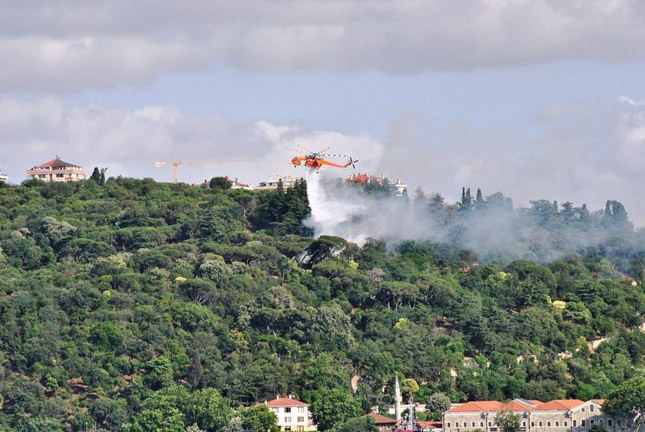 The cause of the fire is still unknown and fire trucks from Üsküdar, Kadıköy and Çengelköy districts arrived to the scene to extunguish the fire before it spread to other parts of the grove. The fire can be seen from many parts of the Bosporus.
Fethi Paşa Grove is a large park in Istanbul, Turkey, on the hillside coming right down to the Bosporus shore in the area called Paşalimanı. It is located between Kuzguncuk and Sultantepe neighborhoods in district Üsküdar on the Asian side of Istanbul.
It is named after Ottoman governor, ambassador and minister Fethi Ahmet Paşa. After long years of neglect, it has been recently renovated and opened to public for recreation. It has a breathtaking view of the Bosphorus Bridge and the European side of Istanbul.
---
Who is Hüseyin Avni Paşa: He was among the coup leaders that overthrew Sultan Abdülaziz on May 30, 1876. However; shortly after the coup, sultan's brother-in-law Çerkes Hasan raided a meeting in Istanbul's Beyazıt neighborhood and killed Hüseyin Avni Paşa and four others.