Turkish Prime Minister Ahmet Davutoğlu said that 49 Turkish hostages who have been held by the self-proclaimed Islamic State of Iraq and Sham (ISIS) militants in Iraq's Mosul city have been freed and brought back to Turkey Saturday morning.
Davutoğlu told Turkish reporters during a visit to Baku, Azerbaijan that the hostages were released early on Saturday and had arrived in Turkey. He was cutting his visit short to meet with the hostages in the province of Şanlıurfa, near Turkey's border with Syria.
He did not provide details on the circumstances of their release.
Details of how the hostages were brought back to Turkey were later given by Erdoğan in his statement. He said the hostages were released through a pre-planned operation which was conducted diligently and in total secrecy by Turkish Intelligence officers. Reportedly no ransom was paid in exchange for the release of the hostages, nor any clashes took place between Turkish officers and ISIS militants. The operation was also reported to have been conducted without the assistance of the international spy agencies.
"I am sharing a joyful news which as a nation we have been waiting for," Davutoğlu said. "In the early hours our citizens were handed over to us and we brought them back to our country."
"They have crossed into Turkey and I am on my way to see them," Davutoğlu said.
He further stated that the freed citizens crossed the border at about 5:00 a.m. Turkish time and they were being taken to southern Turkish city of Şanlıurfa and thanked Turkish intelligence agency for the satisfying development.

Davutoğlu after meeting the hostages in Şanlıurfa, flew to Ankara with the hostages where he gave more details over the release of them.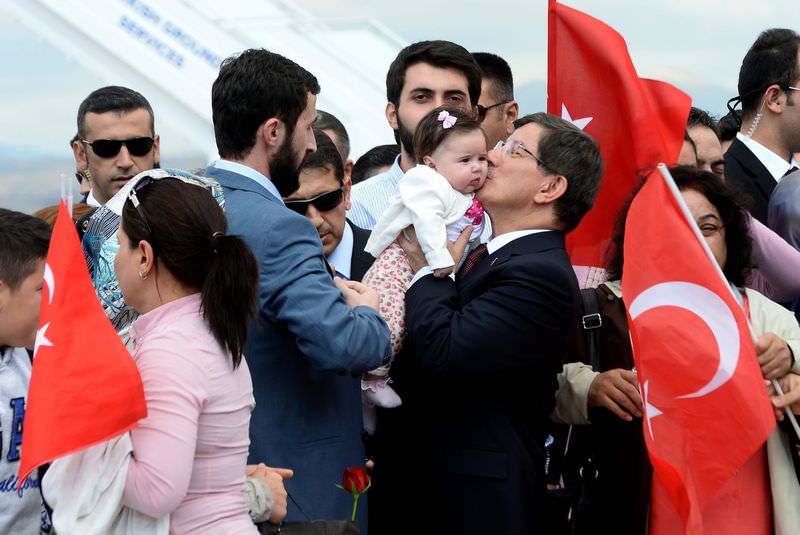 The 49 hostages met with their families in a flood of emotions after their plane landed on Ankara's Esenboğa Airport with Davutoğlu accompanying them.

Davutoğlu spoke at the airport before a large crowd and said the country was witnessing a remarkable moment as Turkish spy agency managed to retrieve the hostages through a successful operation. Regarding the day on which the hostages were freed, as a day of celebration, Davutoğlu thanked consulate Öztürk Yılmaz and other staff of the consulate for their patience and said they knew they were serving the nation during their period of captivity.

"I'd like to especially thank our intelligence agency and our forces who have worked together to complete this mission" Davutoğlu said.

He stressed that the issue of the hostages was always on the government's agenda during that 101-day-long captivity of the hostages which began in June, saying 'not a single moment passed' without him thinking about them. He also dismissed the allegations that Turkey was in secret cooperation with ISIS in his speech.

"Turkey will continue to permit entry of people in Turkey fleeing ISIS, regardless of their ethnicity, religion and language" Davutoğlu said concluding his speech.
After Davutoğlu finalized his speech, the hostages, feeling joyful over finally meeting their families answered the reporters' questions about their period of captivity.
"We were told that we would be released for almost two months. So when they said they would free us, we felt happy but, doubtful at the same time. as this too might be a lie." one of the hostages said.
Another hostage said: "We kept the faith that we would some day be freed from them. We counted on our government on the issue and so never lost our faith."

46 Turkish citizens - diplomats, consular officials and their families - and 3 Iraqi citizens working for the consulate were kidnapped from the Mosul consulate on June 11, a day after ISIS took control of Iraq's second-largest city.