A group of cyclists who began a tour from Istanbul to commemorate the Turkish soldiers, who froze to death in Allahüekber Mountains during World War I, reached their final destination in the Turkish eastern town of Sarıkamış on Saturday.
The cyclists traveled 1,879 kilometers and toured 17 provinces, ending their journey in Kars's Sarıkamış district, where they were welcomed by the mayor Göksal Toksoy in front of the Martyrs Memorial.
The organization was undertaken by the Turkish Cycling Federation (TCF) and among its participants were members of Istanbul Youth and Sports Club, Kocaeli Barissa Sport Club, Konya Torku Sugar Sports Club, and Rivamad Sports Club.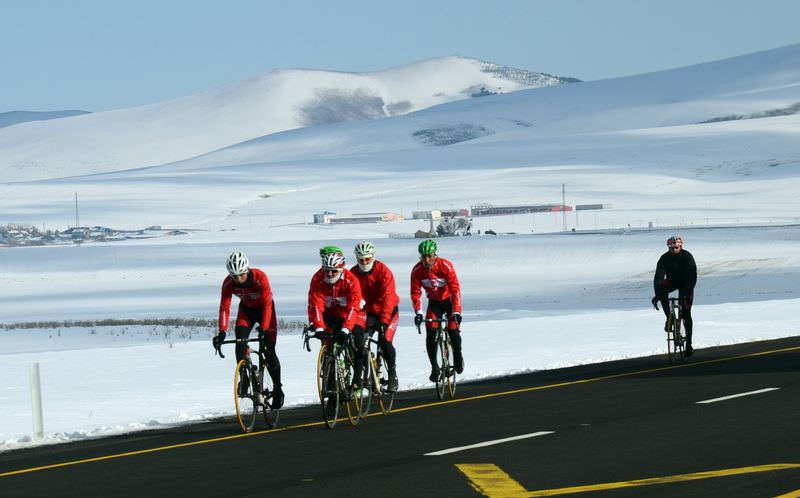 TCF's Istanbul representative Tuna Akyüz spoke on behalf of the cyclists and said, "We hit the road to pay off our debt to the nation."
Across all the country, various events are being organized to remember Sarıkamış martyrs, who died tragically when a military maneuver trapped a 90,000-strong army branch in freezing wintry cold in Sarıkamış during a battle between Russian and Ottoman empires in World War I.
The conflict was initiated by the Ottomans who wanted to recapture the eastern city of Kars from Russians between December 1914 and January 1915. The Ottoman troops, however, ill prepared for hard winter conditions suffered major causalities in Allahüekber Mountains, eventually losing the battle to Russians.