Militants of the self-proclaimed Islamic State of Iraq and al-Sham (ISIS) fired shots from across the border in Syria which struck and killed an officer and wounded five soldiers in Turkey's southern Kilis province on Thursday.
Local sources reported that Turkish soldiers and militants of ISIS were in an armed conflict at the Çobanbey town located across from the Elbeyli village connected to the Kilis province. The conflict started at around 16.00 and ended at around 19.40 , according to local sources. The Turkish units on the border were then said to have withdrawn to the security zone.
It has been reported that first Turkish tanks took gunfire as light weapons were used in response to the attack. The Ayyaşe Turkmen village, which is located close to the border has been completely evacuated to nearby villages.
Turkey retaliated immediately with 4 tanks within rules of engagement, hit opposing ISIS posts, Turkey's Office of Public Diplomacy said in a statement.
Turkish Air Force dispatched multiple F-16 fighter jets from Diyarbakır airbase to the conflict zone on the Turkey-Syria border, Turkey's Ihlas News Agency reported.
Security forces came under fire from Syria, Kilis Governor Süleyman Tapsız told Turkey's official Anadolu Agency. Turkish forces responded by targeting positions across the border. Reports suggested one ISIS militant was killed.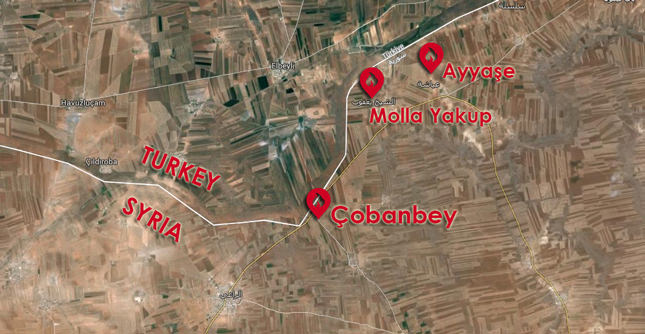 "Unfortunately, one of our officers, Yalçın Nane, has been martyred and two sergeants injured," Tapsız said.
The wounded sergeants, Fatih Kurt and Necef Çakmaktepe, have been taken to Kilis State Hospital and are in stable condition, he added.
Turkish General Staff published a statement later on Thursday regarding the incident.
"One of our non-commissioned officers was martyred and two of our specialized sergeants were wounded after five DAESH [Arabic acronym for ISIS] terrorists on the Syrian side of the border opened fire on 23 July 2015 at 13.30 against our units positioned in the area of responsibility of the first Border Patrol Unit (Oğuzeli district of Gaziantep) of the Land Forces Command," said the General Staff in the statement.
"The DAESH militant has been captured dead with his weapons (a rocket launcher and an AK-47 Kalashnikov rifle). Three vehicles of the DAESH militants have been harshly damaged by our security forces. We wish that Allah's mercy be upon our martyr and we give our condolences to his family and our nation," the General Staff further added.
The incident came after the murder of two policemen by the outlawed PKK on Wednesday and a deadly suicide bombing in Suruç on Monday that killed 32 people. Both incidents took place in Turkey's southeastern Şanlıurfa province, near the Syrian border.