The outlawed PKK has been involved in more than 2,000 acts of violence across Turkey in 2015, security sources said on Saturday.
PKK militants have carried out 2,099 acts of violence in Turkey since the beginning of 2015, security authorities' statistics show. These acts include armed attacks on police and civilians, assaults with stones and sticks, bomb attacks, as well as hijacking or abduction, according to police statistics.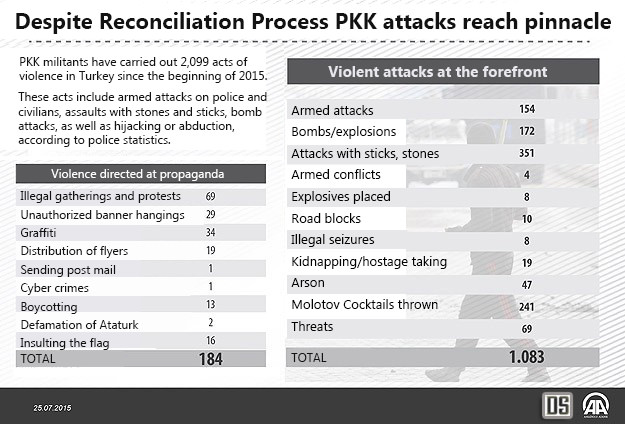 Militants have set at least 31 vehicles on fire during the last week, which saw the murders of Turkish policemen in southeastern Sanliurfa, Diyarbakir and Kilis provinces.
On Wednesday, two police officers were found shot dead at their shared home in Sanliurfa's Ceylanpinar district - an attack for which the PKK claimed responsibility.
A day later, another policeman was killed in a gun attack in Diyarbakir.
On Friday, another police officer was kidnapped as he was heading from Mardin to Mus with his family on the Diyarbakir-Bingol Highway, police said.
PKK militants have also reportedly sabotaged the roads and vehicles in various places in southeastern Turkey. The PKK is considered as a terrorist group by Turkey, the U.S. and the European Union.
The Turkish government launched an initiative in early 2013, commonly known as the "solution process", to end the decades-old conflict with the PKK, which has claimed the lives of more than 40,000 people for over 40 years.
Police have apprehended 320 people suspected of having ties with terrorist groups in 22 Turkish provinces on Friday and early Saturday.
The PKK was formed in 1978 and has been fighting the Turkish government for an independent state until the early 2000's, then the group shifted its goal to autonomy in Kurdish inhabited regions of Turkey. The group is listed as terrorist organization by the UK, US, EU and Turkey.