Gendarme commander in Malazgirt town of eastern Muş province, Major Aslan Kulaksız, who was seriously wounded in an armed attack carried out by the PKK terrorist group while he was with his family on Monday evening, passed away in hospital.
The major Kulaksız was reportedly attacked while he was in his private car with his wife and daughter. Kulaksız was seriously injured and was immediately taken to Malazgirt State Hospital, where he later passed away while his daughter was slightly wounded in the attack. His wife was reported to have escaped the attack unharmed.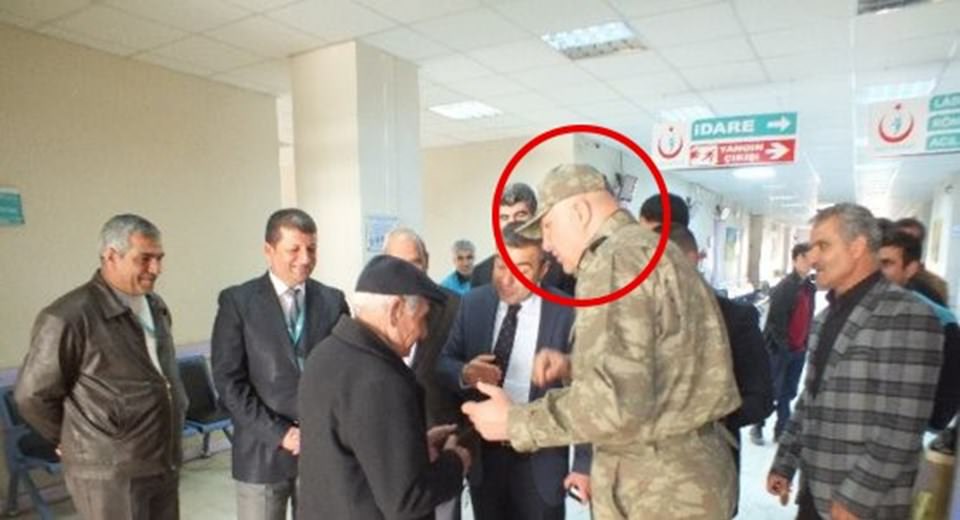 The attack occurred as Kulaksız was on his way home with his family from work to his home.

Security forces have launched a large scale operation to capture the terrorists who attacked Kulaksız and his family. Accordingly, Turkish police have detained ten suspects, four of whom are believed to be in the car(s) from which shots were fired and killed the commander.

Kulaksız's 83 year-old-mother and 85 year-old-father were reportedly not informed of their son's death on Monday evening due to their old age, but was to be told on Tuesday morning.

The soldier's cousin, Hamza Acar reportedly said, "Our pain is deep. He [Kulaksız] was a very good person. His older brother Dursun Kulaksız had also lost his life in 1990 following a firedamp explosion in the Çeltek coalmine."

"And now that we received this news, we are very sorry," he said.

Flags have been hanged in front of the soldier's parents' house in their hometown of Merzifon in Amasya.

President Recep Tayyip Erdoğan as well as Prime Minister Ahmet Davutoğlu and his wife, Sare Davutoğlu have been reported to have called the martyred Commander Kulaksız's wife to offer their condolences.
Turkish Armed Forces released a statement late on Monday, condemning the attack. "District Commander of the Gendarmerie Major Arslan Kulaksız was severely injured and his wife was hurt in the attack organized by members of the separatist terrorist organization on July 27, 2015 at 19:20, in county town of Malazgirt in Muş," the statement read.

"Severely injured in the armed attack, Major Kulaksız passed away despite all efforts at Malazgirt State Hospital at 22:30 p.m. We strongly condemn those who carried out this savage, despicable and treacherous attack and give our condolences to our martyr's dear family and members of the Turkish Armed Forces while we wish his wife a speedy recovery," the statement said further.
Turkey has stepped up efforts against terrorism following a suspected ISIS bomb attack carried out on Monday in the country's southeastern Şanlıurfa province which killed 32 people and injured dozens.
Two policemen were killed in retaliation on Wednesday, for which the terrorist group PKK claimed responsibility.
On Thursday, gunfire from Syria killed a Turkish military officer and injured two troops in southern Kilis province, prompting Turkish forces to return fire.
Since then, Turkey has initiated a nationwide anti-terror operation, detaining many suspected of having ties with the self-proclaimed Islamic State of Iraq and al-Sham (ISIS) as well as the PKK organization.
Turkish military has been also carrying out airstrikes against the PKK in northern Iraq and the ISIS militants in northern Syria.
Turkish security forces have detained 1,050 suspects across 34 Turkish provinces since the nationwide "anti-terrorist operations" in the country began early July 24, the Turkish Prime Minister's Office of Public Diplomacy said in a statement Monday.
Most of the suspects allegedly belong to the ISIS, PKK and the far-left Revolutionary People's Liberation Party-Front (DHKP-C).